The 'fake' quake
By (name below)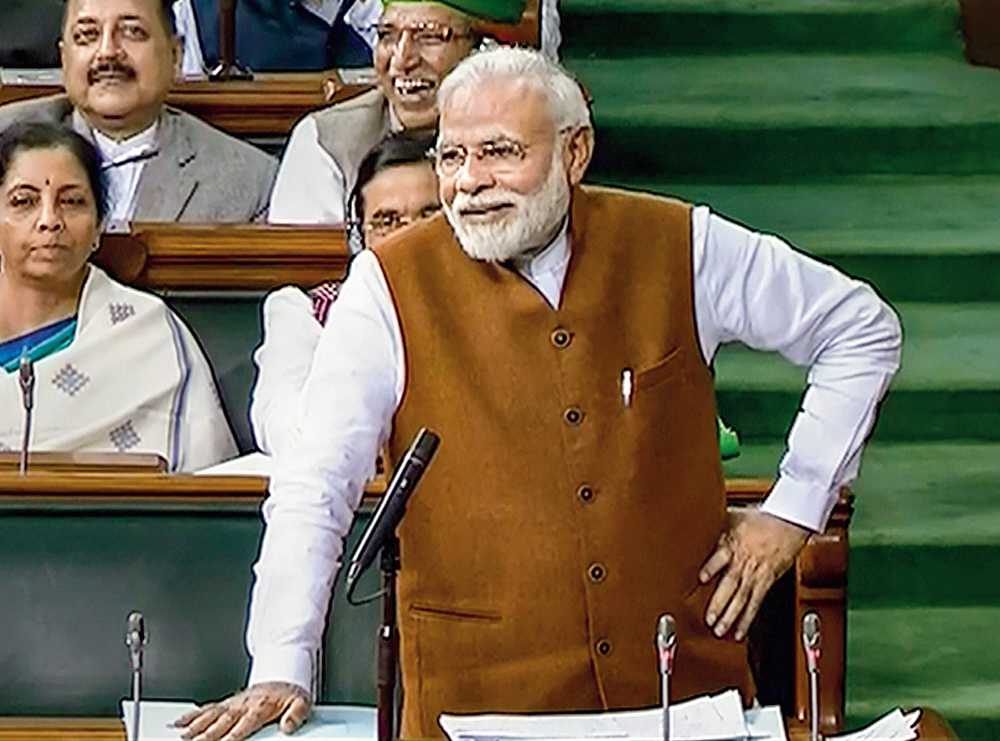 Narendra Modi in the Lok Sabha on Thursday
(PTI photo)
---
New Delhi
|
Published 07.02.20, 09:29 PM
|
---
Name of the reporter: idiot420
Name of the website: Faking News
Website introduction: We simply fake news to attract your attention. And we are honest about admitting it.
Disclaimer: Content of this website, unless categorized as "Editorial", is a work of fiction.
Discretion advisory: The website is intended to humor people over the (physical and mental) age of thirteen years.
Prime Minister Narendra Modi is 69, not 13 — the age above which visitors to the Faking News portal are expected to figure out they are dealing with humour.
Yet, the Prime Minister appears to have missed all the red flags listed above and sourced content from the satirical website when he attacked in the Lok Sabha on Thursday Omar Abdullah, the incarcerated former chief minister of Jammu and Kashmir.
"Sriman Omar Abdullah ji ne kaha tha, 'Article 370 ko hatana aisa bhukamp laayega ki Kashmir Bharat se alag ho jaayega (Mr Omar Abdullah had said: 'Abrogation of Article 370 will bring so massive an earthquake that it will separate Kashmir from India).' Kya samvidhan ko samarpit koi bhi vyakti iss bhavna se sahmat ho sakta hai kya (Can anybody committed to the Constitution agree with this view?)" Modi had asked on Thursday in the House while replying to the motion of thanks to the President's address to Parliament.
AltNews, the fact-checking site, reported that Faking News had published the quote on the earthquake on May 28, 2014. Faking News had headlined its report six years ago: "Removing Article 370 will cause earthquakes separating Kashmir from India: Omar Abdullah."
The Faking News satire appeared to be rooted in a tweet from Omar a day earlier on May 27, 2014: "Mark my words & save this tweet — long after Modi Govt is a distant memory, either J&K won't be part of India or Art 370 will still exist."
When Article 370 was abrogated five years later on August 5, 2019, Omar had posted a very different tweet, urging people not to take the law into their hands.
The AltNews report added: "A quick Google search throws up no news reports where Abdullah has been quoted making the statement quoted by PM Modi. Furthermore, an advanced search on Twitter in both English and Hindi using keywords from the PM's claim throws up references exclusively to the Faking News' article and nothing else. It is unclear why and how the prime minister quoted a six-year-old satirical piece as genuine news in the Parliament."
Till Friday night, neither the Prime Minister nor his party had made any reference to the allegation that he spread fake news although the AltNews report was uploaded on Thursday itself.
Ironically, the Prime Minister quoted Faking News on the floor of Parliament on the very same day communications and information technology minister Ravi Shankar Prasad had cited the menace of "fake news" as one of the justifications for the temporary suspension of Internet services in several parts of the country.
On Friday, minister Prasad was not available to take questions from this newspaper on whether the same criterion would be applied and the Prime Minister's Internet connection suspended if it is established that he was indeed spreading fake news.
Trinamul Rajya Sabha member Derek O'Brien tweeted that the Prime Minister, as a member of Parliament, can be acted against under parliamentary rules for misleading the House with a fake quote.
O'Brien tweeted: "If an MP quotes Fake News to mislead Parliament these options available.
Rule 222. Question of Privilege.
Rule 380. Expunction direction.
115. Write to Speaker.
Rule 376. Point of order for violation of Rule 353 (defamatory).
Rule 377. Raising a matter that's not a point of order."
Columnist Sadanand Dhume tweeted: "Even if you believe Modi is God's greatest gift to mankind, it should alarm you that the prime minister of India doesn't employ staff diligent enough to prevent him from seriously quoting a satirical web site in Parliament."