Thanks but fill 1 crore vacancies: Varun Gandhi to Narendra Modi
While he is seen as a rebel MP, many ruling party leaders acknowledged that unemployment is a critical issue and lauded PM for his 'timely intervention'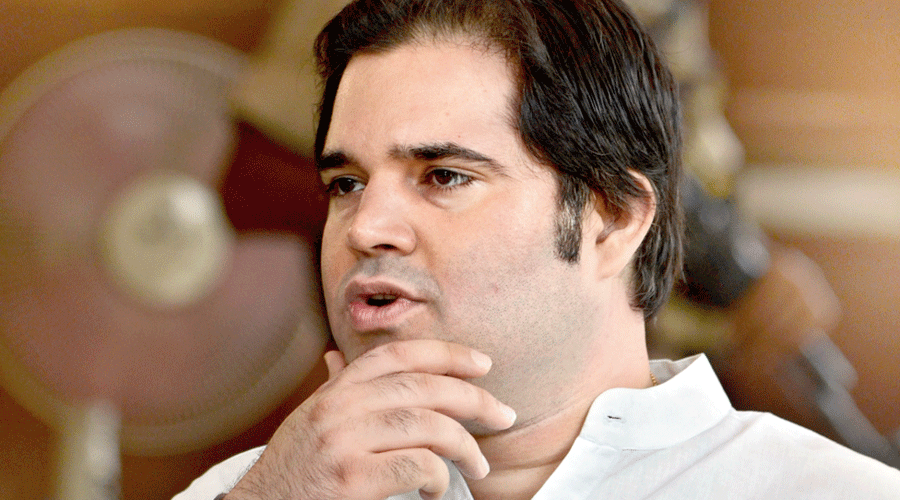 ---
New Delhi
|
Published 15.06.22, 02:11 AM
|
---
Prime Minister Narendra Modi's "instruction" to all government departments to recruit 10 lakh people in "mission mode" before the next Lok Sabha polls was seen as an acknowledgment of joblessness under him, which was flagged by one of his party MPs with a veiled attack on lack of employment for youths.
BJP MP Varun Gandhi, who has been repeatedly raising the issue of joblessness by being openly critical of his party and the government, thanked the Prime Minister but obliquely pointed out that before the promise of 10 lakh new jobs, the Centre needed to first fill 1 crore vacancies in the government.
"Thank you Prime Minister, for understanding the pain and emotions of the unemployed youth," Varun tweeted in Hindi. "Along with creating new jobs, we need to make meaningful efforts to fill more than 1 crore sanctioned but vacant posts," he added.
बेरोजगार युवाओं की पीड़ा एवं मर्म समझने के लिए धन्यवाद प्रधानमंत्री जी।

नए रोजगार का सृजन करने के साथ साथ हमें 1 करोड़ से अधिक 'स्वीकृत परंतु रिक्त' पदों को भरने हेतु सार्थक प्रयास करना होगा।

हर वर्ष 2 करोड़ रोजगार देने का संकल्प पूरा करने के लिए और तेज गति से कदम बढ़ाने होंगे। https://t.co/VVhAC0i63O

— Varun Gandhi (@varungandhi80) June 14, 2022
The BJP MP also stressed that in order to create 2 crore jobs each year, a pre-election promise attributed to Modi by the Opposition but denied by the BJP, "steps will have to be taken at a faster pace".
For Varun, the apparent acknowledgement of lack of jobs was a personal victory of sorts. The MP from Pilibhit in Uttar Pradesh has fallen foul of the BJP after he angered the government with his aggressive pro-farmer stand during the peasants' protest.
Of late, he has been raising the problems of unemployed youths in a sustained manner and his intervention even forced railway minister Ashwini Vaishnav to announce special trains for youths seeking jobs in the railways.
While Varun is seen as a rebel MP, many ruling party leaders acknowledged that unemployment was indeed a critical issue and lauded Modi for his "timely intervention".
"By saying that 10 lakh government jobs should be created in the next 1.5 years, Modiji is targeting to address the unemployment issue by the end of 2023 when the countdown for the Lok Sabha polls will start," a BJP leader said.
The lack of jobs had been a major issue during the Uttar Pradesh polls early this year, but the BJP had managed to override it by banking on caste coalitions and communal polarisation.
Party managers said unemployment, coupled with rising inflation, could snowball into a big crisis for the government and Modi's intervention had come at a perfect time. The leaders said the move would send out a good message before the upcoming Assembly elections in Gujarat, Himachal Pradesh, Karnataka and some other states.
"We are grateful to our Hon. PM Shri @narendramodi for this new mission of recruiting 10 lakh people in different government departments and ministries in 1.5 years," BJP president J.P. Nadda tweeted. "This shows our government's emphasis on job creation for our youth and focus on efficient management of workload," his tweet added.
We are grateful to our Hon. PM Shri @narendramodi for this new mission of recruiting 10 lakh people into different government departments and ministries in 1.5 years. This shows our government's emphasis on job creation for our youth and focus on efficient management of workload. pic.twitter.com/6XtdTK4LZm

— Jagat Prakash Nadda (@JPNadda) June 14, 2022