Terror veneer ripped
Officer speaks out on Delhi blast frame-up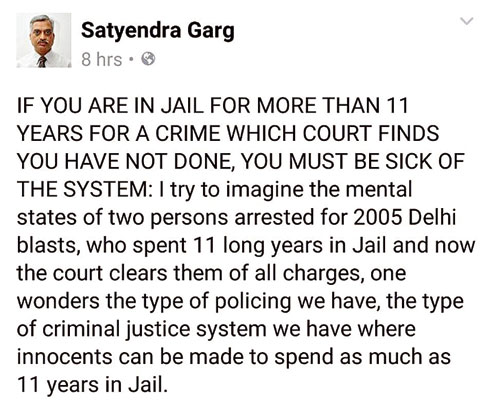 ---
Published 20.02.17, 12:00 AM
|
---
New Delhi, Feb. 19: A serving IPS officer has openly raised questions about the "type of policing" and "criminal justice system" under which two youths were made to spend over 11 years in jail before being acquitted of terror charges last week.
Mohammad Rafiq Shah and Mohammad Hussain Fazli, two youths from Kashmir, were acquitted on February 16 by a Delhi court that ruled the evidence against them was "fabricated and flimsy". They had been implicated in the pre-Diwali blasts in Delhi in 2005 that killed 67 people.
Today, Satyendra Garg, joint secretary in charge of the Northeast, posted on his Facebook page: "If you are in jail for more than 11 years for a crime which court finds you have not done, you must be sick of the system. I try to imagine the mental states of two persons arrested for 2005 Delhi blasts, who spent 11 long years in jail and now the court clears them of all charges, one wonders the type of policing we have, the type of criminal justice system we have where innocents can be made to spend as much as 11 years in jail."
This is the first time a serving police officer as senior as Garg has spoken about the injustice meted out to youths implicated in terror cases on flimsy grounds or false charges.
Rafiq was in college in Kashmir attending classes at the time the police accused him of planting a bomb in a bus in Delhi. Fazli was a shawl vendor in Srinagar.
Contacted, Garg said that like any right-thinking citizen, he was deeply disturbed by the realisation that two lives had been destroyed by wrongful arrests.
"The court acquitted the two youths who were booked by Delhi police for terror without evidence. It is very disturbing and a serious issue... a sad commentary on the criminal justice system and the way national security is handled," Garg told The Telegraph tonight.
"If innocent people are booked on wrong charges, there is a dire need to correct this system. The security officials who investigated these cases should be made accountable. Inspector-level officers probe the cases, but they report to their superiors."
Garg flagged how the families of the 67 victims had also been denied justice. "They have lost family members but have been denied justice. The perpetrators of the crime are still at large. Who is accountable for that?" Garg asked.
A third accused, Tariq Ahmed Dar, was convicted. But he was found guilty of being a member of the Lashkar-e-Toiba and providing support to it, and not of masterminding the attack as alleged.
Dar had already spent more than 10 years in jail, the maximum punishment for his offence.
Some officials in North Block, the seat of the home ministry, criticised Delhi police's special cell that probes terror cases for making arrests in "haste" to please their bosses and grab gallantry medals.
"The government should order an inquiry against the investigators and their superiors in the intelligence agencies for implicating the two innocent youths without any evidence. The guilty officials should be criminally prosecuted," a senior official said.
Two years ago, the Jamia Teachers Solidarity Action, a rights group made up of educators, had prepared a dossier highlighting how the Delhi police cell had framed 16 Muslim youths in terror cases and how they were later acquitted by the courts.
A home ministry official recalled that six Muslim men from Gujarat had languished in prison for 11 years before being acquitted by the Supreme Court in 2014. Two of them had received death sentences from lower courts after Gujarat police held them responsible for the 2002 Akshardham temple attack that killed 33 people.
Another instance that stood out involved nine Muslims from Malegaon. They were arrested by Maharashtra police on the charge of triggering blasts in 2006 but were discharged by a court after they had spent 10 years in jail.
"The government did not take any action against police and intelligence officers who framed these men. There was not even a departmental inquiry against these officials," said a retired Intelligence Bureau director.
The Manmohan Singh government had finalised a plan to provide compensation to Muslim youths framed in terror cases and acquitted by the courts. But it failed to make much headway after a controversy arose when the then home minister, Sushil Kumar Shinde, wrote to all chief ministers in 2013 asking them to ensure that no innocent Muslim youth was wrongfully detained in terror cases.
"The government was considering compensation for innocent Muslim youths whose lives had been ruined by false terror cases. I had also sought criminal prosecution of the guilty police officers. But nothing happened," Wajahat Habibullah, the then chairperson of the National Commission for Minorities who had met Manmohan on the issue, said today.