Tamil Nadu polls: DMK set to regain reins of power from arch-rival AIDMK
Ally Congress leading in 15 seats, Opposition alliance ahead in 88 seats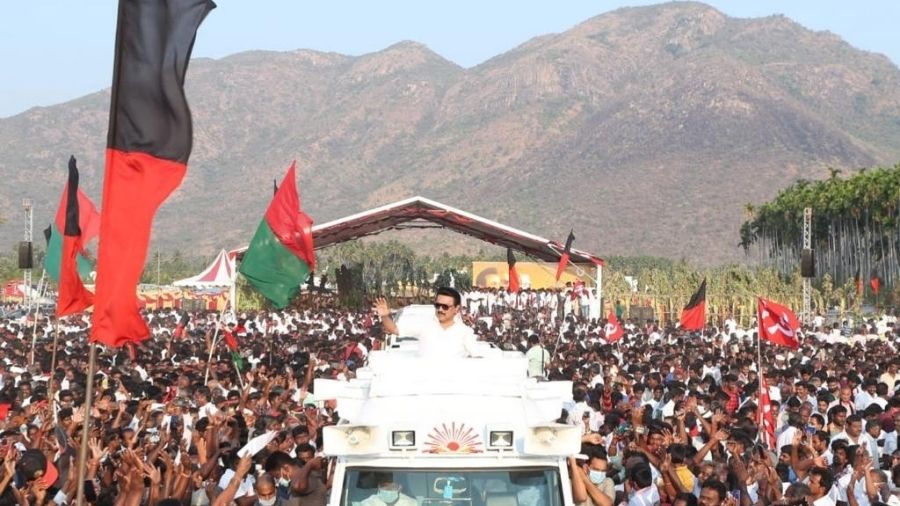 MK Staling during an election roadshow in Tamil Nadu in March.
Facebook/ MK Stalin
---
Chennai, New Delhi
|
Published 02.05.21, 09:54 AM
|
---
After a decade in opposition, the DMK is on course to capturing power from the AIADMK in Tamil Nadu as per the trends made available for the 234 segments, while the incumbent ruling party appears set to win a chunk of seats that would make it a formidable Oopposition.
As counting of votes progressed on Sunday for the April 6 assembly elections, the DMK steadily improved its position and was leading in 121 seats, while 118 is the minimum number required for a simple majority in the 234-member House.
If the trends hold good it will be a dream come true moment for the DMK and in sync with its election song, "Stalin thaan vararu", which means Stalin is going to become the Chief Minister.
Cadres went ecstatic with the trends, burst crackers and distributed sweets at party headquarters Anna Arivalayam here, apparently in violation of COVID-19 guidelines.
On public celebrations, authorities here cited a communique from the Election Commission headquarters that directed placing under immediate suspension of jurisdictional police and other officers and initiation of disciplinary and criminal action against them.
Police said Teynampet inspector in-charge of law and order has been placed under suspension for his "lackadaisical attitude and dereliction of duty" and not ensuring compliance of ECs instructions in this connection.
DMK's major ally Congress was leading in 15 seats, two Left parties together in four segments and Viduthalai Chiruthaigal Katchi in three constituencies.
DMK and its allies together are leading in 145 seats.
The AIADMK is ahead in 81 seats and together with its partners in 90 constituencies, according to trends made available by the Election Commission for all the 234 segments at 5.00 pm.
Allies PMK and BJP were ahead in six and three seats, respectively.
Seats: 234
Number of voters: 6.28 crore
Voting:
Incumbent: AIADMK 134 seats
Majority mark: 118
For the first time in 50 years, the land of the Dravidian movement is witnessing an election without the stalwarts of the two major parties – M. Karunanidhi of the Dravida Munnetra Kazhagam (DMK) and J. Jayalalithaa of the All India Anna Dravida Munnetra Kazhagam (AIADMK).
The DMK is led by M.K. Stalin – he was anointed by Karunanidhi as his successor, and this helped stave off the challenge from M.K. Alagiri, Stalin's older brother who holds sway over southern Tamil Nadu. Stalin has been party president since 2018 but is yet to deliver an Assembly election victory, but the DMK won 38 of 39 Lok Sabha seats in the 2019 elections.
The AIADMK government in the state has closed ranks and its two top leaders are CM Edapaddi K Palaniswami and deputy CM O. Panneerselvan Poll issues
Local vs outsider: The AIADMK-led alliance includes the Bharatiya Janata Party (BJP), the Pattali Makkal Katchi (PMK), Tamil Maanila Congress, and some other smaller parties. The DMK, which is in alliance with the Congress and Left parties, has highlighted the 'local vs. outsider' issue targeting the BJP for controlling things from the Centre.
COVID-19: The Opposition has accused the state government of mishandling the pandemic. In the initial stages, the state overlooked cluster spreads in markets and other places and this resulted in large numbers. The second wave too has shown cases growing alarmingly, and the Madras High Court came down heavily on the government for not doing enough to curtail political rallies. Home Minister Amit Shah held massive rallies at various places in the state.
Water scarcity: Just before the polls were announced, Tamil Nadu declared drought in 24 of 38 districts. The State received deficit monsoon rain from both south west (-12%) and north east winds (-24%).
CAA: With a Muslim population of 5.86% (according to the 2011 census), the DMK has spoken out against the Centre on the Citizenship (Amendment) Act. Even the AIADMK, in its manifesto, has said that it will urge the Centre to withdraw the CAA.
NEET: Holding the National Eligibility cum Entrance Test (NEET) for medicine has become a poll issue. In its manifesto, the DMK has promised to abolish NEET; the chief minister has alleged that the DMK and Congress are "responsible" for introducing the exam in the State in the first place. NEET was introduced in the State in 2017 before which state board marks were taken into consideration. Several students especially from impoverished backgrounds have died by suicide after failing to clear the exam.
Freebies for women: The AIADMK has said it will give Rs 1,500 per month to a woman in every household if it returns to power. It has also promised of maternity leave, free washing machines, free gas cylinders, free solar stoves, and 'Amma patrol teams' for women's safety. The DMK has promised Rs 1,000 per month to a woman in every household, more maternity benefits, free bus passes, gas cylinders at reduced prices and so forth. But none of the major parties has nominated even 13% of women candidates – AIADMK 8% and DMK 6%.
Key candidates
Chief Minister Palaniswami is contesting from Edappadi in Salem district. He has won four times from there in the past. Palaniswami handed out internal reservation of 10.5 per cent for Vanniyars, who have a say in the seat, but this hasn't gone down well with several other communities. The Vanniyars have largely pledged their support to the PMK (Pattali Makkal Katchi)
Deputy Chief Minister O Panneerselvam, popularly known as OPS, is contesting from Bodinayakanur (in Theni district in the foothills of the Western Ghats), and faces DMK's Thanga Tamizh Selvan, who was earlier in the AIADMK.
Stalin is contesting from Kolathur (part of Chennai North Lok Sabha constituency).
Kamal Haasan (who launched Makkal Nidhi Maiam… People's Justice Centre in 2018) is contesting from Coimbatore South. Congress working president in Tamil Nadu Mayura Jayakumar is also in the fray.
Stalin's son Udayanidhi Stalin is contesting from Chepauk-Thiruvallikeni.
BJP's Khushboo is contesting from Thousand Lights.