Supreme Court to hear plea against Haryana's job quota law
The state government will now have to justify the constitutionality of the enactment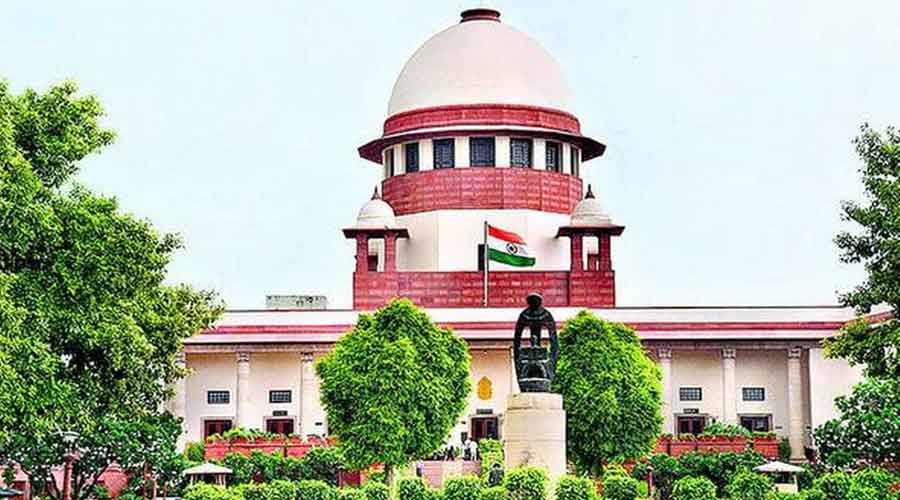 Supreme Court.
File photo
---
New Delhi
|
Published 05.02.22, 01:51 AM
|
---
The Supreme Court will take up on Monday the Haryana government's plea challenging the stay imposed by Punjab and Haryana High Court on its controversial quota policy under which the state sought to reserve 75 per cent of jobs in the private sector for local residents.
A bench headed by Chief Justice of India N.V. Ramana agreed to list the matter for urgent hearing after solicitor-general Tushar Mehta, appearing for the BJP-led government in Haryana, sought immediate intervention of the apex court against the stay on the Haryana State Employment of Local Candidates Act, 2020 whose constitutional validity has been challenged by business associations.
Under the impugned legislation, the state chose to reserve 75 per cent private jobs where the salary was up to Rs 30,000 per month for local youths ostensibly as part of the "sons of soil" theory.
Besides vesting the citizens with the fundamental right to free speech and expression, Article 19 of the Constitution encompasses with its fold the fundamental right to move freely throughout the territory of India and to reside and settle in any part of the territory of India.
The state government will now have to justify the constitutionality of the enactment.
The interpretation of the act by the apex court will be crucial as given the populist nature of reservation other states may start playing the local domicile card for electoral gains.
Mehta on Friday told the Supreme Court bench that the high court heard him merely for 90 seconds before brushing aside the state's objection to any form of relief to the petitioners. However, the CJI said the matter would be placed before the appropriate bench only after the state places before the court the impugned orders passed by the high court.
The act, which came into force from January 15 this year, imposed the mandatory reservation policy for those domiciled in Haryana in all private companies, partnership firms and limited liability partnership firms. There is no such reservation in the government sector.
However, business associations led by the Faridabad Industrial Association challenged the policy on the ground that it would strike at the very roots of fundamental rights guaranteed to citizens under Article 14 (right to equality), 15 (non-discrimination) and 19 relating to right to carry on one's profession or reside.
While admitting a batch of petitions filed by associations representing various business sectors, a division bench of Punjab and Haryana High Court had on February 3 stayed the implementation of the law saying it would examine whether the state can pass such an act as it involved determination of a "core issue" as to whether the government can "restrict employment on the basis of domicile".
The high court had granted four weeks to the Haryana government to file its reply through an affidavit and had posted the matter for hearing in April.