Supreme Court issues notice to central govt on Northeast permits
A bench of Justice Abdul Nazeer and Justice Krishna Murari sought the Centre's response on the petition filed by Manipur-based organisation Amra Bangalee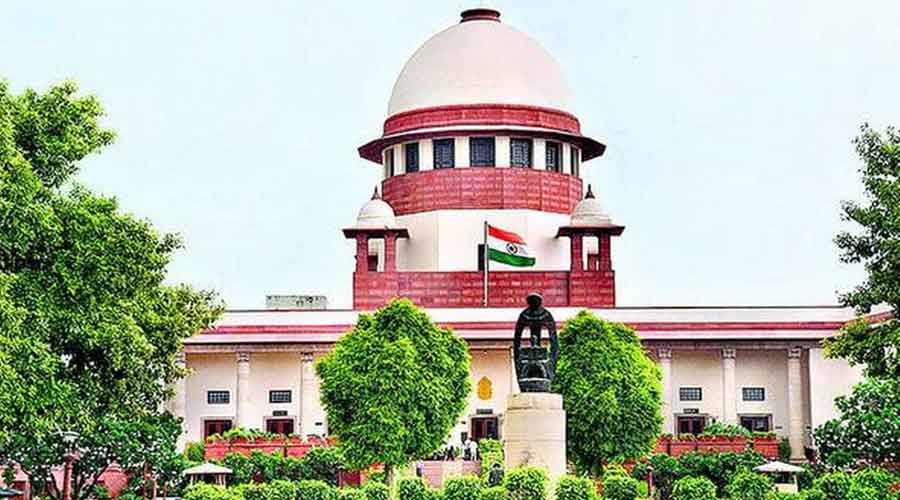 Supreme Court.
File photo
---
New Delhi
|
Published 04.01.22, 01:52 AM
|
---
The Supreme Court on Monday issued a notice to the Centre on a PIL challenging a 2019 order by the Union government restricting trade and tourism activities in the northeastern states of Manipur, Assam, Arunachal Pradesh, Mizoram, Tripura, Meghalaya and Nagaland.
A bench of Justice Abdul Nazeer and Justice Krishna Murari sought the Centre's response on the petition filed by Manipur-based organisation Amra Bangalee, challenging the inner line permit (ILP) system.
The plea contended that it was a British-era enactment reintroduced through the Adaptation Laws (Amendment) Order 2019.
According to the petitioner, through the impugned 2019 order, the government of India amended the Adaptation of Laws Order, 1950, in effect to make the ILP system by extending BEFR-1873 "applicable to the entire States of Arunachal Pradesh, Manipur, Mizoram and area of districts of State of Nagaland as notified from time to time".
BEFR refers to the erstwhile Bengal East Frontier Regulations, 1873 which, according to the petitioner, was enacted by the Britishers to protect its own commercial interests.
It was submitted that the ILP bars anyone who is not a resident of Manipur from entering the state or engage in business without applying for a special permit known as the inner line permit.
Subsequently, the Manipur government in exercise of its powers under sections 3 and 4 of the BEFR-1873 also notified the Manipur Inner Line Permit Guidelines, 2019 which, according to the petitioner, is unconstitutional as it imposes "unreasonable and arbitrary restrictions on the citizens of the country, creating a class within a class and isolating the citizens living beyond the arbitrarily decided inner line permit at the same time being discriminatory and violative of Article 15 (non-discrimination) as well".
Further, the "draconian ILP system also fails to provide any rational nexus with the objective sought to be achieved and is devoid of any intelligible differentia. Further, these legislations create an embargo on the rights of the free movement of the citizens and their right to freely carry trade and occupation within the territory of India, guaranteed under Article 19 (freedom to carry any occupation). This restriction is imposed on the citizens of the·entire country including the residents of the seven eastern states," the petitioner said.
By way of illustration, the petitioner pointed out that any person living in Nagaland, where the ILP system is already in place, also has to obtain a separate pass for entry into Manipur.
The PIL lamented that the imposition of ILP system hampered social integration, technological advancement and development of these areas.