Supreme Court hears 2009 Prashant Bhushan contempt case
Application has been tagged with the apex court's suo motu contempt application of June 22 against him for some of his recent tweets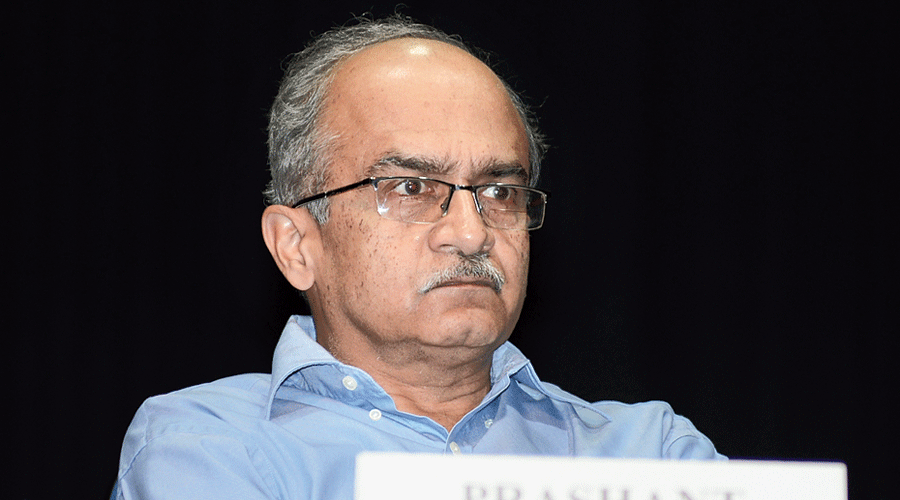 Prashant Bhushan
File picture
---
New Delhi
|
Published 25.07.20, 05:06 AM
|
---
The Supreme Court on Friday took up for hearing an 11-year-old contempt case against lawyer-activist Prashant Bhushan, who was quoted in 2009 as saying that at least "half of the 16 former CJIs were corrupt".
Bhushan had added at the time that he had no proof to support his allegation.
The court's move came two days after it had served Bhushan with a contempt notice for some of his recent tweets, and a day after the judge heading the bench had said the "voice of dissent cannot be suppressed in a democracy".
However, the bench of Justices Arun Mishra, Bhushan Gavai and Krishna Murari adjourned the matter till August 4 after repeated requests for postponement from Bhushan's nonagenarian father and senior lawyer Shanti Bhushan and fellow senior counsel Kapil Sibal and Rajeev Dhavan.
Prashant Bhushan's 2009 comment about "half of the 16 former CJIs" had come in an interview to the Tehelka magazine.
Bhushan had in the interview also made critical observations against the late Chief Justice of India, S.H. Kapadia, for hearing a case relating to Sterlite Industries despite being one of its shareholders.
On Friday, contempt proceedings were initiated also against Tarun Tejpal, then editor of the magazine.
Senior advocate Harish Salve had soon after the interview's publication moved a contempt application against Bhushan. Salve was then acting as amicus curiae (friend of the court) in certain environmental-related matters.
Shanti Bhushan, a former law minister, had then moved an application bringing on record alleged instances of corruption against six CJIs. This was produced in a sealed cover but has not yet been perused.
However, the last hearing of the matter – before Friday --- appears to have been held in 2012.
Now the 2009 contempt application has been tagged with the apex court's suo motu contempt application of June 22 against Prashant Bhushan for some of his recent tweets.
One of the tweets said that democracy had been "destroyed" in India during the tenure of the last four CJIs. Another spoke critically about current Chief Justice of India S.A. Bobde in relation to a motorcycle.
On June 22, though, the court had not taken up the 2009 contempt petition. It took it up separately on Friday.
During the hearing, the 94-year-old Shanti Bhushan told the bench he "cannot argue efficiently in virtual court proceedings" and "since the case is of 2009 and has remained pending for 10 years, it can wait till physical court hearings resume".
Because of the Covid-19 threat, the Supreme Court is currently holding hearings only through videoconferencing.
Dhavan, appearing for Prashant Bhushan, too requested an adjournment. He told the court that the last lawyer to have defended Bhushan, Ram Jethmalani, had passed away.
"The (case) record runs to three or four volumes. I need time to go thoroughly through them," Dhavan said.
Sibal, representing Tejpal, questioned the "urgency".
"The last hearing was in 2012. What is the great urgency in hearing it now?" he said, seeking a postponement.
But Justice Mishra, who headed the bench, and Justice Gavai said the court could very well hear the matter virtually when it was hearing various other matters in the same mode.
"Let us start hearing. It has to be heard by one or the other bench some day or other," Justice Mishra observed.
Shanti Bhushan pleaded: "Please take up the case when normal functioning of the courts begin. I will be able to assist properly. It has waited for 11 years; it can wait for a few more weeks."
Sibal quipped: "This is not a deportation matter. There is no urgency. Nothing impending is happening tomorrow. It can wait for some time."
As Dhavan argued he needed time to go through the case records, Justice Mishra said: "We will hear you first, Dhavan Sahab! This case needs to be heard by someone. We need to start hearing at least.... We will give you so much time that you will be satisfied."
Shanti Bhushan said that since his impleadment application was pending, he would like to assist the court.
"You are too senior to be impleaded in the case. We cannot implead you," Justice Mishra remarked.
"The case has waited so long. My application cannot be disposed of like this. You (judges) have not read my application," Shanti Bhushan said.
"I have read (it). You have supported your son," Justice Mishra said. "We will give time but we know our responsibility."
With this, he adjourned the matter till August 4.