Supreme Court dismisses petition on Rahul citizenship
The court asked for the antecedents of two 'public-spirited' petitioners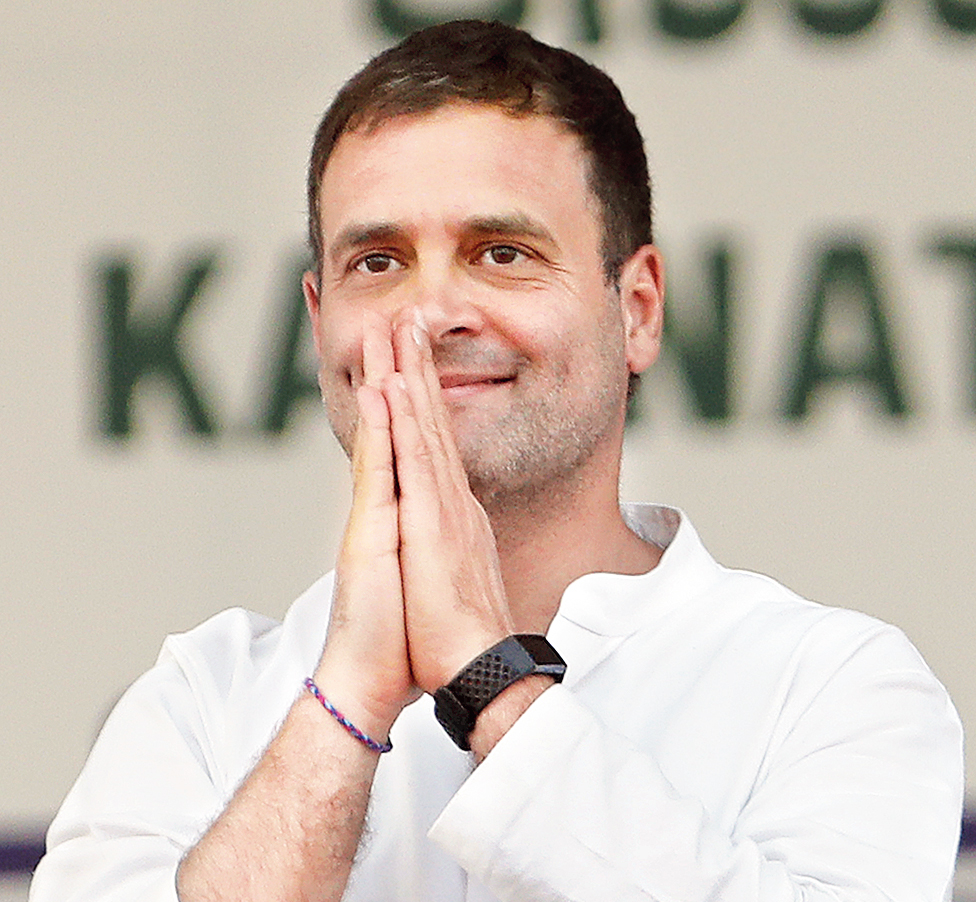 Rahul Gandhi at a campaign rally in Bangalore
File AP picture
---
New Delhi
|
Published 10.05.19, 12:56 AM
|
---
The Supreme Court has enquired about the antecedents of two "public-spirited" persons and dismissed their petition that sought to get Rahul Gandhi debarred from contesting elections or holding any post in India on the claim that he was a British citizen.
The petition was filed by Jai Bhagwan Goyal and Chander Prakash Tyagi, who referred to themselves as "public-spirited" persons, two days after the BJP sought to make the British controversy an election issue. On April 30, BJP spokesperson Sambit Patra had wondered aloud: "Which Rahul is original, Rahul of London or Rahul of Lutyens?"
Based on a complaint by BJP parliamentarian Subramanian Swamy that a noting on a UK company's document had described Rahul as a British national, the Union home ministry had asked the Congress president to clarify the issue. The Congress had alleged that the controversy had been timed to coincide with the elections although the Supreme Court had upheld his Indian citizenship in 2013.
On Thursday, Chief Justice Ranjan Gogoi asked the counsel for the petitioners: "If some (company) papers say he is a British citizen, does he become a British citizen? What sort of petitions are being filed before us?"
The counsel contended that it was not merely a question of citizenship, but involved a person who was "seeking to become the Prime Minister of India".
Justice Gogoi said: "How does it matter? Each one… in this 120-crore population of the country aspires to become the Prime Minister. If you got the opportunity, would you mind being the Prime Minister? It's a healthy aspiration, we don't see any reason to interfere with the petition."
The bench, which included Justices Deepak Gupta and Sanjiv Khanna, asked the counsel: "Who are you (the petitioners)? What do you do for (a) living?"
The counsel responded that the petitioners were public-spirited persons, social workers and were also in politics.
"So, you are in the politics of social work?" the Chief Justice asked.
The bench asked the counsel why they had approached the court in 2019 when the company documents were drawn up in 2005-2006. "It was in 2005-06? When did you come to know about this?" the bench asked.
The lawyer said the documents had come to light only in 2015.
"Still, it took you 2019 to approach the court?" the bench asked.
"Heard counsel for the petitioners and perused the relevant material. We are not inclined to entertain the writ petition. The same is, accordingly, dismissed," the bench said in its order.
Contacted by The Telegraph in the evening, Patra, the BJP spokesperson, said: "I have not gone through the court order. I am busy with TV debates. I will read the court order and get back."
Patra had not done so till late on Thursday night.