Stunt tag on hospital Covid rate
Rs 45,000-a-day quote misleading, say patient groups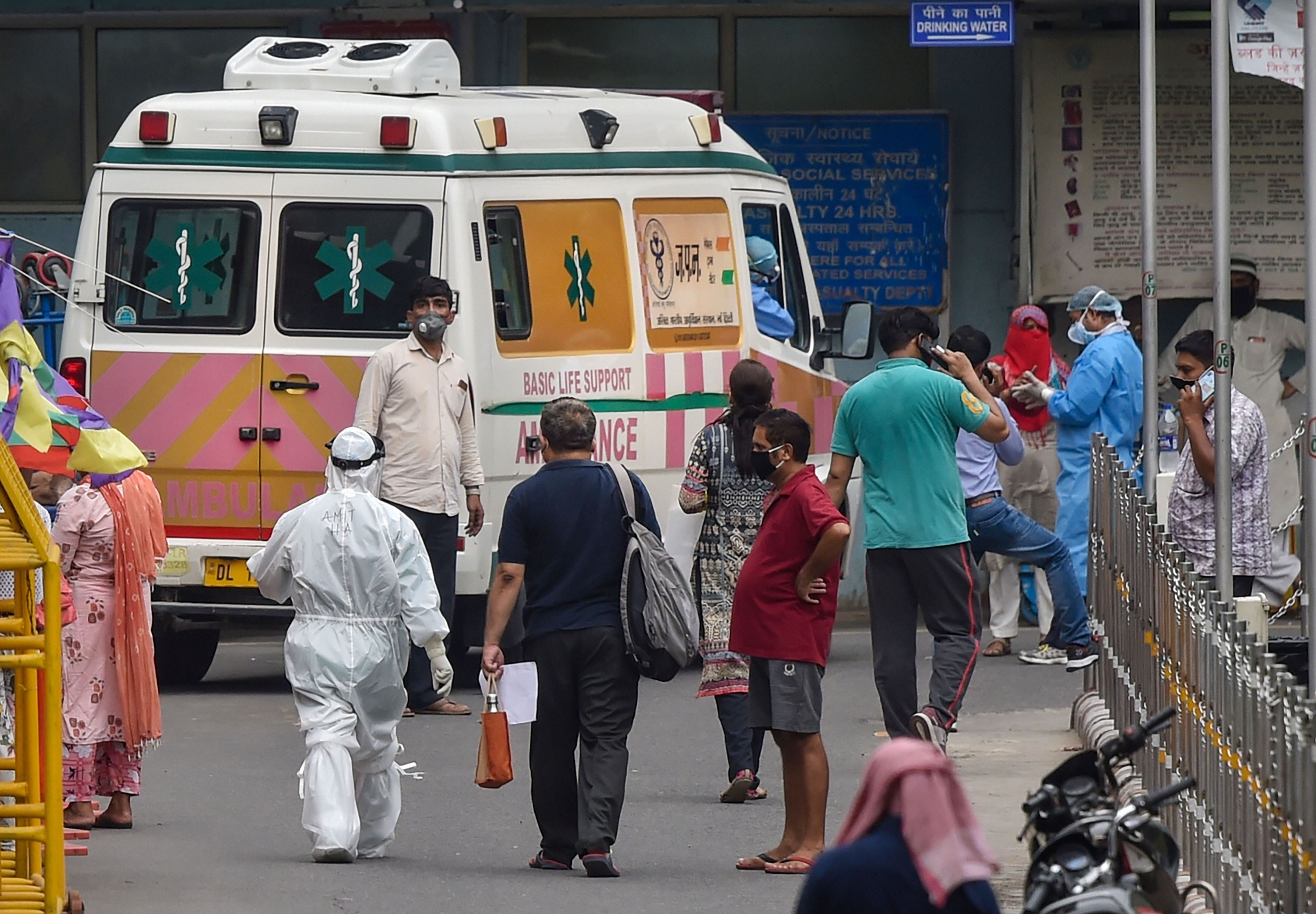 Medics wearing PPE kits with COVID-19 suspected patients at AIIMS, during the ongoing nationwide lockdown, in New Delhi, Thursday, June 4, 2020.
(PTI)
---
New Delhi
|
Published 04.06.20, 11:14 PM
|
---
India's private hospitals on Thursday proposed self-regulated and "indicative" prices of up to Rs 45,000 a day to treat coronavirus patients, but patients' rights advocates have said the offer is a "stunt", ahead of a hearing in the Supreme Court on Friday on the topic.
Two panels representing private hospitals offered what they described as standardised and indicative rates ranging from Rs 15,000 per day for an isolation bed to Rs 45,000 per day for an intensive care unit bed with ventilator support.
The proposals from Association of Healthcare Providers of India and the Covid-19 response task force of Federation of Indian Chambers of Commerce and Industry come amid the country's rising coronavirus count and many patients preferring beds in private hospitals.
Health authorities recorded 9,304 Covid-19 cases on Thursday — a fresh highest-ever overnight spike — raising the total number of confirmed cases to 216,919, of whom 106,737 patients are under medical supervision, 104,107 have recovered and 6,075 have died.
"Many middle-class patients have a clear preference for private hospitals — this is a reality," said Girdhar Gyani, the executive director of AHPI, a body of private hospitals. "We've proposed indicative prices taking into account the actual costs of treatment for Covid-19."
The AHPI has proposed Rs 15,000 per day for a ward bed, Rs 20,000 per day for a ward with oxygen, Rs 25,000 for isolation ICU and Rs 35,000 per day for isolation ICU with a ventilator. The Ficci panel has proposed Rs 17,000 per day for general ward and Rs 45,000 per day for an ICU bed and a ventilator.
Both AHPI and the Ficci panel said these costs do not cover high-end investigations, medicines and treatment required for patients with underlying health disorders, or comorbidities. The Ficci panel also said the rates are indicative with a scope for five to 10 per cent individual variations.
Covid treatment costs are difficult to rationalise as many patients have associated comorbidities, said Alok Roy, chair of the Ficci panel, in a statement. "We have recommended costs that may not be viable for the private sector but there is a national crisis."
But patients' rights advocates campaigning for price regulation in the private healthcare sector said the proposals from private hospitals appear intended to create a misleading impression that they are imposing price caps on themselves a day before the Supreme Court hears a petition on the issue.
The hearing follows a petition filed by an advocate seeking regulated costs.
"These proposals for self-regulated pricing are a publicity stunt ahead of the court hearing," said Malini Aisola, co-convener of All India Drug Action Network, a group of physicians and healthcare activists seeking greater government control on pricing in the healthcare industry.
"Patients who have comorbidities are at higher risk of developing severe disease and requiring ICU treatment, but the proposed rates do not cover cost of treating comorbidities. They also exclude high-end medicines that can contribute hugely to bills," she said.
Inayat Kakar, a public health activist and lawyer, said the price caps and the exclusions proposed by the private healthcare bodies will continue to allow hospitals to profit. "In the event of violations, patients would be left on their own," she said. "Who're they going to complain to?"
Aisola said the proposals appear to subvert efforts by some state governments to regulate Covid-19 care.