Online applications will be received from April 2 to 30
Students to get 15 days to prepare for common university test
One key worry is that the CUET will undercut the relevance and quality of school education and promote coaching and rote learning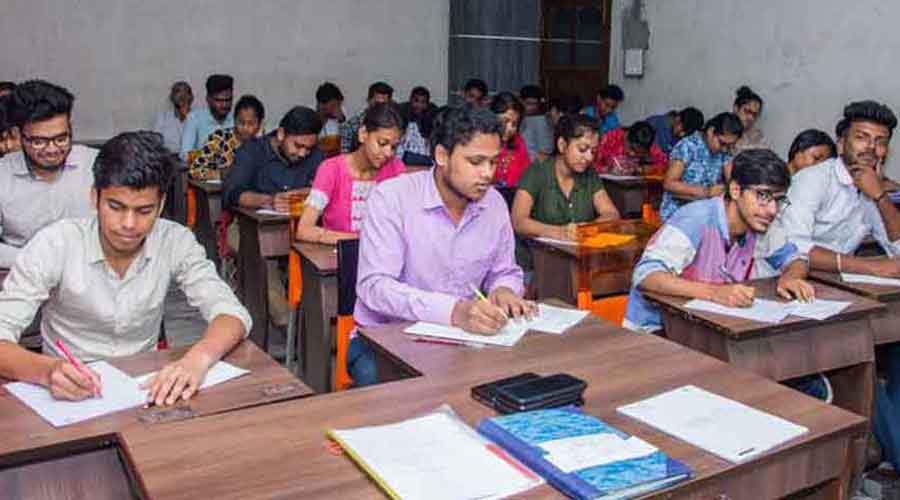 Currently, most colleges and universities admit undergraduate students on the basis of their Class XII scores, a process complicated by the different school boards adopting different levels of generosity in awarding marks.
File photo
---
New Delhi
|
Published 28.03.22, 02:17 AM
|
---
Prateek Arsh, a Class XII student at the ITL Public School here, on Sunday regretted that he would get just over 15 days to prepare for the most crucial exam of his life.
He was talking about the Common University Entrance Test (CUET), introduced from this year, which will determine admissions to undergraduate courses at all the central universities and their affiliated colleges.
Till June 15, Prateek will be occupied with his board (CBSE) exams. The CUET, a computer-based test, will start in the first week of July.
The lack of preparation time was only one among many concerns that students, schools and teachers expressed on Sunday, a day after the National Testing Agency unveiled the structure of the CUET. (See chart) One key worry was that the CUET, by making board marks irrelevant, would undercut the relevance and quality of school education and promote coaching and rote learning.
Prateek said he felt his batch had been made a guinea pig like no other.
"Through Classes XI and XII, we mostly had online lessons (because of the pandemic). Then the board exam was split in two (Term I and II) for us. Now, as we prepare for the (Term II) board exam, they have announced the CUET," he said.
"The CUET will have a different pattern from the board exam, and yet we have no time to prepare for it."
In the CUET, a student will have to take at least one language paper, one domain-subject paper and a general-test paper. A student can appear in up to six domain subjects to widen his or her choice of streams and disciplines.
But this opportunity for a wider choice of streams, Prateek said, would largely remain on paper, at least this year.
He said it would be virtually impossible for a student of science like him to prepare for an exam in a humanities or social science subject within two weeks.
"Of those students who might want to pursue a stream different from the one they have studied at school, I fear few would be able to do so," he said.
Letter to minister
The National Progressive School Conference (NPSC), an association of over 200 schools from across India that has helped formulate various education policies, has written to education minister Dharmendra Pradhan opposing the decision to make the CUET the sole determinant for admission to central universities and their colleges.
In the letter, NPSC chairperson Sudha Acharya has pleaded that at least 50 per cent weightage be accorded to board marks to keep school education relevant.
Currently, most colleges and universities admit undergraduate students on the basis of their Class XII scores, a process complicated by the different school boards adopting different levels of generosity in awarding marks. The CUET is expected to solve this problem.
However, Acharya wrote this problem could have been addressed by designing a method to rationalise the different boards' marks.
Having a centralised test as the sole avenue for admission will promote coaching, which the National Education Policy wants to do away with, she wrote.
Acharya argued that the CUET would threaten the basic purpose of schooling.
"While we were told that each central university can decide on (its) eligibility criteria, it has been announced by DU (Delhi University) that students need only to have passed their (Class) XII board examination to be eligible for appearing in the CUET. This is very disheartening because the whole purpose of schooling gets defeated," the letter said.
It expressed fear that students and teachers would no longer have any incentive to put in their best effort, and the schools will become only a stepping stone for the students to qualify for CUET.
"This will have long-term repercussions on the quality of education delivered at the school level," the letter said.
The CUET is particularly unfair on the current batch of pandemic-hit students, it said. These students had the common test imposed on them at short notice while they were immersed in preparing for their board exams, having already endured heavier odds than any batch before them.
"We therefore feel that the CUET could have been introduced next year so as to bring greater awareness among students who would have sufficient time to mentally prepare themselves to take such a common entrance examination after their final board," Acharya wrote.
She highlighted that the CUET's general-test paper would have compulsory sections on quantitative reasoning, logical and analytical reasoning and numerical ability. This will make it difficult for students without an aptitude for maths to score well without coaching.
Acharya added that since the CUET would be based on the NCERT syllabus, it might disadvantage students from those school boards that have not adopted NCERT textbooks.
Acharya told The Telegraph that leading foreign universities prioritise undergraduate admission seekers' performance in their school exams. If the CUET causes Indian students' scores in their board exams to dip, it will hurt their chances of studying in good universities abroad.
"The CUET will encourage schoolchildren to prepare for objective-type questions by memorising information and ignore long-term learning like improving their skills in reading, writing and critical analysis," she said.
C.B. Sharma, former chairperson of the National Institute of Open Schooling, suggested the CUET would also affect the universities' freedom in designing their admission process in keeping with their speciality and outlook.
"Universities compete with each other in securing students of their choice. Students too apply keeping in mind the specialty of the institution. The common test will dilute this healthy academic diversity," Sharma said.
"Besides, any centralised exam has several security and logistical hazards. Its success depends on the smooth functioning of computers at hundreds of test centres, timely delivery of question papers, error-free question papers, fair assessment and, most importantly, transparency."
Sharma said that getting the about 30 school boards to implement a uniform system of evaluation was feasible. If the government felt unable to regulate the school boards, it could have set up an education commission to get the boards and schools to agree to standard evaluation practices.
Online applications for the CUET will be received from April 2 to 30.
State and private universities can take their own call on whether to admit students on the basis of their CUET scores.
An email sent to UGC chairperson M. Jagadesh Kumar seeking the higher education regulator's reaction to the fears expressed by students and academics has remained unanswered.