Starbucks co-founder smells filter coffee
Zev Siegl tried out a range of south Indian dishes and filter coffee at the popular Vidyarthi Bhavan restaurant in Bangalore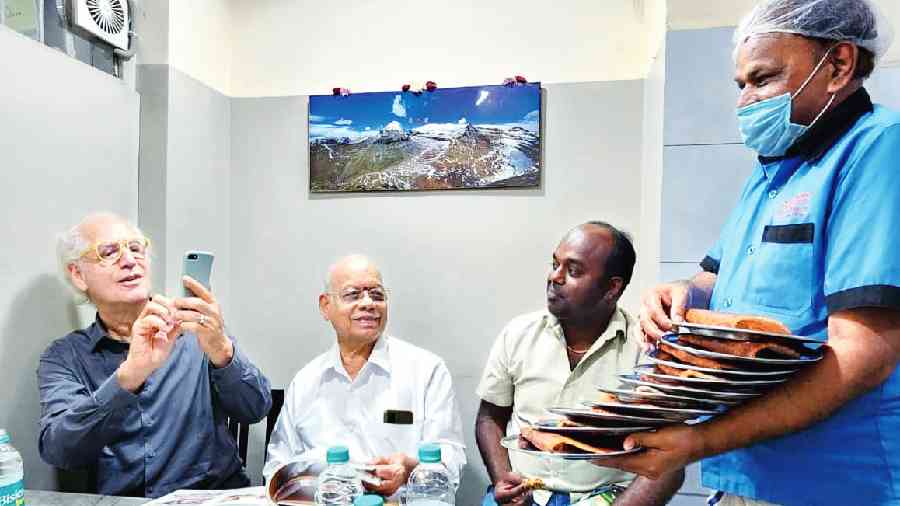 Starbucks co-founder Zev Siegl clicks pictures of a waiter carrying a stack of masala dosa at Vidyarthi Bhavan restaurant in Bangalore on Thursday.
Picture courtesy Vidyarthi Bhavan
---
Bangalore
|
Published 05.11.22, 01:54 AM
|
---
American businessman and Starbucks co-founder Zev Siegl tried out a range of south Indian dishes and filter coffee at the popular Vidyarthi Bhavan restaurant here on Thursday and gave it a three-star rating.
Arun Adiga, whose family runs the restaurant in Basavanagudi, south Bangalore, told The Telegraph he was "excited and nervous" when he received a heads-up about the impending visit by a man who had co-founded the world's largest coffee shop chain.
Siegl was in the city to participate in the three-day Global Investors Meet 2022 that got under way on Thursday.
"I got a call from a coordinator of the GIM about the visit by Zev Siegl," Arun said.
Siegl arrived at the restaurant accompanied by a few coordinators of the GIM. Arun's father Ramakrishna Adiga received Siegl and guided him through the menu.
"He had a full masala dosa and filter coffee, and tasted a bit of uppittu (upma), kesari baath (a sweet dish) and rava vade. He had three spoonfuls of chutney and said he loved the spicy taste," Arun said.
Siegl drew a coffee tumbler on the guest book and put three stars in it.
"My friends, it is an honour to enjoy your famous food, coffee and warm welcome. I will take this wonderful experience with me back to Seattle," he wrote.
Arun said Ziegl's visit was "recognition of how good our south Indian cuisine is".
"Although our cuisine is available all over the world, it will certainly help when a global business leader like Siegl shares his experience back in his country," he said.
Ziegl posed for pictures with one of the waiters who held a stack of the trademark masala dosas of the restaurant. In another picture, the American is seen clicking a second waiter carrying another stack of masala dosas.
Vidyarthi Bhavan was started in 1943 by Venkataramana Ural, who later passed it on to his brother Parameshwara Ural. The restaurant's name owed to its principal customer base of the time – students from the nearby National High School and Acharya Pathashala.
Ramakrishna bought the business from Parameshwara in 1970 — a year before Siegl co-founded Starbucks with Gordon Bowker and Jerry Baldwin.
Arun left his engineering job a few years ago and joined his father in running the restaurant.