Stalin knocks on rival doors to counter BJP's Hindutva narrative
Coming close on the heels of TMC seeking to become rallying point for Opposition, DMK is careful to underscore that it's not a political organisation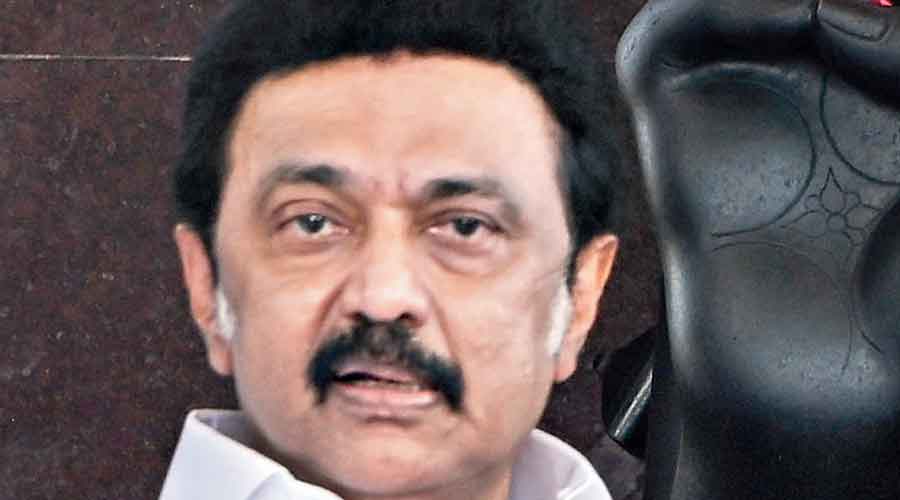 ---
New Delhi
|
Published 03.02.22, 02:07 AM
|
---
Tamil Nadu chief minister M.K. Stalin has written to the leaders of 37 non-BJP parties across the country, including arch-rival AIADMK, to join the All India Federation of Social Justice that he is trying to put together.
The outfit aims to fight alleged concerted efforts to dilute the gains of the last seven decades and, in the process, provide an ideological counter to the Hindutva narrative.
Stating that India as a "unique, diverse, multi-cultural federation" is under "threat of bigotry and religious hegemony", Stalin said: "These forces can only be fought if all who believe in equality, self-respect and social justice unite…. It is not a question of political gain but re-establishing the pluralistic identity of our Republic as visualised by our founding fathers."
Having successfully fought a court battle for an OBC quota in all-India pool medical seats, Stalin had announced on Republic Day that he would set up a federation to provide a platform that would bring together not just political parties but also like-minded individuals and organisations, besides civil society, to achieve the principles of federalism and social justice at the national level.
Coming close on the heels of the Trinamul Congress seeking to become the rallying point for the Opposition in the face of disarray within the Congress, DMK sources were careful to underscore that the All India Federation of Social Justice was not a political organisation.
In his letter, Stalin said: "Social justice as an ideology is simple — 'everything for everyone'. It is the belief that everyone deserves equal economic, political and social rights and opportunities. Only by ensuring this equality of opportunity can we build the egalitarian society visualised by the framers of our Constitution."
One of the issues that the federation will push for is a caste census, which is being demanded by several political parties, including some BJP allies.
Referring to Tamil Nadu's politico-legal battle to obtain 27 per cent OBC reservation in the all-India pool seats in medical and dental courses nationwide, Stalin said: "I firmly believe that the time has finally arrived to stand together as a true union of states…
"We must unite with the same conviction and purpose as we did in order to establish the Mandal Commission…. The Federation will be a platform for us to create a road map to take forward the battle for social justice in India and identify the areas in which we can do more, and bring about a common minimum programme to be uniformly adopted by all states."