'Sound recordist' barb at Kishor
Uttar Pradesh Congress chief Raj Babbar today described party poll strategist Prashant Kishor as "merely a sound-recordist", becoming a rare Congress politician to openly slight a man seen as a Rahul Gandhi appointee.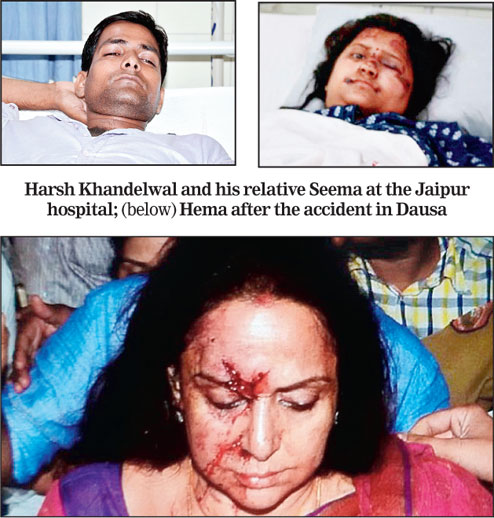 ---
Published 05.09.16, 12:00 AM
|
---
Sept. 4: Uttar Pradesh Congress chief Raj Babbar today described party poll strategist Prashant Kishor as "merely a sound-recordist", becoming a rare Congress politician to openly slight a man seen as a Rahul Gandhi appointee.
"He (Kishor) is merely a sound recordist. When the voice pitch goes up or down, he adjusts it. He is not my leader: my leader is Rahul Gandhi," the Bollywod actor turned politician told ABP News.
Sources close to Kishor, who had earlier masterminded landmark election victories for Narendra Modi and Nitish Kumar, said he was "unbothered and dismissive" of the comment as "unworthy of his attention".
The "outsider" Kishor's appointment as a professional hand to plot the Congress's victory in poll-bound Uttar Pradesh and Punjab has chagrined many party seniors but few have publicly targeted him.
Congress circles are eagerly watching whether Babbar - believed to be close to Rahul, Ahmad Patel and Digvijaya Singh - gets away with his barb.
Babbar, a serial party-hopper in the past, had been labelled a "motor-mouth" during the UPA government's last years. He had embarrassed the leadership by claiming he could buy a meal in Mumbai for Rs 12 but was forgiven after an apology.
Earlier, when the Congress welcomed Babbar into the fold in 2008, it had had to forgive him his histrionic attacks on Rajiv Gandhi two decades earlier when he was one of V.P. Singh's lieutenants.
"Rajiv Gandhi wants to make India a Nehru Private Ltd company," he would thunder, every sinew quivering in indignation. "The Congress is like the Kauravs. Duryodhan is ruling...."
Some of the pain that Babbar has caused the Congress over the years came by default rather than design. This includes an indirect role in sending Sanjay Gandhi to jail.
His first film, Kissa Kursi Ka (1977), also starring Shabana Azmi, lampooned Indian politicians. Parts of its plot seemed a spoof on Sanjay Gandhi's life.
Indira Gandhi's loyalists thought it was an attack on the Emergency. The movie was investigated by a commission and its prints were confiscated and burnt.
After the Janata Party defeated the Congress in the 1977 general election, the new government set up the Shah Commission to look into the excesses of the Emergency.
Sanjay was arrested for burning the prints and had to spend a month in Tihar Jail. V.C. Shukla, Indira's I&B minister, was handed a two-year jail term in the case but the verdict was later overturned.
Yet it was the Congress that Babbar had sought to join when he decided to plunge into politics full-time following the death in 1986 of his actress wife Smita Patil, daughter of a Congress MP --- partly, perhaps, to distract himself.
In 1984, when Congress candidate and actor Sunil Dutt contested from Bombay North West against lawyer Ram Jethmalani, Babbar and Smita would walk through the city's bazaars and slums asking people to vote for Dutt.
But in 1987, as Prime Minister Rajiv struggled to fend off VP's revolt and President Zail Singh's ire, Babbar switched his gaze to the Jan Morcha.
It wasn't the last time he would shift loyalties. Sometime after the Babri Masjid demolition, he joined the Samajwadi Party and became a Rajya Sabha member in 1994.
After a well-fought defeat against Atal Bihari Vajpayee from Lucknow in the 1996 general election, he made his Lok Sabha debut from Agra in 1999 and repeated the success in 2004.
But his running feud with Mulayam Singh Yadav favourite Amar Singh, who is said to have cost Babbar several film contracts that went to Amitabh Bachchan instead, led to his departure in 2006.
Babbar joined the Congress and, in a by-election in 2009, upset Akhilesh Yadav's wife Dimple.
Currently, he is a Rajya Sabha member from Uttarakhand and Uttar Pradesh chief --- rewards for sticking by the Gandhis despite the party's 2014 debacle and his own defeat to former army chief V.K. Singh from Ghaziabad.
Babbar had showed a knack for politics from his days at the National School of Drama, where he earned the tag "rebel without a pause", leading several campus revolts and championing countless causes.
He also emerged as one of the drama school's best in-house actors. The campus mess was then run by Taj Mohammed Khan, father of Shah Rukh Khan, then a student at Delhi's St Columbus School.
Shah Rukh recalled hanging out at the campus mess and watching some of Babbar's mesmerising performances in plays such as Suraj Ka Satvan Ghoda, Razia Sultana and Tughlaq, the last staged in 1974 under Babbar's tutor and legendary theatre director Ebrahim Alkazi.