Sonia Gandhi, Sachin Pilot discuss steps to strengthen Congress
Sources said he gave a comprehensive feedback to the party chief on the ground realities in the state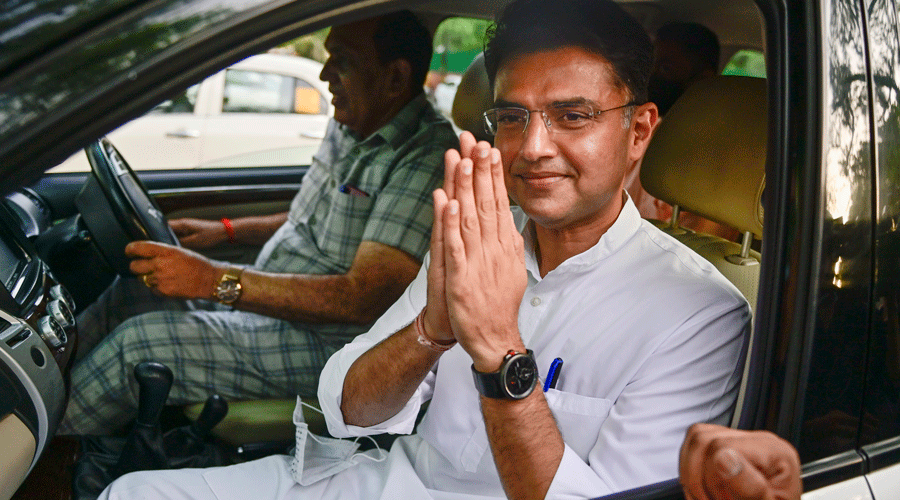 Rajasthan Congress leader Sachin Pilot after meeting with Sonia Gandhi in New Delhi on Thursday.
PTI Photo
---
New Delhi
|
Published 22.04.22, 12:53 AM
|
---
Congress president Sonia Gandhi on Thursday met Sachin Pilot a day after meeting Rajasthan chief minister Ashok Gehlot, signalling the high command's intent to set the house in order in the state before the Assembly elections scheduled in December 2023.
Sources said Pilot gave a comprehensive feedback to the party chief on the ground realities in Rajasthan. That Sonia wanted a counterview after meeting the chief minister indicates that the Rajasthan leadership question is not yet settled and the high command is weighing its options for bolstering the electoral prospects.
Gehlot has failed twice in the past to counter anti-incumbency and that fear is lurking in the minds of the leadership this time.
Though the Gehlot government has initiated significant welfare measures, there is a perception that the political situation isn't very favourable for the Congress. A section in the party favours change, arguing that the Congress must offer something new in the state where Gehlot has ruled for three terms. The Pilot group wants change at the earliest after the failed experiment in Punjab where Charanjit Singh Channi got barely 100 days to make a mark.
Gehlot is an important leader in the party and he is expected to be accommodated in the high command structure if Pilot is made chief minister. If the high command rules out a change, harmonising the differences between the two groups won't be easy.
The high command has a problem at hand in Chhattisgarh as well where senior minister T.S. Singh Deo is seeking change. Chief Minister Bhupesh Baghel is going strong but there is a debate on the leadership within the party.
Sources say a half-way replacement formula had been agreed upon when Baghel was asked to lead the government. Half of the term is already over and Singh Deo has forcefully reminded Rahul Gandhi of the promise made to him.
Although removing an OBC chief minister who is perceived to have done well will not be easy, the high command will have moral qualms about betraying Singh Deo who has so far waited patiently for his chance.
After the pathetic results in the latest round of Assembly elections, where the Congress's expectations of winning at least Goa and Uttarakhand fell flat and the Punjab experiment crashed, it will not be easy for the central leadership to remove two sitting chief ministers. At the same time, retaining Rajasthan and Chhattisgarh, the only states where the Congress is in power on its own, is critical for the party's prospects.
Though the party is in power with coalition partners in Maharashtra and Jharkhand, states like Rajasthan and Chhattisgarh, along with Madhya Pradesh and Karnataka, are going to be the pivot of the Congress's revival if it has to happen before the 2024 parliamentary elections.