Sonia Gandhi appeals for unity, selfless work and discipline
Congress chief addresses CWC ahead of three-day brainstorming session in Udaipur from May 13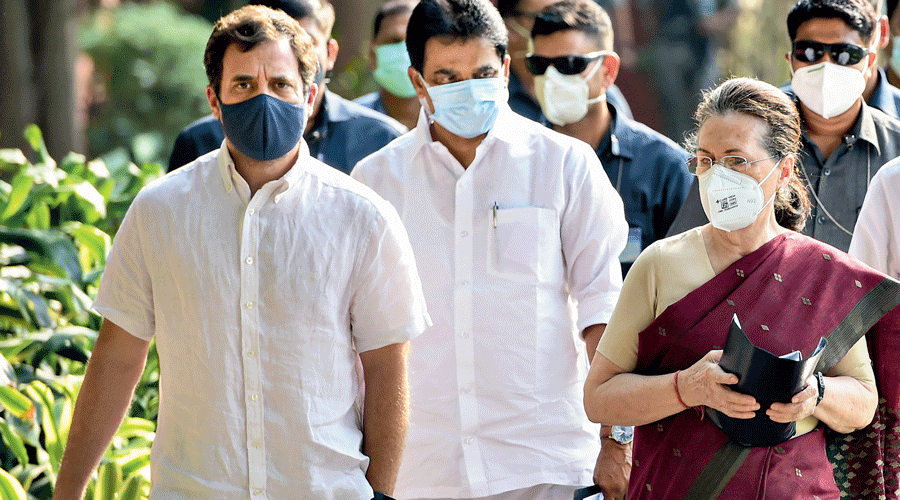 Congress president Sonia Gandhi, along with party leaders Rahul Gandhi and KC Venugopal, arrives for the Congress Working Committee meeting, at the AICC headquarters, in New Delhi on Monday.
PTI Photo
---
New Delhi
|
Published 10.05.22, 02:39 AM
|
---
Congress president Sonia Gandhi on Monday appealed to party leaders for "unity, selfless work and discipline," exhorting them to repay their debt to the party at this critical juncture.
Sonia was addressing the Congress Working Committee (CWC) ahead of the three-day Chintan Shivir (brainstorming session) to be held in Udaipur from May 13.
"I request your full cooperation in ensuring that the single over-riding message that goes forth loud and clear from Udaipur is one of unity, cohesion, determination and commitment to our party's accelerated revival," Sonia said at the meeting called to review the background papers for the session.
The dominant view in the party is that the primary cause for disarray is the leadership crisis, following Rahul Gandhi's exit, and the highest expectation also revolves around the same question.
Sonia said: "There are no magic wands. It is only with selfless work, discipline and a sense of consistent collective purpose that we will demonstrate our tenacity and resilience."
She added: "The party has been central to the life of each and every one of us. It has expected our total allegiance and has been good to each and every one of us. Now, when we are at a crucial juncture, it is imperative that we step forward and repay our debt to the party in full measure.
"Self-criticism is of course needed in our party forums. But this should not be done in a manner that erodes self-confidence and morale and an atmosphere of gloom and doom prevails. To the contrary, we are beholden to put our heads together and together, collectively overcome the challenges that face us."
After the meeting, Randeep Surjewala and Jairam Ramesh explained that the Chintan Shivir was about preparing an action plan to deal with political, social and economic challenges. They said a new resolve and roadmap would evolve after the session to strengthen the organisation and fight the Narendra Modi government effectively.
They referred to the atmosphere of hate, the economic slide, falling rupee, rising prices as issues of concern and said the party's own challenges of preparing for the 2024 parliamentary elections too will get priority.
Rahul Gandhi, who ceaselessly attacks Modi on these issues, wrote on Facebook on Monday: "Rupee has fallen to an all-time low of Rs 77.4 to a dollar. The Prime Minister has already achieved his target of Rs 100+ in petrol and diesel, and Rs 1000 in LPG. Now it's the rupee's turn to march towards 100. India is in the middle of a huge economic crisis, which will worsen further and turn into something Indians have never witnessed before. The PM cannot keep the economic and social realities of India hidden forever. It is time he acknowledges the situation and starts working towards solutions, instead of just offering PR distractions."
Party workers expect the Chintan Shivir to transcend the rut and present a different Congress raring to unsettle the Modi juggernaut. But the six committees formed to prepare talking points on different subjects are unlikely to come up with any path-breaking ideas. Suggestions like 'one-man-one-post' have been repeated ad nauseam; another idea that is being proposed is a ticket to only one member of a family to contest election, which too has been discussed earlier.
The committee on social justice and empowerment is going to propose 50 per cent reservation within the organisation for Dalits, OBCs, minorities and women together, which may be accepted. Restricting the tenure of office-bearers to one full term is also being considered.
Sonia said the list of invitees is balanced and representative. Surjewala disclosed that 50 persons have been invited from outside the fixed criteria. He also said that 50 per cent of the participants will be below 40 years of age and 21 per cent will be women.