Social activists urge Bangalore police to book Anil Vij
Campaign Against Hate Speech, a Bangalore-based rights group, lodged a complaint with the city police commissioner's office seeking legal action against BJP leader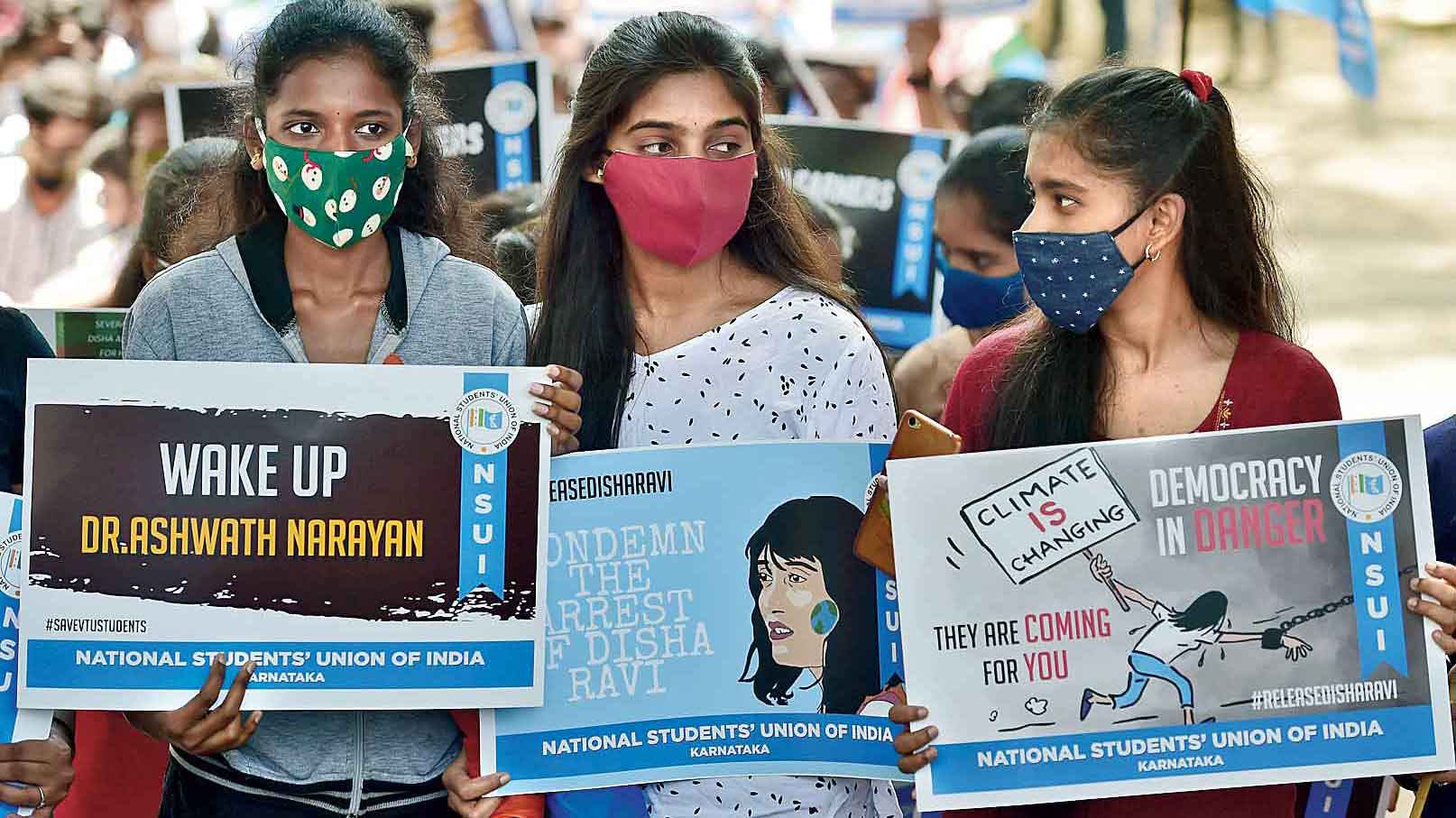 ---
Bangalore
|
Published 17.02.21, 02:06 AM
|
---
Social activists have urged Bangalore police to book Haryana minister Anil Vij for tweeting that young climate activist Disha Ravi, arrested for editing and sharing a protest toolkit, should be "eradicated".
The activists have also sought steps against Delhi police for taking Disha away from her home in Bangalore without following proper procedures involving her basic rights.
Campaign Against Hate Speech, a Bangalore-based rights group, lodged a complaint with the city police commissioner's office late on Monday seeking legal action against BJP leader Vij.
"Desh virodh ka beej jiske bhi deemag mein ho uska samool nash kar dena chahiye fir chahe veh # Disha Ravi ho ya koi aur," Vij had tweeted. In English, it could be translated to mean that whoever harbours the seed of anti-nationalism in their mind, either the person or the thought has to be destroyed from the roots.
The police in BJP-ruled Karnataka have yet to take follow-up action on the complaint against Vij.
Vij said he was not afraid of police complaints being filed against him over his tweet.
Challenging the interpretation of his tweet, the minister told reporters: "I have said whoever harbours the seed of anti-nationalism in their mind, that has to be destroyed from the roots. Let me make it clear, it is exterminating that seed of anti-nationalism and not exterminating the person."
Vij's post had also prompted an investigation by Twitter. "Even Twitter investigated the tweet, they said nothing was wrong," said Vij.
Asked about the police complaint filed by the Karnataka-based group of activists, Vij said: "I am not afraid of such complaints or FIRs. Anyone can lodge a complaint, I will give a reply."The 21-year-old climate activist was "picked up" from her home in north Bangalore on Saturday and arrested in Delhi before a court remanded her in five days' police custody.
According to Delhi police, Disha had edited and shared a social media toolkit on how to support the ongoing farmers' protest in Delhi. Disha is associated with the Karnataka chapter of Fridays For Future, a students' movement started in 2018 by Swedish climate change activist Greta Thunberg.
A group of 70 social activists, lawyers and writers have urged Bangalore police to take action against Delhi police for the "flagrant violations of law" in taking away a resident of the city without following any procedures.
"It is utterly distressing to note that Ms Ravi's arrest has been carried out without any regard for her rights under the Constitution of India. Police officials are entrusted with the implementation of the law and are hence the foot soldiers of our criminal justice system," stated the memorandum submitted to the police commissioner.
"The entire incident was a clear and blatant violation of Articles 19, 21 and 22 of the Constitution of India," stated the memorandum.
While Article 19 and its sub-sections provide for, among others, freedom of speech and expression, the right to assemble peacefully and to form associations or unions, Article 21 deals with personal liberty, and Article 22 governs the rights of those arrested in any case.
"It is therefore deeply worrying that these authorities have begun to act with complete contempt for legal procedures and constitutional safeguards. We must identify that this is a threat to our criminal justice system and act appropriately to make amends," Campaign Against Hate Speech said.
The memorandum cited legal procedures governing inter-state arrests and noted that Delhi police should have informed Bangalore police and secured a transit warrant before taking Disha to the capital. Bangalore police have been mum on the matter.
"It is pertinent to note that Ms Ravi's family, her legal counsel and the public at large have been kept in the dark about the details and documents relating to the arrest," the memorandum stated.
To establish their point, the signatories have demanded copies of the permission to take Disha to Delhi, entries made in the jurisdictional police station, copies of the FIR, transit warrant and search warrant signed by a local magistrate, a list of public witnesses in Bangalore and Delhi, details of the women police officers who went to fetch her and the custody order.
Lawyer and rights activist Vinay Sreenivasa, one of the signatories, told The Telegraph that every individual enjoys rights as enshrined in the Constitution. "Delhi High Court has laid out guidelines on inter-state arrest and on why police from other states cannot arrest or simply 'pick up' an individual without informing the local police," he said, referring to last year's Sandeep Kumar Vs the state of Delhi case.
The memorandum cited the judgment that had cautioned against such inter-state arrests without taking the local police into account. "Such practice is obviously contrary to the police manuals and if such actions go unchecked, it will amount to condoning lawlessness by the police force. In a country governed by the rule of law, this is simply unacceptable," the memorandum said, quoting from the judgment.