Smart phone addiction linked to loss of concentration: Survey
The study says the frequency of the children's use of the device while studying almost exactly mirrored the frequency with which they felt a loss of concentration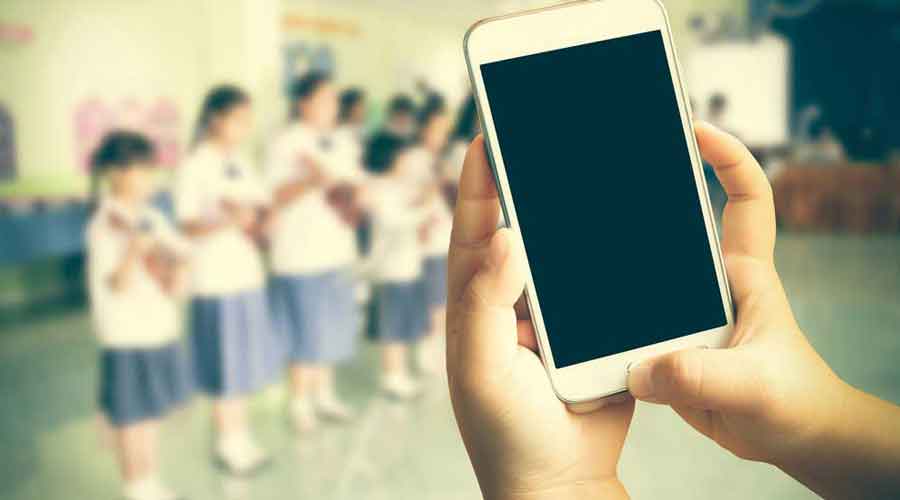 Representational image.
Shutterstock
---
New Delhi
|
Published 13.12.21, 03:11 AM
|
---
Over a third of schoolchildren check their smart phones regularly while studying, according to a survey that has found a strong correlation between addiction to smart phones and loss of concentration.
The survey commissioned by the National Commission for the Protection of Child Rights has also found that 23.8 per cent of schoolchildren use smart phones in bed before going to sleep, a trend it says scientific studies have linked to sleeplessness and attention deficit.
The frequency of the children's use of smart phones while studying almost exactly mirrored the frequency with which they felt a loss of concentration, the study says.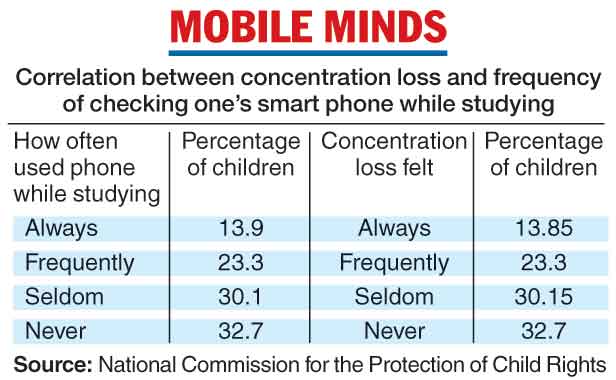 Some 78.9 per cent of the children surveyed said they chalked up to two hours of Internet use on smart phones every day, playing games, listening to music and chatting. Another 15.4 per cent said they used smart phones 2 to 4 hours a day, and 5.3 per cent confessed to more than 4 hours' use a day.
According to the American Academy of Paediatrics and the World Health Organisation, screen time for young children should not exceed two hours a day.
The survey has found that 37.8 per cent and 24.3 per cent of 10-year-olds have Facebook and Instagram accounts, respectively, in violation of the lower age limit of 13 years set by the social media platforms.
"Social media platforms contain and disperse such a variety of content, a lot of which is neither appropriate nor conducive for children," the report of the survey on the "Effects of use of mobile phone and other devices with Internet on schoolchildren" says.
"They can be anything from violent or vulgar content to instances of online abuse and bullying of children. Hence, in this regard, proper oversight and stricter enforcement is required." The survey, conducted earlier this year, covered 5,811 respondents, including 3,491 schoolchildren aged 8 to 18 as well as 1,534 parents and 786 teachers from 60 schools in Delhi, Assam, Jharkhand, Odisha, Telangana and Maharashtra.
Of the respondents, 60 per cent were from metropolitan cities while 25 per cent were from other urban areas and the remaining 15 per cent from rural areas.
The survey found that 62.6 per cent of the children accessed the Internet through their parents' phones while 30.2 per cent already possessed their own smart phones.
Of those with access to smart phones, 94.8 per cent used the gadgets for online learning. Other major purposes of use included messaging applications like WhatsApp (40 per cent), music (31.3 per cent) and games (20.8 per cent).
Overall, 42.9 per cent of children said they had social media accounts. Among those with such accounts, 36.8 per cent used Facebook and 45.5 per cent used Instagram.
About 76.2 per cent of the parents said they had set time limits for Internet device use by their children.
The survey has suggested that parents limit web surfing by their children and make them aware of cyber crime and the risks of data sharing on Internet platforms.
It has recommended that bigger portions of land in communities be designated as playgrounds for children to encourage them to participate in physical sports. Mobile gaming is taking a toll on children's health, the report says.