Sikkim paragliders wait in the wings
Adventure sport likely to resume before November 1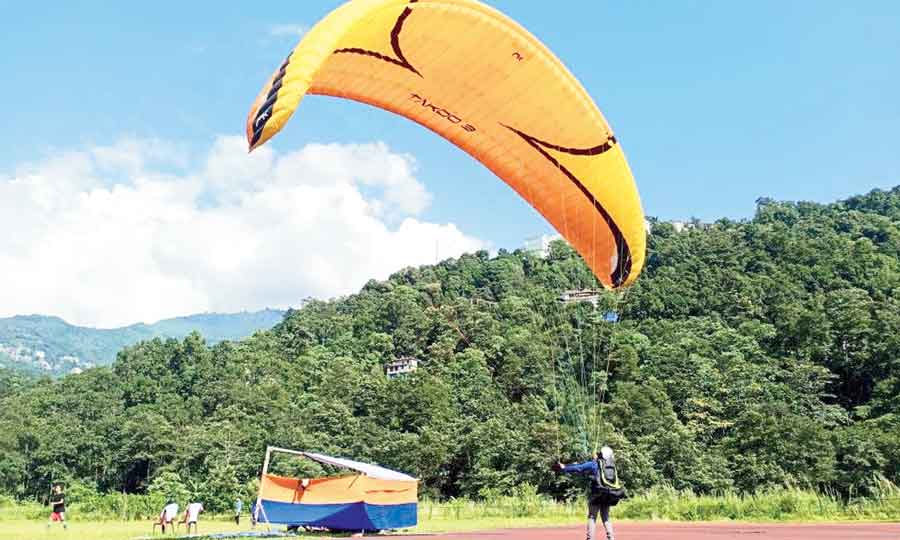 ---
|
Siliguri
|
Published 13.10.20, 01:03 AM
---
Doors to Sikkim were thrown open for tourists on Saturday, but it would take a little while before the skies, too, are opened up for thrill-seekers among the visitors.
The Sikkim Paragliding Association (SPA) is still in preparation mode following seven months of not flying because of the Covid-19 pandemic.
The 50-odd commercial paragliders of the association are readying to take wings latest by November 1. "We had kept our equipment under locks for seven months. We are now in the process of unlocking them. It will take some more days before they are all tested and ready to be used for flying. We should be up and flying latest by November 1," Arjun Rai, the technical head of SPA, told The Telegraph.
Paragliding is one of the major attractions for tourists seeking adventure. The SPA carries out two categories of paid sorties for tourists. The short duration middle flight takes off from an altitude of 1450m and lands at an altitude of 1,100m and the longer high flight from 2,100m to 1,100m.
During the tourist season, on an average, about 150 thrill-seekers enjoy paragliding every day. The tandem flights have a passenger besides the pilot.
"We charge Rs 3,000 for the middle flight which is for five to ten minutes of duration and Rs 6,000 for the high flight which can extend from 15 to 30 minutes. During the tourist season, we conduct about 150 flights per day," said Rai.
Paragliding provides direct employment to about 100 youths. "Our association has about 100 members, but not all are into commercial flying. Only 50-odd of us are commercial pilots. However, there are boys who help us with packing and unpacking. There are flying marshals who help us at the take-off points. Then, there are drivers. In all, about 100 of us find gainful employment through paragliding," said the SPA president.
Hotel training
Sikkim Hotel and Restaurant Association (SHRA) would conduct a three-day training programme from Tuesday to familiarise the hotel operators with the standard operating procedures (SOPs) and the official portal of the state tourism department.
The SHRA has invited all hotels to attend the training programme which will be held at the Orange Village Resort in Gangtok. The first day's programme would begin at 1pm and the subsequent two days at 11am. An SOP training completion certificate would be provided to all the participants.