Alarms have begun to ring on ventilators
Shortage of oxygen kills 45 Covid-19 patients in Delhi
Hospitals across the national capital are struggling with what one medical superintendent described as a "nightmarish scenario"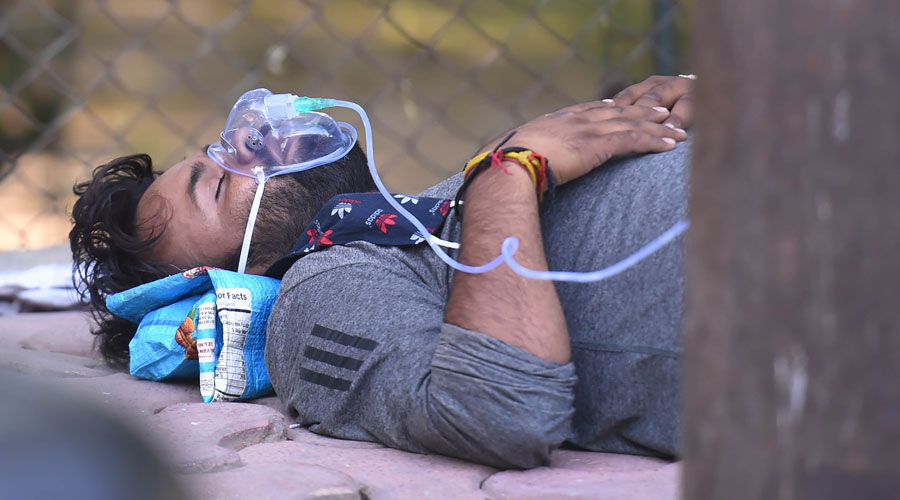 A Covid-19 patient receives free oxygen, provided by a Sikh organization at Indirapuram Gurudwara, in Ghaziabad on Saturday.
PTI photo
---
New Delhi
|
Published 25.04.21, 02:52 AM
|
---
At least 45 Covid-19 patients have died in Delhi over two days after their hospitals fell short of oxygen, doctors said on Saturday amid a crisis they say has been precipitated by the epidemic's explosive growth and poor government planning and preparedness.
Twenty patients with severe Covid-19 had died at the Jaipur Golden Hospital in northwest Delhi, hospital authorities said on Saturday, a day after the Sir Ganga Ram Hospital in central Delhi reported 25 deaths following a fall in oxygen pressure in its critical care lines.
On Saturday night, Ganga Ram was again in crisis mode, with an official saying: "The lives of more than 100 patients are at risk. We have oxygen that will last only 45 minutes to an hour."
Hospitals across Delhi are struggling with what one medical superintendent described as a "nightmarish scenario" in which their oxygen stocks get replenished only two or three hours before they are completely consumed. One south Delhi hospital received fresh supplies on Friday only 30 minutes before exhausting the existing stocks.
"Patients are suffering; people have the right to oxygen. If the government cannot arrange for oxygen, it should admit this," said Devinder Singh Rana, chairperson of Ganga Ram.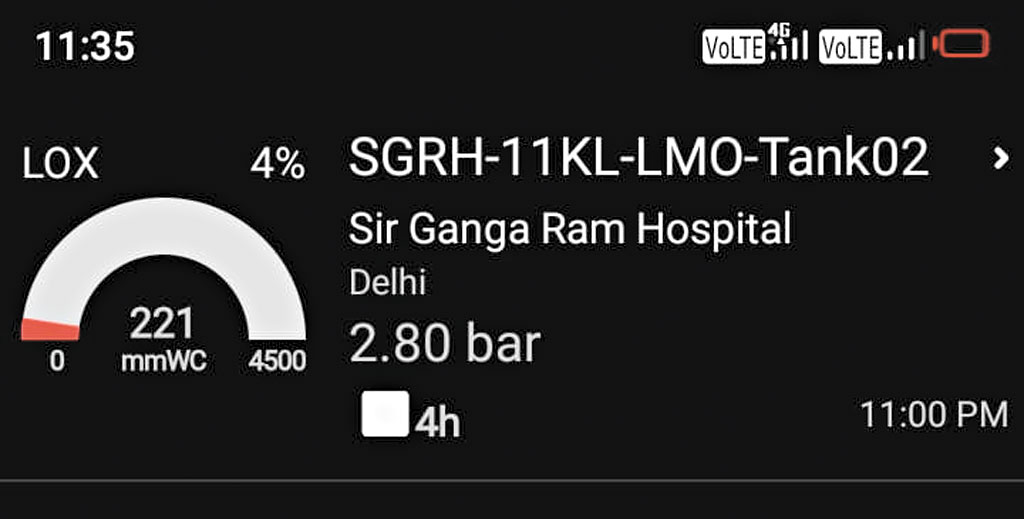 The hospital on Saturday morning had 516 Covid-19 patients, including 128 on high-flow oxygen, but only 30 minutes of oxygen left.
Max Healthcare, which runs a chain of hospitals, too issued an "SOS" on Saturday morning. "Less than 2 hours oxygen supplies at Max Hospital Gurugram and attached dedicated Covid centre…. Supplies expected at 10am diverted," Max Healthcare tweeted, seeking "urgent help".
A senior official at Ganga Ram told The Telegraph that the hospital needed 3,000 cubic metres of oxygen to run its invasive ventilators but had been receiving only 500 to 1,500 cubic metres.
The low supplies and high demand have led to a pressure drop in oxygen lines that feed the critical care facility and the ventilators.
By 11pm on Saturday, Ganga Ram had issued its fourth SOS for oxygen to government authorities, hoping someone would help.
"Alarms have begun to ring on ventilators and BiPap machines," the official said. A BiPap is a ventilator-like machine that delivers oxygen.
Given the low oxygen pressure, hospital staff — doctors, nurses and paramedics — at Ganga Ram have been using devices called ambubags, which have self-inflatable balloon-like structures, to manually ventilate critically ill Covid-19 patients, the administrator said. The 25 deaths on Friday had followed such manual ventilation.
Twenty-nine patients who were on invasive ventilation were again receiving manual ventilation on Saturday, Rana said. "This is a grave situation. Ambubags are being used again; the doctors, nurses are exhausted. Our morale is low. This cannot go on for long."
Doctors attribute the oxygen crisis to both the sharp rise in Covid-19 cases and what some public health experts see as the lack of preparedness and planning for transporting oxygen across the country in the event of a second wave of infections.
The epidemic, measured by daily new cases, has grown five-fold nationwide over the past month – from around 62,000 new cases on March 26 to over 346,000 on April 23. In Delhi, however, the epidemic has grown 16-fold — from 1,500 new cases in late March to over 24,000 cases on April 23.
"We've had a near 10-fold increase in our daily oxygen consumption," said Sumit Ray, head of the critical care department at the Holy Family Hospital in south Delhi, where around 350 Covid-19 patients are on oxygen support or ventilators.
"We also have many patients in the emergency department on oxygen."
Ray added: "We're on the edge every day. Earlier, we used to get oxygen about once a week; now we need it every 20 to 24 hours."
The simultaneous demand from multiple hospitals has meant intense strain on the logistics of oxygen transport, which rely on a limited number of oxygen tankers.
The Centre on Saturday tweeted a video of high-capacity oxygen tankers being loaded onto an Indian Air Force transport aircraft at Changi Airport in Singapore to be ferried to India. A public health expert said such actions should have been taken weeks if not months ago.
The Union health ministry said the minister, Harsh Vardhan, on Saturday visited the Sardar Patel Covid Care Centre in Chhattarpur, Delhi, to oversee the "restarting" of the facility where 2,000 oxygen-supported beds are to be added in the coming days.
But doctors say that's no relief to critically ill patients currently struggling to survive.
"Next impending oxygen crisis at Jaipur Golden Hospital. Over 200 lives at stake if liquid medical oxygen is not supplied by 9pm tonight," Jaipur Golden's administrators tweeted at 7.15pm on Saturday.
Next impending oxygen crises in Jaipur Golden Hospital. Over 200 lives at stake if liquid medical oxygen is not supplied by 9:00 PM tonight.@ArvindKejriwal @PMOIndia @drharshvardhan @MoHFW_INDIA @narendramodi @LtGovDelhi

— Jaipur Golden Hospital (@JaipurGolden) April 24, 2021
Earlier in the day, its medical director D.K. Baluja had tweeted: "We are desperate."
Jaipur Golden Hospital still waiting for oxygen. 215 COVID patients are dependant on the hospital getting a supply ASAP. Please help we are desperate @ArvindKejriwal @PMOIndia @SatyendarJain @CMODelhi @ndtv @PrannoyRoyNDTV @IndiaTodayFLASH @IASassociation

— Dr DK Baluja (@BalujaDk) April 24, 2021