Short film on 'Chhau' dancers gets international recognition
Shubanshi Chakraborty's 'Natok' bags best direction award in the ongoing Busan New Wave Short Film Festival 2022 in South Korea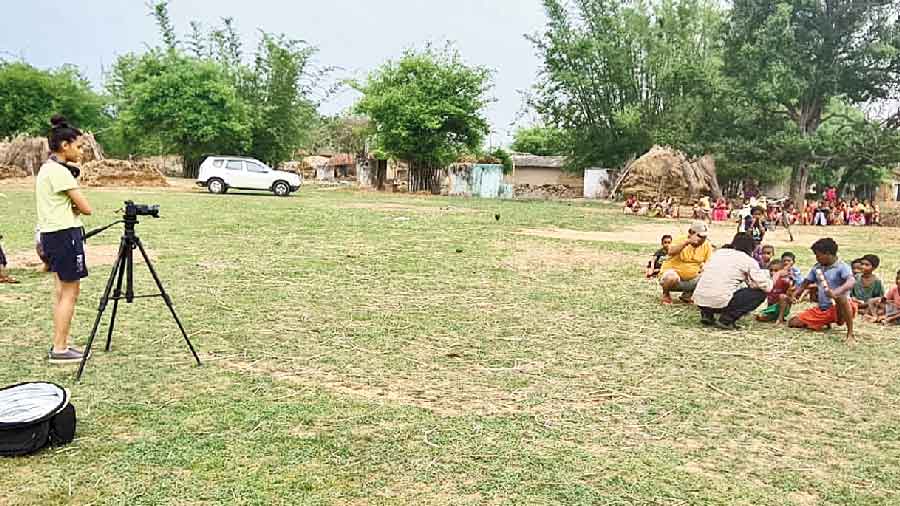 Shubanshi Chakraborty (left) during the shooting of the short film at Pandadih village in Jharkhand
Bhola Prasad
---
Jamshedpur
|
Published 10.10.22, 01:26 AM
|
---
A short film on the life of Chhau dancers in a tribal village of Jharkhand has earned global recognition.
The 4.35-minute film Natok, directed by 15-year-old Jamshedpur-born girl Shubanshi Chakraborty, has bagged the best direction award in the ongoing Busan New Wave Short Film Festival 2022 in South Korea. The film was written and produced by Shubanshi's father Shubhasish Chakraborty, a former Tata Steel officer. He is currently working with the Aditya Birla Group in Mumbai.
Shubanshi, an alumnus of DBMS English School, Jamshedpur, is now studying at Hiranandani Foundation School, Mumbai.
The camera work and editing of the film were done by Partha Bhattacharjee.
The film has also been recognised as the winner in the Best Indian Short Film category in the Indo-French International Festival and selected for the 9th Goa Short Film Festival.
"She is a junior year humanities student who has grown up in a family that believes in individual social responsibility. She spent a lot of time during her childhood in the tribal village Pandadih in Sonahatu block of Ranchi district which I adopted while I was with Tata Steel posted in Jamshedpur and also during my stint with Jusco (currently Tata Steel Utilities and Infrastructure Services Limited). She got fascinated by their festivals, rituals and their 'happy gesture'. In this film, she attempts to showcase the life of tribal dancers and the nuances of their life," said Shubhasish, who has been donating a substantial amount from
his salary for over 10 years to help and transform the underprivileged communities in Jharkhand.
"I believe that films are actual change enablers. The short story is based on the life and struggle of tribal dancers. I am happy that it has got such a good response," said Shubhanshi who has done a film-orientation course at the Film and Television Institute of India (FTII), Pune.
She, along with her father, made short visits to the Pandadih village while shooting the film between May and June this year.
Natok in English means drama or a play. The film delved into the naive mind of a young boy, whose father is a Chhau dancer, who tries to comprehend the dichotomy of multiple roles a human plays in life.
"Chhau is a folk dance form which is prevalent in the rural areas of Jharkhand, Bengal and Odisha in India. This form of dance portrays stories associated with battles and Indian mythology. His father plays the role of a protagonist who kills the deadly demons. His father is his hero — the mighty, the powerful and the saviour — his highest inspiration. He tries to imitate his father. One day he visits his father at a roadside tea stall, where he works for his livelihood. He sees him being yelled at by the owner. This completely messes with his head, causing confusion about his father's identity," Shubhanshi said while describing  the plot of the film.