Shooter, now at Shaheen
No one was injured but a shock ran through the women and children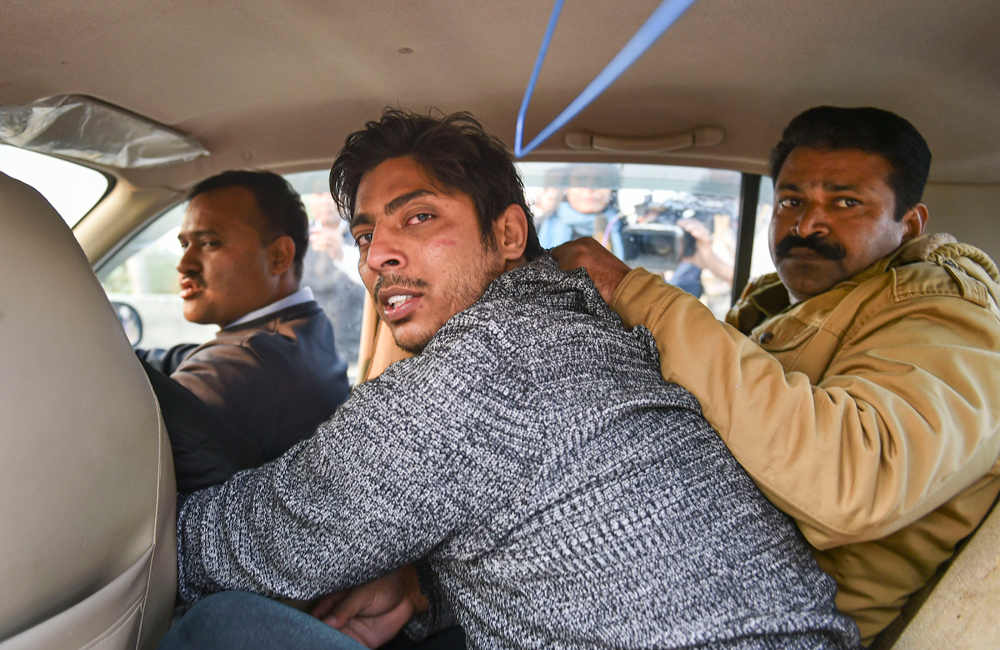 Kapil Gujjar being taken away by police on Saturday
(PTI photo)
---
New Delhi
|
Published 01.02.20, 11:05 PM
|
---
A man identified as Kapil Gujjar opened fire on Saturday afternoon at Shaheen Bagh, where hundreds of women accompanied by children are holding a peaceful dharna against the citizenship law, in the second hate attack in the national capital in three days.
Kapil, who was overpowered after he had shot in the air twice from the country-made gun, shouted "Hindu Rashtra zindabad" and "I want Hindu Rashtra." As he was led away by police, he shouted: "Hamare desh mein kisi ki nahin chalegi, sirf Hinduon ki chalegi (In our country, only Hindus will have their way, no one else will)" and "Jai Shri Ram".
No one was injured but a shock ran through the women and children who have spent 49 days and nights on the street in Delhi's harshest winter in 100 years to have their voice heard by the Narendra Modi government.
Shaheen Bagh protesters on Saturday issued an urgent appeal to Delhi's citizens to stand by them. The leader of a fringe group has threatened to "clear up" the Shaheen Bagh road on Sunday, which happens to be 50th day of the protest.
The shooting happened at 4.52pm on a day Uttar Pradesh chief minister Yogi Adityanath told an election rally in Delhi that the Shaheen Bagh protesters "support Jammu and Kashmir terrorists and speak Pakistan's language".
The sit-in at Shaheen Bagh, the longest continuous protest against the new citizenship matrix, is being repeatedly attacked by the BJP.
On Sunday, Union home minister Amit Shah had urged Delhi's voters to press the EVM button so hard on election day that Shaheen Bagh would feel the "current".
On Tuesday, BJP MP Parvesh Singh Verma said the protesters from Shaheen Bagh could enter homes to "rape" and "kill" — a speech for which he has been banned from campaigning for four days.
On Thursday, a youth who identified himself as "Rambhakt Gopal" shot and injured a Jamia Millia Islamia student as Delhi police watched. That shooting on the death anniversary of Mahatma Gandhi had come days after Union minister Anurag Thakur led a crowd in chanting: "Desh ke gaddaron ko, goli maaro…" (Shoot the traitors). The same hate chant had been heard from a section of the crowd at Shah's road show on Sunday.
That two gunmen had managed to sneak past heavy police deployment and open fire has raised a big question mark on the role of Delhi police.
"It is a serious law and order issue and the two incidents have made a mockery of the Delhi police claim of being the most professional force in the country. Where is the home minister Amit Shah who is being described by the BJP as the 'real Iron Man'?" asked a retired Delhi police commissioner, who requested anonymity.
Delhi police report to the Union home ministry, headed by Shah.
"The two incidents are direct consequences of hate mongering by some BJP…. The motive behind the shooting is to provoke protestors and engineer communal riot to polarise voters before the election," said Md Iftekhar, a resident of Jamia.
Witnesses said Gujjar crossed a police barricade, pulled out his pistol and opened fire from 250 metres behind the stage.
"We were having tea when we saw a man coming from nowhere, shouting and threatening protestors to vacate the premises before pulling out his gun and firing in the air. Hearing the gunshots some of the women ran out from near the stage. Three local youths grabbed him and soon police came running and took him away," said Salauddin Ahmed, a resident.
"The man had resorted to aerial firing. Police immediately overpowered and caught him," DCP Chinmoy Biswal said. Two spent bullets were recovered from the site.
Quickly, a large number of protesters, including the three "Dabang Dadis" (Fearless Grannies), formed a human chain to ensure no outsider sneaked into the site to create a law and order issue that could derail their agitation.
"Not only we have been protesting here peacefully for our rights and to save the Constitution of India since December 15 but also keeping a close watch on outsiders who have been hell-bent on creating law and order problem here to defame us. Police deployed here for security are nothing but furniture while senior ministers are calling us traitors and exhorting people to shoot us," said Afsana, a mother of two children.
Aam Aadmi Party leader Sanjay Singh said: "We had alerted the EC... There is a conspiracy being hatched by the BJP to postpone elections in Delhi by creating a law and order situation as they know they are losing it."
Police sources said Kapil was highly radicalised but has denied any association with any right-wing groups. "During the initial questioning he told us that he was very angry with the protestors for being "traitors"…. He said he only wanted to scare them," an official said. A Class 12 dropout, Kapil is a resident of Dallupura village in east Delhi, the sources said.
The Shaheen Bagh protesters said in a statement on Saturday: "Tomorrow marks the 50th day of Shaheen Bagh's women's protest. In the last few days of this non-violent, democratic dharna, we have been threatened, endangered and witnessed hate speeches against us by senior BJP leaders and other fringe groups such as the Hindu Sena.
"In light of these incidents and statements, and as we approach the Delhi elections, we request Delhi's citizens to join us at Shaheen Bagh tomorrow (February 2) to show solidarity with our cause of defending the Constitution. We are increasingly fearful of the consequences of the politicisation of these peaceful protests and maintain that we are a non-partisan gathering. We need your urgent support in this time of crisis. This is our earnest appeal to the conscience of all citizens of this nation – please join us."