Shivpal Yadav meets Azam Khan in jail, fuels speculations
The Samajwadi MLA says Mulayam's silence on his continued incarceration is unfortunate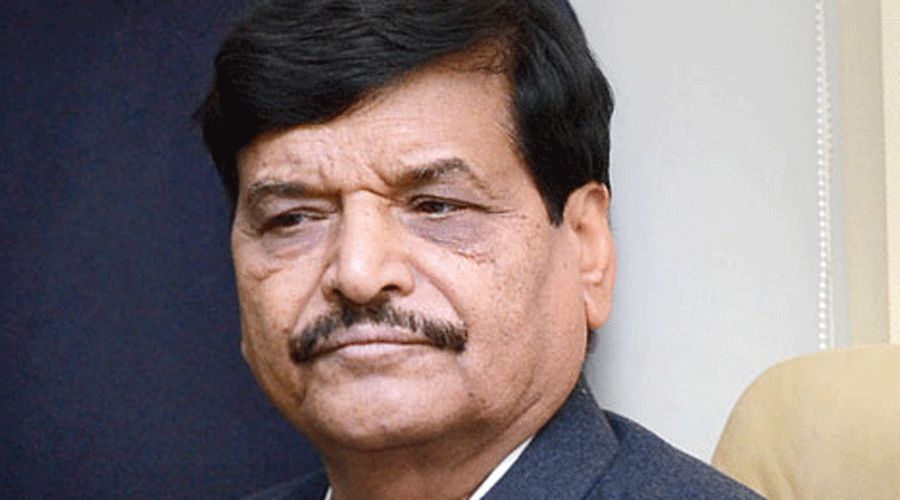 Shivpal Yadav.
File photo
---
Lucknow
|
Published 23.04.22, 02:28 AM
|
---
Samajwadi MLA Shivpal Yadav met party colleague Azam Khan in jail on Friday, pledging to take up his cause with BJP chief minister Yogi Adityanath and for the first time criticising his elder brother and SP patriarch Mulayam Singh Yadav.
The development has renewed speculation that Shivpal, who has had a see-saw relationship with nephew and Mulayam's son Akhilesh Yadav, was again warming up to the BJP. It has also come on the heels of Samajwadi ally Jayant Chaudhary of the Rashtriya Lok Dal meeting Azam in Sitapur jail and Dalit leader Chandra Shekhar Azad sending feelers to the imprisoned leader, whose supporters have rebelled against Akhilesh.
With Samajwadi chief Akhilesh facing a revolt from Azam's supporters and Jayant speaking of a "new political axis" in Uttar Pradesh, Shivpal's move is likely to increase the discomfort in the SP camp after the defeat in the Assembly polls.
Shivpal said after his 75-minute meeting with Azam that Mulayam's silence on his continued incarceration was unfortunate.
"The SP should have raised its voice against the atrocities on Azam and his family. He is a very experienced leader whose contribution was ignored by SP leaders after his arrest two-and-a-half years ago. (Prime Minister Narendra) Modi would have thought about it had Netaji (SP founder Mulayam) raised his voice in Parliament against Azam's arrest. Netaji's silence was unfortunate for all of us," Shivpal told reporters.
Azam, a nine-time MLA from Rampur, has been in jail custody as an accused for over two years in connection with several cases of land-grabbing and intimidation.
He is the "Muslim face" of the Samajwadi Party, which counts the minority community and Yadavs as its two pillars.
"I will speak to chief minister Yogi Adityanath about Azam. He has got bail in all cases except one and we hope he will be out of jail soon," added Shivpal, who had formed the Pragatisheel Samajwadi Party (Lohia) a year after being suspended from the SP in 2017 following differences with Akhilesh.
However, Shivpal allied with the SP in the recently conclude Assembly elections. Agreeing to Akhilesh's wish, he contested from Jaswantnagar in Etawah on a Samajwadi ticket and won.
After Shivpal had formed his own party, the Adityanath government had in 2018 allotted to Shivpal a palatial bungalow and given him Z-category security.
Many believe Shivpal was sent by the BJP leadership to meet Azam and convince him to join the party.
Reacting to murmurs that his uncle could switch to the BJP and that he was trying to break the SP, Akhilesh had said on Thursday: "Those who are close to the BJP must leave the SP."
Shivpal had shot back: "Why doesn't he suspend me from the party as I am one of the 111 SP MLAs."
Several SP leaders have over the past few days expressed solidarity with Azam and tendered their resignation from the party.
A senior SP leader told this newspaper on the condition of anonymity: "Mulayam, the then chief minister and SP president, had convinced Adityanath in 2007 that he was put in jail (from January 28 to February 7 that year) on the directions of Azam, who was parliamentary and urban development minister at that time. It was not true but Adityanath believed him and had been looking for an opportunity to take revenge on Azam."
Adityanath, who was Gorakhpur MP then, had been arrested on the charge of rioting.  
"Azam has been booked in 72 cases, mostly related to land grabbing. Mulayam and Akhilesh have remained silent on his and his family members' arrests," the SP leader said.
Azam's wife Tazeen Fatima and son Abdullah had also been arrested in 2019 and released after a few months.
Another ally of the SP, O.P. Rajbhar of the Suheldev Bharatiya Samaj Party, said on Friday that he too would meet Azam in jail soon. "However, I want to ask Shivpal to decide which way he would like to go. The fact is that only Akhilesh can take decisions in the SP and Shivpal is just an MLA."