Sharp spike overnight
'Avalanche' alert from one expert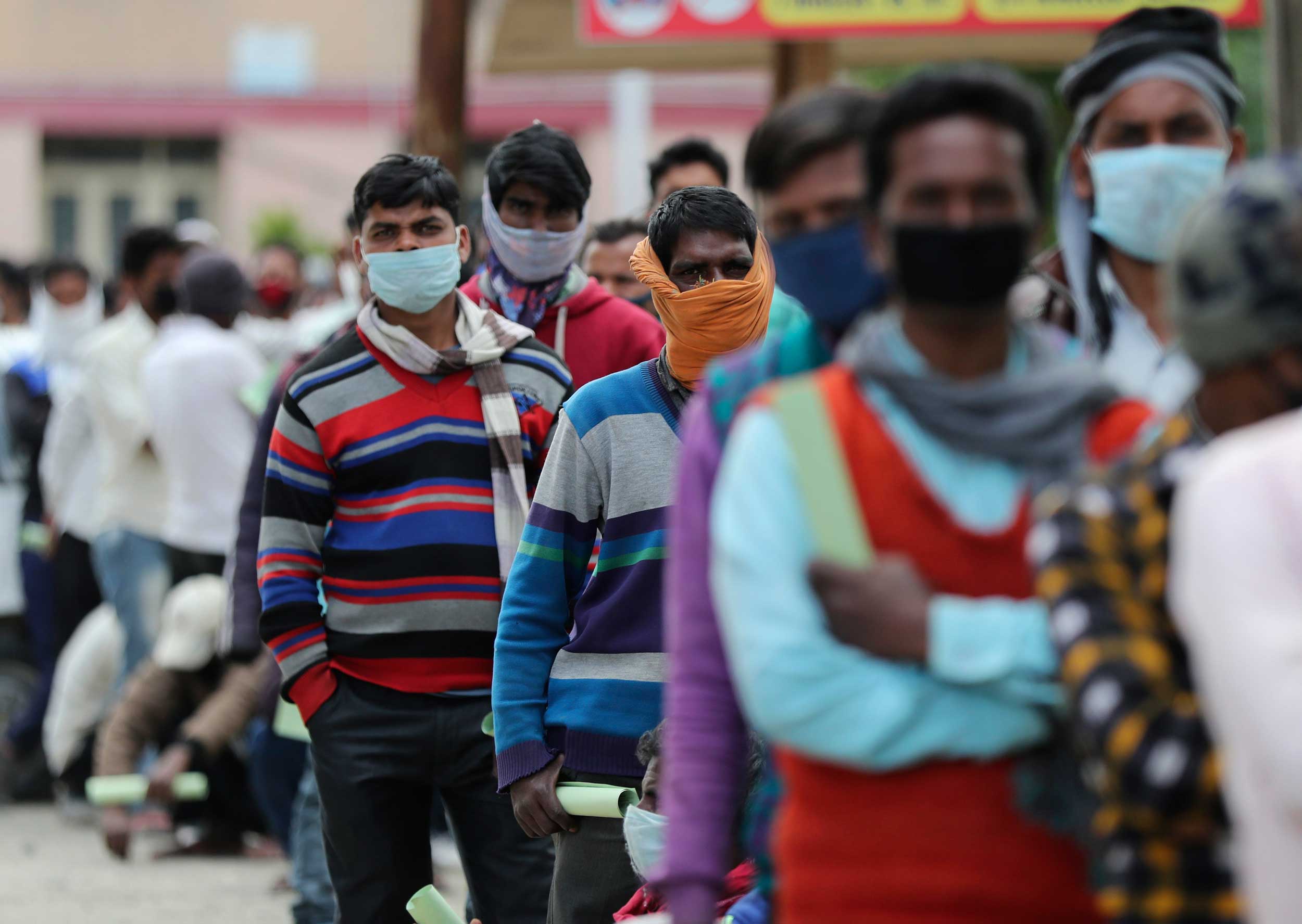 ---
---
India on Tuesday recorded 3,875 new coronavirus cases, a single-day spike 2.5-fold higher than the average daily increase over the past week that one clinical virologist said likely indicated the start of an "avalanche".
The country's total number of confirmed patients with coronavirus disease (Covid-19) increased to 46,711, including 1,583 who have died, 194 of these deaths recorded since Monday. The highest single-day death toll until now was 83 on May 2.
The health ministry, citing the "highest increase so far in the number of confirmed cases and deaths" over the past 24 hours, said states and Union Territories "are advised to effectively implement contact tracing, case search and clinical management of cases".
Three states account for around 63 per cent of the new patients detected over the past 24 hours — Maharashtra with around 1,500 cases, Tamil Nadu with around 500 and Gujarat with 376.
Public health experts and virologists said the increase in the number of new cases detected daily over the past week was in line with what epidemiologists call an exponential curve. The two-day increases over the past six days have been: 3,615 (April 28-29), 4,286 (April 30-May1) and 5,197 (May 2-3).
"This may be the start of an avalanche — we could see daily large increases in numbers," said T. Jacob John, a senior clinical virologist and emeritus professor at the Christian Medical College, Vellore.
John and other experts believe the country's true burden of the novel coronavirus infections remains unknown and likely much larger than what the government data show because testing in most parts of the country has focused on contacts of positive cases and patients with severe pneumonia.
Health ministry and other central government officials have asserted that the lockdown from March 25 has slowed the spread of the virus and expanded the doubling time of total infections in India from 3.4 days before the lockdown to 12 days now.
"We did manage to slow the spread of the virus, but never really managed to reverse the rise," said Shahid Jameel, a senior virologist and head of the DBT-India/Wellcome Trust Alliance, a research partnership between the Indian government and the UK trust.
"The lockdown bought us time, but its use has been mixed," he said. "We appear to have increased our hospital capacity during the lockdown, but we still don't have adequate tools to track the outbreak at a localised district level," Jameel said.
Under the ease of restrictions since Monday and an anticipated further relaxations of the lockdown from May 17, health researchers expect to see a continued rise in the number of new infections.
Multiple experts, including John, believe that without a vaccine or drugs to interrupt the spread of the virus, the infection will continue to spread across the susceptible population until roughly 60 per cent of people are infected, a level at which it will stop.
However, health officials and public health experts are hoping that aggressive campaigns to search, test and isolate Covid-19 patients and their contacts along with physical distancing measures, protective face masks and respiratory and hand hygiene will continue to slow the spread of the infection to keep the numbers of new patients within hospital capacities.
The number of patients in hospital on Tuesday was 31,967. But the majority of them are there for isolation — to keep them from infecting others. The health ministry had said on April 26 that only around 2.17 per cent patients required intensive care, 1.29 per cent needed oxygen, and 0.36 per cent needed ventilation.
The spikes over the past week, some experts believe, could also be the result of either expanded testing or a growth in the number of patients who have picked up the infection in the community and are now reporting ill to hospitals.
"We were possibly missing cases earlier under restricted testing criteria mainly focused on travel and contacts — now people with more severe illness are likely getting into hospitals and also succumbing," said Oommen John, a public health specialist at The George Institute for Global Health, New Delhi.
The health ministry had on Sunday identified seven districts — Ahmedabad, Mumbai, Indore, Pune, Surat, Central Delhi and Krishna — where the case fatality rates among Covid-19 patients are higher than the national average of 3.2 per cent.
The ministry has said the high case fatality ratios may result from either patients not seeking treatment in time or doctors not following standard treatment guidelines for patients or from a lack of supplies or infrastructure in hospitals.
But doctors say it is hard to attribute the cause of death in the absence of clinical details.
"We have almost no information about clinical details of patients who are dying — death attribution becomes extremely difficult in such circumstances," said Vivekanand Jha, a senior nephrologist and director of The George Institute for Public Health.
Jha, echoing concerns expressed earlier by critical care specialists, said analysis of clinical details was required to understand how exactly the infection might interact with patients' other health disorders such as cardiovascular or kidney disease leading to deaths.
"We've started talking to some hospitals — we'd like to start such an analysis as quickly as possible, but it is proving hard. Hospitals are not forthcoming," Jha said.