Shah rules out rethink on citizenship act
The home minister described the protests as a conspiracy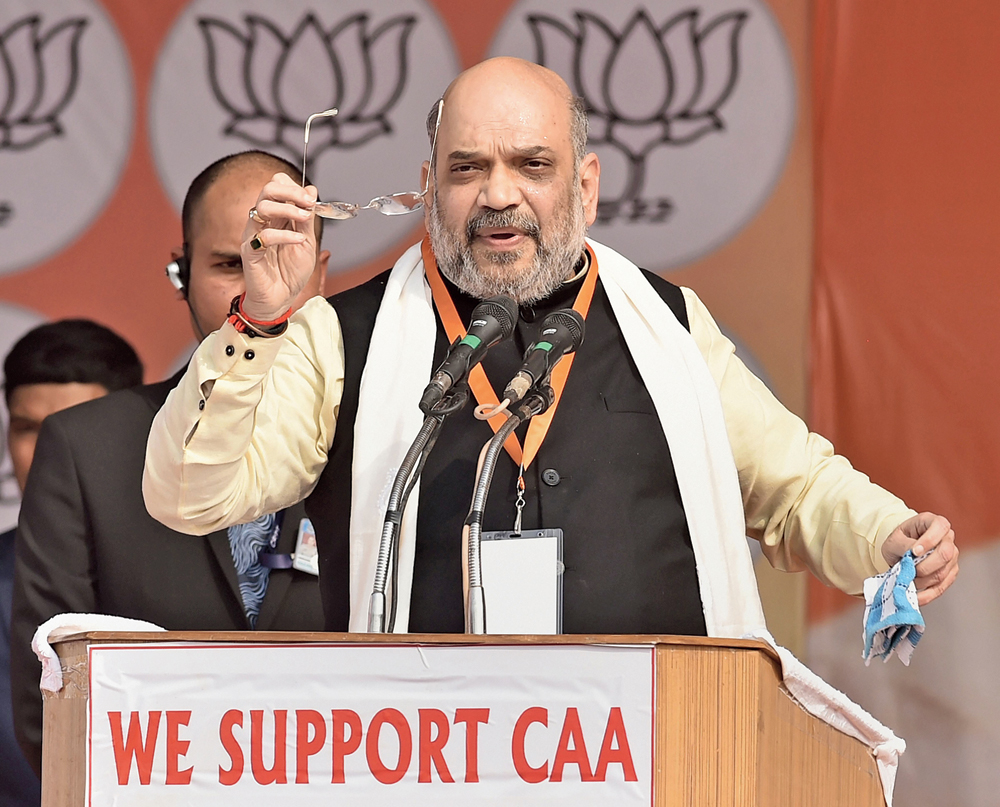 ---
|
Lucknow
|
Published 21.01.20, 09:13 PM
---
The Narendra Modi government does not care about the protests against the Citizenship (Amendment) Act and will pay no heed to them, the home minister said on Tuesday.
"I have come to proclaim this today from Lucknow's soil that whoever wants to oppose can oppose it, the Citizenship Amendment Bill is not going to be taken back," home minister Amit Shah told a rally at Ashiyana in south Lucknow on Tuesday.
About 18km away, at Ghanta Ghar, a round-the-clock dharna led by women entered its fifth day.
On Saturday night, police had snatched the women's blankets, mattresses, biscuits and water. On Monday, they booked 125 of them for defying prohibitory orders. But around 5,000 women and children were at the vigil on Tuesday, one of many across India inspired by the Shaheen Bagh protest. A second sit-in in Lucknow started at Gomti Nagar on Monday night.
Shah described the protests as a conspiracy of the Opposition and called upon the crowd of BJP workers to raise slogans so loud that they could be heard by the "deaf" anti-CAA protesters.
He also challenged Opposition leaders Rahul Gandhi, Akhilesh Yadav, Mamata Banerjee and Mayawati "to come for a debate on this subject. Our Swatantra Dev is ready for it". Swatantra Dev Singh is the state president of the BJP.
The women at Ghanta Ghar, 125 of whom were booked on Monday night for defying prohibitory orders that are in force in Lucknow, said on Tuesday that Shah should also be booked for violation of Section 144 that prohibits the assembly of five or more people. Thousands of BJP workers had gathered for Shah's rally.
"The police on Monday registered cases against 125 women for violating Section 144 because they gathered in large numbers at Lucknow's Ghanta Ghar to protest against the CAA. But the same police were busy managing the traffic and regulating the crowd at Shah's rally in Ashiyana. Can the home minister break the prohibitory orders? I think the law is the same for every Indian. Chief minister Yogi Adityanath was also there at Shah's rally. He should also be brought to book," said Sofiya Akhtar, a 30-year-old protester at Ghanta Ghar.
Asma Siddiqui, a middle-aged woman who is on dharna in Gomti Nagar, said: "The policemen are reminding us after regular intervals that we would be booked for violating Section 144. When I asked them whether they had told the same to the home minister, they said they were acting on the orders of the state government."
When asked, a senior police officer said on condition of anonymity: "Although the prohibitory orders are in force in the city, old Lucknow is a sensitive area and so we don't want women to gather there at Ghanta Ghar. New Lucknow, where Ashiyana falls, is peaceful." The protests at Ghanta Ghar have been completely peaceful.
Ajay Kumar Lallu, state president of the Congress, said: "The people of the state want to know in which police station they (the police) are going to file a case against Shah."