Mumbai: At least 30 die after heavy rain hits city, IMD issues red alert
Officials said over 250mm rain between midnight and 3am, touching 305mm by 7am, had crippled India's financial capital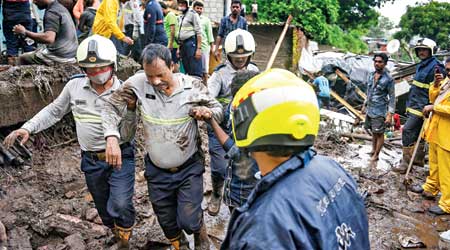 Firemen and rescue workers at the site of a wall collapse in Chembur, Mumbai, on Sunday
PTI
---
Mumbai
|
Published 18.07.21, 09:40 AM
|
---
Walls and shanties collapsed killing 30 people in the early hours of Sunday as Mumbai witnessed landslides triggered by heavy rain, disgorged by a cloud said to be twice as tall as Everest.
Officials said over 250mm rain between midnight and 3am, touching 305mm by 7am, had crippled India's financial capital and brought back memories of the cloudburst that caused 944mm rain in 24 hours on July 26, 2005.
The India Meteorological Department (IMD) said an "orange alert" had been issued for Mumbai and the Konkan coast for the next five days, with heavy rain expected on July 23 too. Winds might blow at 50-60km per hour.
Eleven incidents of houses or walls collapsing in Mumbai had been reported in the past 24 hours, Reuters reported.
Nineteen people died as a landslide brought a boundary wall down on a cluster of huts on a hillock at Bharatnagar in the Mahul area at 1am, a fire official said. Five others were injured.
"All members of one family are suspected to have died of electrocution in the incident," said Rafique, a resident who helped rescuers pull out bodies using their hands to dig up the ground. Authorities said more people could be trapped under the rubble.
A civic activist said 257 hutments had come up on Mumbai's hillocks, with 290 people from such localities getting killed in landslides and wall collapses during the past 29 monsoon seasons.
Another 10 hutment dwellers died as six shanties collapsed after a landslide in the Vikhroli suburb at 2.30am, a civic official said. One more person was injured.
A 16-year-old boy died after a forest department boundary wall caved in at suburban Bhandup, an official said.
"We'll take the decision to shift the people who are living in a dangerous situation to permanent settlements immediately," said Nawab Malik, a state cabinet minister, according to a tweet by news agency ANI, Reuters reported.
#Maharashtra: 25 people reported dead, several others injured in three separate incidents of landslides and a wall collapse as several areas of #Mumbai flooded after heavy overnight rains.

— All India Radio News (@airnewsalerts) July 18, 2021
Ladder safety
Two women stood on a wooden ladder in their shanty for over two hours for fear of getting electrocuted after the Mahul wall collapse.
Laxmi Jongankar, 40, was inside her shanty when people outside began shouting about the wall collapse. She opened the window and saw several shanties had been destroyed.
"As people panicked and start shouting that electric current was spreading in the locality, I along with another woman relative stood on a wooden ladder in my shanty," Laxmi said.
"After more than two hours, a man came to enquire about us and asked us to come out."
Rs. 2 lakh each from PMNRF would be given to the next of kin of those who lost their lives due to wall collapses in Mumbai. Rs. 50,000 would be given to those injured.

— PMO India (@PMOIndia) July 18, 2021
'Monster' cloud
Images from a Doppler radar showed that the thunderstorm cloud had a top height of nearly 18km, the IMD said.
"To put in other words, the height/ vertical extent of this monster thunderstorm is approximately twice that of Mount Everest!" tweeted Akshay Deoras, a PhD student of meteorology at the University of Reading in Britain.
"Such thunderstorms are definitely uncommon for Mumbai or the west coast during an active phase of the monsoon and in a month like July. The cloud top height of this monster thunderstorm is definitely comparable to the one that produced rains on 26 July 2005," he said.
"Thunderstorms have already been observed on the following five days in this month: On July 9, 11, 12, 16 and 17."
Western Railway and Central Railway briefly suspended suburban services, now operated only for emergency services staff and government employees. Many long-distance trains were terminated or regulated at various stations.
मुंबई के चेंबूर और विक्रोली में भारी वर्षा के कारण हुए हादसों में कई लोगों के हताहत होने की खबर से अत्यंत दुःख हुआ। शोक-संतप्त परिवारों के प्रति मैं संवेदना व्यक्त करता हूं तथा राहत व बचाव कार्य में पूर्ण सफलता की कामना करता हूँ।

— President of India (@rashtrapatibhvn) July 18, 2021
Anguished by the loss of precious lives due to a wall collapse in Chembur area of Mumbai city.
My thoughts are with the bereaved families. May the injured recover at the earliest.

— Rajnath Singh (@rajnathsingh) July 18, 2021
Water alert
The civic authorities have asked citizens to boil water before drinking it as heavy rain over the past two days has flooded the water purification complex in Bhandup.
The flooding has affected the electrical equipment that control the pumping and filtration processes and affected supply to most parts of the city, an official said.
The civic body said 43 pumps in six storm-water pumping stations were operating continuously and had already pumped 442 crore litres of rainwater out into the sea.
Prime Minister Narendra Modi's office announced Rs 2 lakh each for the next of kin of the dead and Rs 50,000 for the injured. Chief minister Uddhav Thackeray announced an ex-gratia of Rs 5 lakh for the family of each of the dead.