Secret meeting to play catch-up on Kabul
Read more below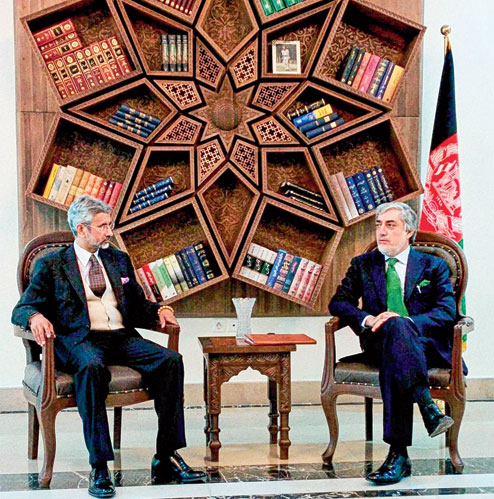 ---
Published 05.03.15, 12:00 AM
|
---
New Delhi, March 4: India secretly hosted Afghanistan's chief executive officer Abdullah Abdullah earlier this year after the country's President Ashraf Ghani travelled to Islamabad, amid worries in the strategic establishment here that Pakistan may have stolen a lead in courting Kabul's new leadership.
Foreign secretary Subrahmanyam Jaishankar today met Abdullah and later Ghani in Kabul on the final leg of his four-nation whirlwind tour of neighbours dubbed a Saarc yatra by Prime Minister Narendra Modi.
Jaishankar's talks with the Afghan leadership are officially the first occasion India has had to discuss with Kabul its plans for re-starting peace talks with the Taliban facilitated by Pakistan, which has emerged as the nation Ghani has focused most on.
But Abdullah, effectively the Afghan Prime Minister, shared with Indian leaders Kabul's plans on reconciliation with the Taliban during his secret visit to New Delhi, two senior government officials independently confirmed to The Telegraph.
'We want President Ghani's to be the first official visit to India - before Dr Abdullah's official visit,' one of the officials said, asked why the trip wasn't made public. 'But make no mistake - we've been reaching out and strengthening our relationships. We've just not gone public.'
India's concerns over Ghani's diplomatic positioning stem from a series of comments and moves the President has made after coming to power in a US-brokered deal with Abdullah to set up a 'unity government' after weeks of a stalemate following the country's 2014 presidential polls.
Ghani made Beijing his first foreign port of call, and has since tried to position China as a key strategic actor in Kabul's attempts at a rapprochement with the Taliban.
In Beijing, Ghani indicated that he viewed India's role in Afghanistan principally as an aid-provider, but not in the sphere of security, marking a break from his predecessor Hamid Karzai who since 2005 had made it clear he considered New Delhi a critical security partner.
Ghani, in his early foreign policy pronouncements as President, also listed five 'circles' critical for peace in his country - in descending order of significance.
The first, most-important circle, Ghani said, consists of Afghanistan's immediate neighbours - including Pakistan but not India. The second circle for Ghani includes other Islamic countries, followed in the third circle by key Western allies. India and other Asian nations come only in the fourth circle - followed by the UN and other international organisations in the fifth and final circle.
Ghani also quickly inked a key transit pact with Pakistan soon after assuming office, visited Islamabad, and has hosted Pakistan's intelligence and army chiefs on more than one occasion.
By contrast, national security adviser Ajit Doval was the only senior Indian official - he visited Kabul in October - to travel to Afghanistan after the Ghani government took over. A proposed visit by Ghani to India in March remains unconfirmed.
'The visit by Dr. Abdullah certainly helped our understanding of the Afghan government's priorities,' the second of the two officials said. 'And yes, given the signals he had received, it helped clear some doubts.'
Abdullah and India are no strangers.
The son of a civil servant who worked in former king Zahir Shah's government, Abdullah joined Ahmed Shah Massoud's resistance against the Soviet occupation forces in the mid-1980s, high in the Panjshir mountains.
But in the early 1990s, as the Taliban threatened to take control of the country, Abdullah moved his wife and four children - three daughters and a son - to New Delhi. The children still live here, and Abdullah's visit, officials said, was in part to spend time with his family.
Through the late 1990s, Abdullah was Massoud's foreign minister in the resistance government - recognised by some nations like India, Iran and Russia - while the Taliban controlled Kabul, their government recognised by Pakistan, Saudi Arabia and the UAE.
When the US-led forces defeated the Taliban after the September 11, 2011 terror attacks - Massoud was killed two days earlier on September 9, when Abdullah was in New Delhi - Abdullah became foreign minister in Karzai's government.
Ghani assumed the role of finance minister in that government - yet several officials now rue that unlike with Abdullah, India never built the kind of relations with the current President that would have helped now.
But Abdullah's visit to India was carefully kept under wraps.
'No one - none of you - knew about it,' a third official, who did not speak with this correspondent about Abdullah's discussions with Indian leaders, said on Monday.
India, officials said, remained optimistic that New Delhi's footprint in Afghanistan was today too deep to allow a repeat of the 1990s when the country's role there became almost peripheral.
But Kabul too, the officials said, will need to stay aware of India's concerns - ideally, through public interactions, but if not, through visits like Abdullah's.