Salman Rushdie on why he's always the Mumbai boy
This is my life and I'll make my choices, said the celebrated author on his move to Manhattan in 2000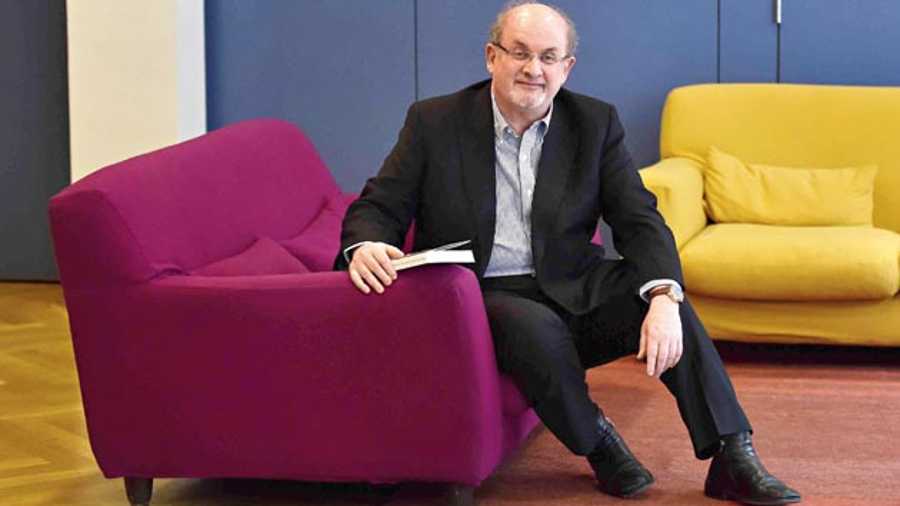 Salman Rushdie
File picture
---
New Delhi
|
Published 14.08.22, 10:12 AM
|
---
Salman Rushdie has always been clear about the country from which he draws his inspiration: India. "I think of myself as a Mumbai boy," said the man who has lived in London and who has always said he loved the buzz of New York. In the days before fatwas, he always made it a point to return to India at least once a year. 
In recent years, his visits have been less frequent – his last was in 2013 to promote Deepa Mehta's film, Midnight's Children. Last year he talked about returning soon for a new book project. But he added that the security required and religious objections made coming back to India "quite difficult."
Rushdie moved to Manhattan in 2000 only after the Iranian government, under pressure from Britain, said it wouldn't carry out Ayatollah Ruhollah Khomeini's fatwa issued in 1989.  There was still a risk from half-witted assassins with a vague sense of seeking a place in history, but Rushdie dismissed all fears, saying "this is my life" and "I'll make my choices." 
Now we know otherwise. Rushdie was stabbed by a 24-year-old fanatic born in 1999, nearly a decade after Khomeini declared the fatwa. Iran-backed Hezbollah has denied any link with the attempted assassination.
I talked to Rushdie when he had just released his book Luka and the Fire of Life, written for his 12-year-old son Milan. Rushdie had placed an unusual condition on the release of the book that infuriated his publishers. He insisted that Milan would be the first reader and would have veto rights over it. If Milan gave the book the thumbs down, it wouldn't be published. Understandably, this had his publisher fuming but they were forced to respect Rushdie's condition. "The book wouldn't have been published if my son hadn't liked it. He was the first reader, much to the frustration of my publishers," said Rushdie, the fond father.
Rushdie has two sons, Zafar, 41, and Milan, who's now 25. An earlier book, Haroun and the Sea of Stories, was written for Zafar. "I think it's a very particular pleasure to write for your own child. That makes these books very special ones," Rushdie said.
What was unusual about talking to Rushdie? He was one of the most helpful interview subjects this writer has ever encountered. Each question thrown at him received a carefully thought-out original answer. It was clear that extreme honesty was a Rushdie trademark. There wasn't the slightest effort to dodge any question that might have been even slightly uncomfortable.
How did the Indian elements show up in Luka? For a start, there was the fierce and evil Captain Aag, which doesn't need any explanation. And there were the people of Kahani, Rushdie's imaginary city, and the River Silsila.  
'It was one of the great reliefs of my life to renew my connection with India," said Rushdie when he was interviewed. That connection has, sadly, been broken once again
Rushdie, at the time when this writer spoke to him, was 150 pages through an autobiography. This involved turning over the pages of his life, sorting through decades of papers that had been locked away in trunks. "For the first six months I devoted a great deal of my life to hauling material out of boxes and immersing myself in what happened in those days."
One point that Rushdie made no secret about. He felt no connection with Pakistan and declared he was baffled by his parents' decision to move there relatively late in life. "My parents moved to Karachi in their old age and it beats me why they did it. If you're a boy in Bombay, Karachi feels like a dump," he insisted very firmly. He said that he visited them there but was never able to form a link with the country. Indeed, it hardly ever made an appearance in his books.
Rushdie, himself, moved to the UK because he wanted to be a writer and figured that in the late 1960s after he had graduated from college that it was impossible to earn a living in India writing books. "I was 21 when I decided to be a writer," he said, adding: "At the time there wasn't a way to earn your living by your pen in India. I would have had to live with my parents or take a job and be a part-time writer."
So he stayed in Britain and took a job in an advertising agency. He says now that working there gave him a disciplined edge. "I got my work ethic from working in an ad agency. It gave me a discipline of writing. That was a job and I think of this as a job," he said about how he sits down to write for four or five hours every day. He says that it's tough to be creative for more than four or five hours daily so he doesn't attempt to work for longer. "When you are creating something out of nothing, it is very mentally demanding work. After four-to-five hours, you start losing your edge," he said.
Rushdie says he had never dreamt that he might become a bestselling writer. He never thought that his kind of writing would reach out to millions. "Bestsellerdom is not a thought that my kind of writer ever has. It's not why you do it. If I had wanted to write a bestseller, there are a thousand easier ways of doing it than Midnight's Children. It's a fluke of history and I am very happy about it."
Could or should Rushdie, who spent years in hiding under police protection after the fatwa, have steered away from the limelight and lived a low-profile life away from potential knife-wielding assassins? After all an Iranian organisation upped the bounty on his head to $3.3 million in 2012.  That's in the 'what-if' category of questions. What's definite is that the boy who was educated partly in Mumbai's Cathedral School and partly at Rugby, loved the perpetual bustle of New York, calling it "a Western rewrite of Bombay." "It's a very work-oriented town. If you call a business office at 8.30 in the morning, people are there and if you call at 7.30 in the evening there is someone answering the phone," he says. 
Why does he love the always-on nature of the city? After all, Rushdie, who's now a US citizen, has always said that as an author, he requires peace and solitude. But once his writing is over, he's a bon vivant who likes to unwind by partying and meeting friends. "Maybe I am unlike some writers in that at the end of a day of working hard, I like to go and have dinner out. It benefits me to come out of my head and meet friends." 
Rushdie had spoken to the German Stern magazine a few weeks before Saturday's stabbing and told them that his life was now "relatively normal". We can only hope he recovers from his wounds and is able to return to a life of combining solitude and being social just as he did before Friday's act of hatred and stupidity.