Salman Khurshid: Was PM aware of implication?
'Why has Modi not called President Xi so far? The issue is going to be resolved only by the two top leaders'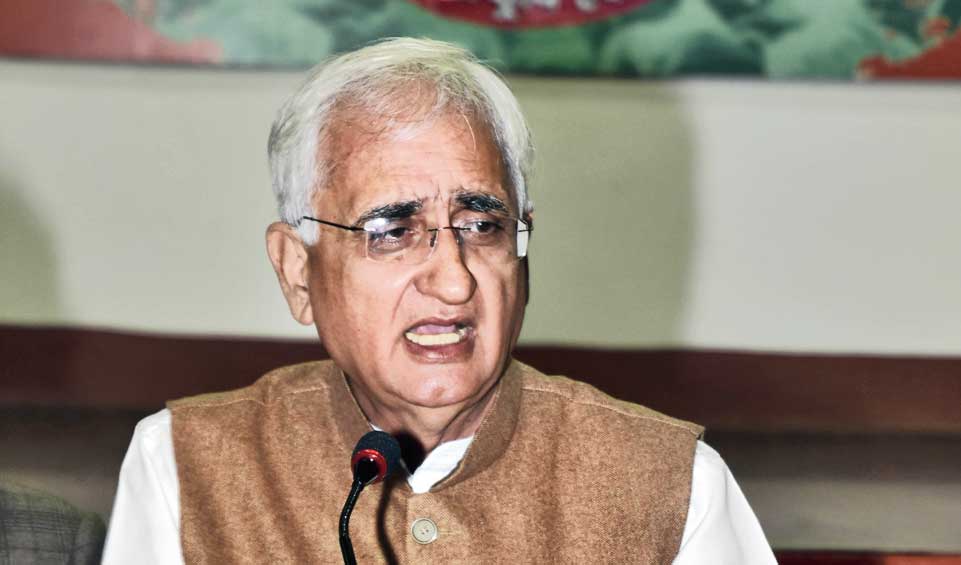 ---
---
Former external affairs minister Salman Khurshid has said that against the backdrop of the problems with China and an inconsistent foreign policy not in tune with India's traditional positioning, he does not know whether Prime Minister Narendra Modi "has a clear idea of global politics… or what could be the implications of certain actions".
Asked about the reasons for the standoff in Ladakh, the senior Congress leader told The Telegraph: "The vital question to be asked is — Why is China doing this? We all assume China is wrong in sending its troops into Indian territory. But why did the Chinese authority plan this when our Prime Minister has created an impression that the relations with China have improved?"
Khurshid explained: "Modi invited Chinese President Xi Jinping to Ahmedabad in September 2014 and since then has met him on several occasions. They even had non-official engagements. So if the mind is clear and we are dealing with China as equal partners, we should demand reciprocation in terms of friendliness, cooperation and understanding. Are we demanding it?"
Arguing that the crisis will not be resolved by military commanders, the Congress veteran said: "Why has Prime Minister Modi not called President Xi so far? The issue is going to be resolved only by the two top leaders. If there is a clear understanding about the nature of relationship both leaders want, why this confusion and hostility?"
Asked about the possibility of some fundamental differences over the borders between India and China that go beyond perceptional differences, that defence minister Rajnath Singh had referred to recently, Khurshid said: "That's what my main point is. People are concentrating on the map, we have to concentrate on the mind. Attempts were apparently made by Modi to reach Xi's mind but have we been able to do that? Is there a clear understanding and no trust deficit between the two countries?"
Although the former external affairs minister was initially reluctant to elaborate on what he meant by dealing with the Chinese "mind", he offered some hints by saying: "I don't know if Modi has a clear idea of global politics or not, or what could be the implications of certain actions. Experts need to sit down and work on the mind. That will help us understand the reason for this inexplicable action."
Pressed further, Khurshid opened up: "This is a new age of non-alignment. If we want to join the forces that want to squeeze China, there will be implications on bilateral relations. There are forces in the world which today want to squeeze China and will tomorrow become friends with them as per their own convenience. We have to be clear in our mind if we want to be sucked in…. By playing those games, we may be closing avenues of meaningful engagement with China."
Khurshid was reticent about these diplomatic complexities but he stressed that Modi's policy of appeasement of the Chinese leadership over the past six years had failed to yield the desired results.
Although he did not elaborate, it is pertinent to recall that it was US President Donald Trump who first accorded legitimacy to rumours of an intrusion into Ladakh by Chinese troops by claiming that the "Indian PM was not in a good mood". Trump even offered to mediate between India and China.
Although the Indian authorities denied that Modi had spoken to Trump, the two leaders did talk a few days later and it was confirmed that the border standoff had been discussed.
Defence minister Rajnath Singh said in a television interview last Monday that he had spoken to US secretary of state for defence Mark Esper.
The strained relationship between the US and China, which has worsened during the pandemic, is an open secret and there have been several public outbursts by Trump in the recent past. India too joined a group of 62 countries to demand a probe into the Covid-19 outbreak, a move that is likely to have riled China.
Khurshid did not suggest that the US angle was the only factor because he also referred to an intrusion by Chinese troops in Ladakh when Xi was being given exceptional hospitality in Ahmedabad in 2014. The Congress leader insisted repeatedly on the need to understand the "Chinese mind".
In 2017, China triggered a huge crisis in Doklam, a plateau at the India-China-Bhutan trijunction, fortifying its position there despite the Indian side claiming victory after a prolonged face-off. Even the latest intrusion into Ladakh would have been planned much earlier as reports suggest Chinese troops have already established the upper hand by building concrete structures.
A response from China should have been anticipated, many believe, as Beijing had bitterly criticised the change of status quo in Jammu and Kashmir when the Modi government cancelled the erstwhile state's special status and bifurcated it, carving out Ladakh as a separate entity.
That the government is advocating patience without showing its typical belligerence indicates India is in a disadvantageous position at this juncture.