Sadhu spews hate on Tricolour
Yati Narasinghanand Saraswati said that the BJP 'belongs to hypocrites' for putting the Tricolour above the bhagwa dhwaj and buying it from Muslims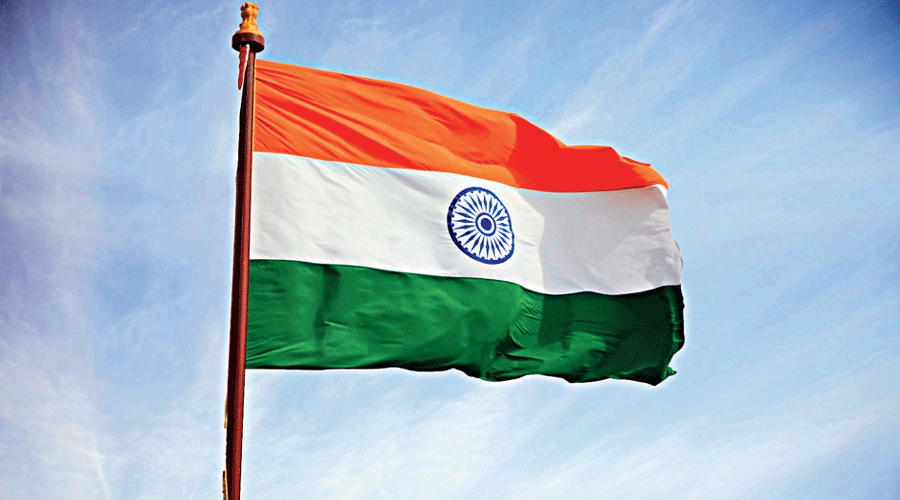 Representational image.
File photo
---
Lucknow
|
Published 14.08.22, 01:03 AM
|
---
The sadhu accused of calling for genocide against Muslims last year has urged a boycott of Har Ghar Tiranga saying the Tricolours will be supplied by a Muslim "from Bengal", and asked Hindus to fly the saffron flag instead.
Then, as though to remind the ruling dispensation that indulging hate mongers can be a double-edged sword, Yati Narasinghanand Saraswati added that the BJP "belongs to hypocrites" for putting the Tricolour above the bhagwa dhwaj and buying it from Muslims.
"The ruling party, which considers itself a follower of Hinduism and is publicising its Har Ghar Tiranga programme, belongs to hypocrites. The Hindus are the biggest hypocrites," the Ghaziabad-based mahamandaleshwar of Juna Akhara is purportedly heard saying in a video.
"The man who has got the biggest contract to supply the national flag for the (Har Ghar Tiranga) programme is a resident of Bengal and his name is Salauddin," the monk adds, citing unnamed "sources".
"I call on Hindus to boycott the Har Ghar Tiranga programme. I suggest you hoist the bhagwa on your houses. If you still want a Tiranga, use an older one and not one supplied by a Muslim. Such a programme is a conspiracy against Hindus as the money paid for the Tirangas would be used to kill Hindus."
Narasinghanand had shot to national limelight last December after urging Hindus, at a sadhus' conclave in Haridwar, to take up weapons against Muslims. The BJP government of Uttarakhand, however, booked him for insulting Muslim women rather than invoking the more punitive hate speech charges, allowing him to promptly secure bail and continue his anti-Muslim tirades.
A police officer in Lucknow said: "According to initial reports, the video was recorded in Narasinghanand's ashram in Dasna, Ghaziabad, two days ago. We will act against him if anyone submits a formal complaint."
While Narasinghanand has issued statements supporting the BJP ahead of national and state elections, he has tended to attack the party in fits of petulance at perceived deviations from his idea of Hindutva – such as when Prime Minister Narendra Modi spoke of "Sabka Saath, Sabka Vikas" after assuming power.Narasinghanand has good relations with many national and state BJP leaders, with Union minister Giriraj Singh visiting his Dasna Devi temple many times since 2014.BJP Rajya Sabha member Laxmikant Bajpai refused to criticise the sadhu directly but stressed "the importance of the Tricolour to our lives since we have got it after sacrificing many lives during the freedom struggle".
Leading sadhu Ravindra Puri, president of the All India Akhara Parishad, declined comment on Narasinghanand's harangue but said that "speaking against the national flag is not worth appreciating".Narasinghanand, who claims to be a follower of Nathuram Godse, had been arrested in connection with the 2013 Muzaffarnagar riots and later granted bail.