Sabarmati, Kashi, Lutyens
Firm to redesign Central Vista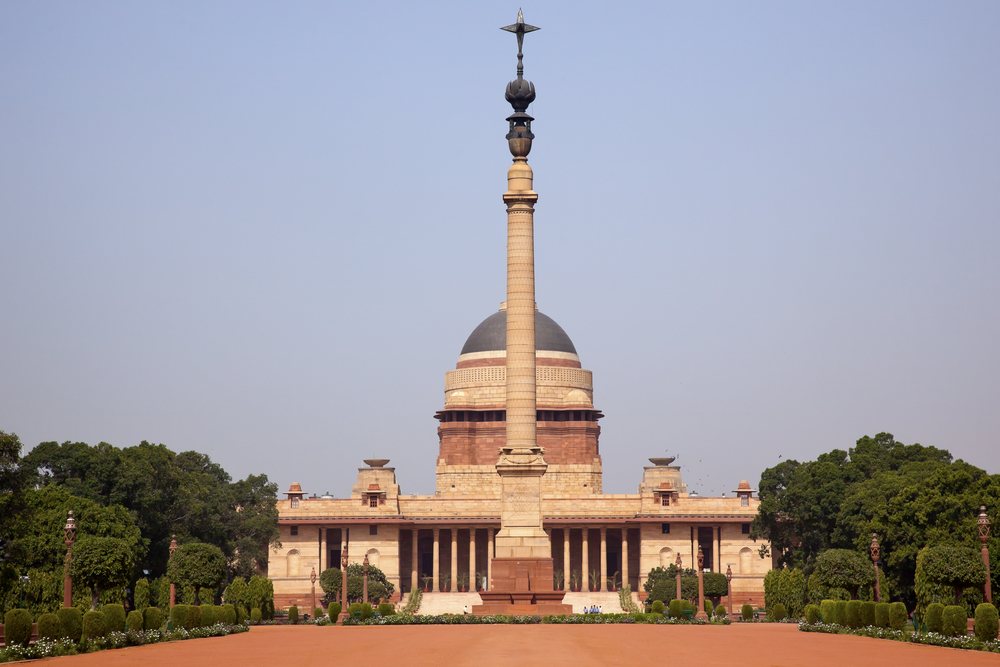 Housing and urban affairs minister Hardeep Puri described Rashtrapati Bhavan, North Block, South Block and Parliament as "iconic historical buildings"
Shutterstock
---
New Delhi
|
Published 25.10.19, 08:52 PM
|
---
An Ahmedabad-based firm that has designed the Sabarmati riverfront and the area around the Kashi Vishwanath temple in Varanasi, Prime Minister Narendra Modi's constituency, has been chosen by the Centre to plan a makeover of the heart of Lutyens Delhi.
Under the contract, HCP Design, Planning And Management Private Limited is to redesign the Central Vista and design an additional Parliament building and a common central secretariat, for which several old office buildings are likely to be torn down.
The Central Vista consists of a 3km stretch of lawns and an artificial lake, flanked by government buildings including Parliament House. Rajpath, where the Republic Day parade takes place, stretches along the middle of these lawns.
HCP's plans for how to do it all have not been revealed, nor have those of the other bidders.
Housing and urban affairs minister Hardeep Puri, however, on Friday promised "extensive public consultations" even with those who don't want "old buildings to be touched".
Puri told reporters that HCP had been chosen from among six short-listed firms.
"We will hold extensive public consultations with all stakeholders and this will be in the public domain. Those who were not awarded the contract are also meeting the secretary and we will get ideas from them," he said.
"The consultations will be broad-based yet time-efficient…. There is a large body of opinion that old buildings should not be touched. We will speak to them too."
He described Rashtrapati Bhavan, North Block, South Block and Parliament as "iconic historical buildings" and said: "No one has suggested, nor will anyone suggest, that such buildings be demolished…."
Puri explained the reason for the project: "Our government offices are strewn all over Delhi. Apart from (that), we also pay Rs 1,000 crore a year by way of rent. Now when you are the landowner, and you have this space, and you have the liberty to design, we would like to design it in such a way that the essential offices are all in one place."
He hinted that Shastri Bhavan, Lok Nayak Bhavan and some other buildings constructed after Independence would need to make way for the project. He evaded the question when the plans would be made public.
"Some of these buildings (were) built between 1911 and 1931 --- it was a completely different ethos and ambience that prevailed then. What use we will put them to, I frankly don't know," Puri said.
"My emotional attachment is with South Block, where I was recruited as a young foreign service officer. I don't think it looks like a foreign office. Maybe you can turn it effectively into a national modern contemporary history museum. I don't know."
Housing and urban affairs secretary Durga Shanker Mishra said Parliament House currently had no space for the offices of MPs, and that the number of MPs might increase after delimitation, which is a possibility after 2025.
The winning bid, selected by a jury headed by P.S.N. Rao, chairperson of the Delhi Urban Art Commission and director of the School of Planning and Architecture, was of Rs 229.75 crore (in consultancy fees). Puri said this was considerably lower than the Rs 448 crore up to which the Centre was willing to pay.
The panel, whose composition has not been revealed, gave 80 per cent weight to quality and 20 per cent to cost. The tender process for the construction of the individual buildings will start in May.
Prabhakar Singh, director-general of the central public works department, told The Telegraph that the consultancy fees are normally three to five per cent of a project.
"Our guesstimate earlier was Rs 12,450 crore (for the entire project) but the cost of this project is expected to be much higher…. The new common central secretariat will accommodate 70,000 officials," he said.
"The proposal the company has submitted is not final. We will suggest changes, and new ideas will also be included after public consultations. So there is no final plan right now."
Last month, the ministry had failed to respond to a suggestion from the Indian Institute of Architects and Council of Architecture to hold a design competition for the project. Although the project was open to firms across the world, only six companies --- all of them Indian --- bid for it.
HCP will have to not only design new buildings and plan the refurbishment of Parliament House, but also plan the management of traffic, air quality, parking, waste, rainwater harvesting and security, and get the completion certificates from the New Delhi Municipal Council.
The new structure connected to Parliament House is to be completed by March 2022. One of the Houses of Parliament may be shifted to the new building, Puri said.
The Central Vista lawns are to be redeveloped before November 2021, and the common secretariat built by March 2024.
HCP's work on the Sabarmati riverfront has drawn flak for concreting the floodplains, and in Varanasi there have been protests against demolitions in the neighbourhoods around the Kashi Vishwanath Temple.