Govt ensured safe return of 22,500 citizens from Ukraine despite challenges: Jaishankar
External affairs minister defends Centre's stand on conflict, noting that India has called for immediate cessation of violence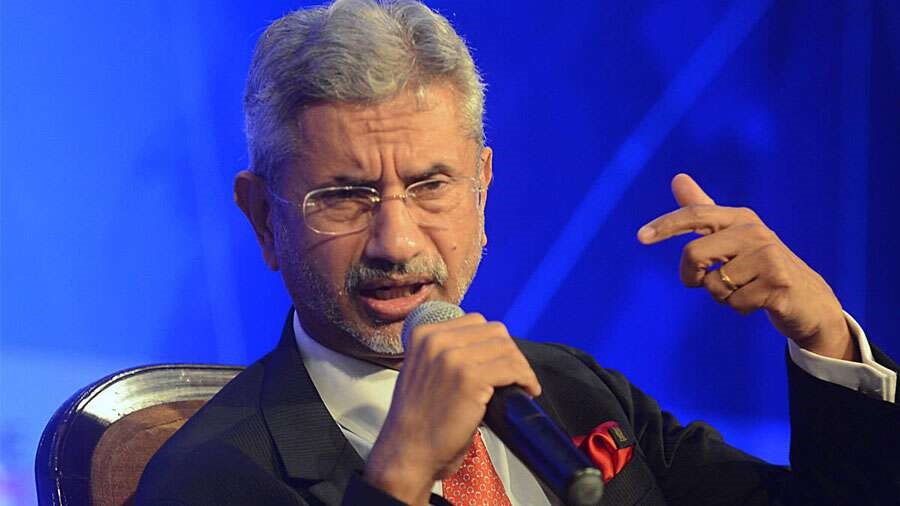 Dr S Jaishankar
File Picture
---
New Delhi
|
Published 15.03.22, 10:33 PM
|
---
 About 22,500 Indians have returned home safely from war-torn Ukraine with the government undertaking one of the most challenging evacuation exercises during a conflict situation after a majority of students decided to stay back despite initial advisories, External Affairs Minister S Jaishankar informed Parliament on Tuesday.
He highlighted that Prime Minister Narendra Modi spoke to the Presidents of Russia and Ukraine on multiple occasions. "He specifically took up the issue of safe evacuation of Indian nationals, especially from Kharkiv and Sumy," he said.
Modi also spoke to the prime ministers of Romania, Slovak Republic and Hungary and the president of Poland to seek their support for the facilitation of entry of Indian nationals to their countries.
Making similar statements, first in Rajya Sabha and then in Lok Sabha, Jaishankar defended the government's stand on the Ukraine-Russia conflict, noting that India has called for an immediate cessation of violence and also reiterated at the highest levels to all parties that there is no other choice but the path of diplomacy and dialogue.
"Despite the challenges posed by the serious ongoing conflict, we have ensured that about 22500 citizens have returned home safely," he said, adding 147 foreign nationals of 18 countries, including Nepal and Bangladesh, have also been evacuated.
The entire exercise, Jaishankar said, involved a whole of government' approach with the prime minister himself chairing review meetings, almost on a daily basis, he said.
He said that some students who are still stranded in South Ukraine will be evacuated from the Russia route.
India prepared in advance of the actual conflict situation and had started issuing advisories asking people to leave Ukraine, Jaishankar said, rebutting the Opposition's charge of delayed action by the government.
The minister said the students had delayed their return from Ukraine as some universities discouraged them and "confusing political signals'' were given there before the fighting started.
He said the Indian embassy in Ukraine is diligently pursuing the repatriation of the mortal remains Naveen Shekarappa Gyanagaudar, a final year medical student of Kharkiv Medical University, to India.
Naveen succumbed to injuries received when he had gone to fetch groceries from a shop in Kharkiv.
The minister noted that 90 flights have been operated, out of which 76 were civilian, and 14 were Indian Air Force flights.
Referring to the steps taken by the government before the actual conflict began, the minister said that in view of the continued build-up of tensions in February, the Indian embassy issued an advisory on February 15 advising Indian nationals in Ukraine, whose stay is not essential, to leave the country temporarily.
The embassy also advised Indian nationals not to travel to Ukraine or to undertake non-essential movements within the war-torn nation. Such advisories are extremely unusual and their very issue is itself a serious caution, he pointed out.
Further advisories were also given on February 20 and 22 pressing students to leave Ukraine.
"Air-bubble restrictions then in force were immediately lifted in consultation with the Ukrainian side to increase the number of direct flights. As a result, around 4000 Indian nationals departed from Ukraine by direct and indirect flights till February 23," he observed.
Jaishakar informed the Houses that despite our efforts, "a large majority of students elected to continue staying in Ukraine. "We must understand their predicament in this regard," he said.
There was a natural reluctance to leave educational institutions and affect their studies, he said adding that some universities "actively discouraged and showed reluctance" to offer online courses.
"Many of them received conflicting advice regarding safety. The challenges of travel back may have also been a factor. In the period leading to February 24, the political signals were confusing as well.
"Public urgings not to be taken in by alarmism and reports of force withdrawals created a confusing picture. The net result was that about 18,000 Indian citizens were caught in the midst of conflict when it began," he said.
The tense situation between Russia and Ukraine erupted into conflict on February 24. The most challenging part of the evacuation exercise, Jaishankar said, was that of evacuating Indians from Kharkiv and Sumy.
Both the places witnessed heavy shelling and airstrikes. Many options were worked out to evacuate students through buses and trains, he recalled.
A team from the Indian embassy in Moscow was also sent to the Russia-Ukraine border to facilitate the possible evacuation of Indian students through Belgorod and Kursk.
Many students from Kharkiv were moved to Pesochin in view of the anticipated escalation of hostilities.
"While our efforts were able to stave off some of the more extreme scenarios, their presence in a safety zone allowed for subsequent ferrying through buses to the western borders," he said.
The Sumy evacuation, which was the last one on a significant scale, was also extremely complex as Indian students faced the prospect of being caught in the crossfire.
"Their evacuation from the city needed a credible ceasefire, a daunting challenge in the current situation. This finally materialised due to the personal intervention of the prime minister himself with the presidents of Ukraine and Russia," he said.
Ahead of the conflict, he said, the Indian embassy in Ukraine had started a registration drive for Indian nationals in January 2022.
As a result, around 20,000 Indian nationals registered with the Indian embassy in Kyiv. Most of the Indian nationals were students who were pursuing medical studies in Ukrainian universities that were dispersed throughout the country, he said.
"More than half the students were in universities in eastern Ukraine that borders Russia and has been the epicenter of conflict so far. Students hailed from 35 states and union territories, with more than 1000 students each from the states of Kerala, UP, Haryana, Tamil Nadu, Gujarat, Maharashtra, Bihar and Rajasthan," he said.
At the directions of Prime Minister Modi, the government launched 'Operation Ganga', undertaking one of the most challenging evacuation exercises during an ongoing conflict situation, he noted.
He said the members of Parliament should know that the Indian community was dispersed across Ukraine, posing its own logistical challenges.
"The exercise was undertaken at a time when military actions including airstrikes and shelling were underway. It involved movement in a war-torn situation in a large country, at times over 1000 km. And it required exiting border checkpoints that were clogged by an estimated 26 lakh refugees," he explained.
At the Ministry of External Affairs, the evacuation process was monitored on a 24x7 basis.
The MEA received "excellent support" from all concerned ministries and organisations, including the Civil Aviation, Defence, the National Disaster Response Force, Indian Air Force and private airlines, he said.
"There was an effective coordination with state governments in ensuring that arrangements made by them for return of Indian students to their respective states once they landed in Delhi or Mumbai," he said.
The strategy for evacuation was to take out Indian nationals from the western neighboring countries of Ukraine - Poland, Slovak Republic, Hungary, Romania and Moldova. This was necessitated due to the closure of Ukrainian airspace on February 24, he said.
The evacuation flights were from Romania, Poland, Hungary and Slovakia. While Indian Air-Force rose to the occasion, most of the private airlines, including Air India, Air India Express, Indigo, Spice Jet, Vistara, Go-Air and Air Asia. 
"In line with India's principle of Vasudhaiva Kutumbakam', foreign nationals were also evacuated from conflict zones and brought to India. They included about a 150 citizens, 147 to be exact of 18 countries, among them our immediate neighbours like Bangladesh and Nepal," he told members.
Many of the Ukrainian nationals that were family members of Indian nationals have also been evacuated. "We also provided free passage to Ukrainian nationals from India to Poland in our evacuation flights," he said.
On India's position on the Ukraine conflict, he said it has been steadfast and consistent.
"We have expressed deep concern at the worsening situation and called for immediate cessation of violence and end to all hostilities. Our statements at the Security Council and the General Assembly have urged an urgent ceasefire and ensuring safe passage for stranded civilians.
"We have also highlighted the humanitarian assistance extended by India to Ukraine and its neighbours at this hour of crisis," he said.
He also asserted that there is no other choice but the path of diplomacy and dialogue.
The minister cautioned that the Ukraine conflict has major economic implications.
"Its impact on energy and commodity prices is already visible. The disruption of the global supply chain is expected to be significant. India has substantial dealings with both Russia and Ukraine. An assessment in this regard by the Government is underway. However, the House will appreciate that there is all the more need for an Atmanirbhar Bharat (self-reliant India)," he said.
He assured the House that "whether it is our approach to the political situation, the implications for the economy or the welfare of Indians abroad, our government will respond with the confidence, diligence and responsibility that has been our hallmark."