RTI query to the 'vociferous'
Now that the RTI Act has been substantially diluted, there is little public outcry except for the protests by transparency activists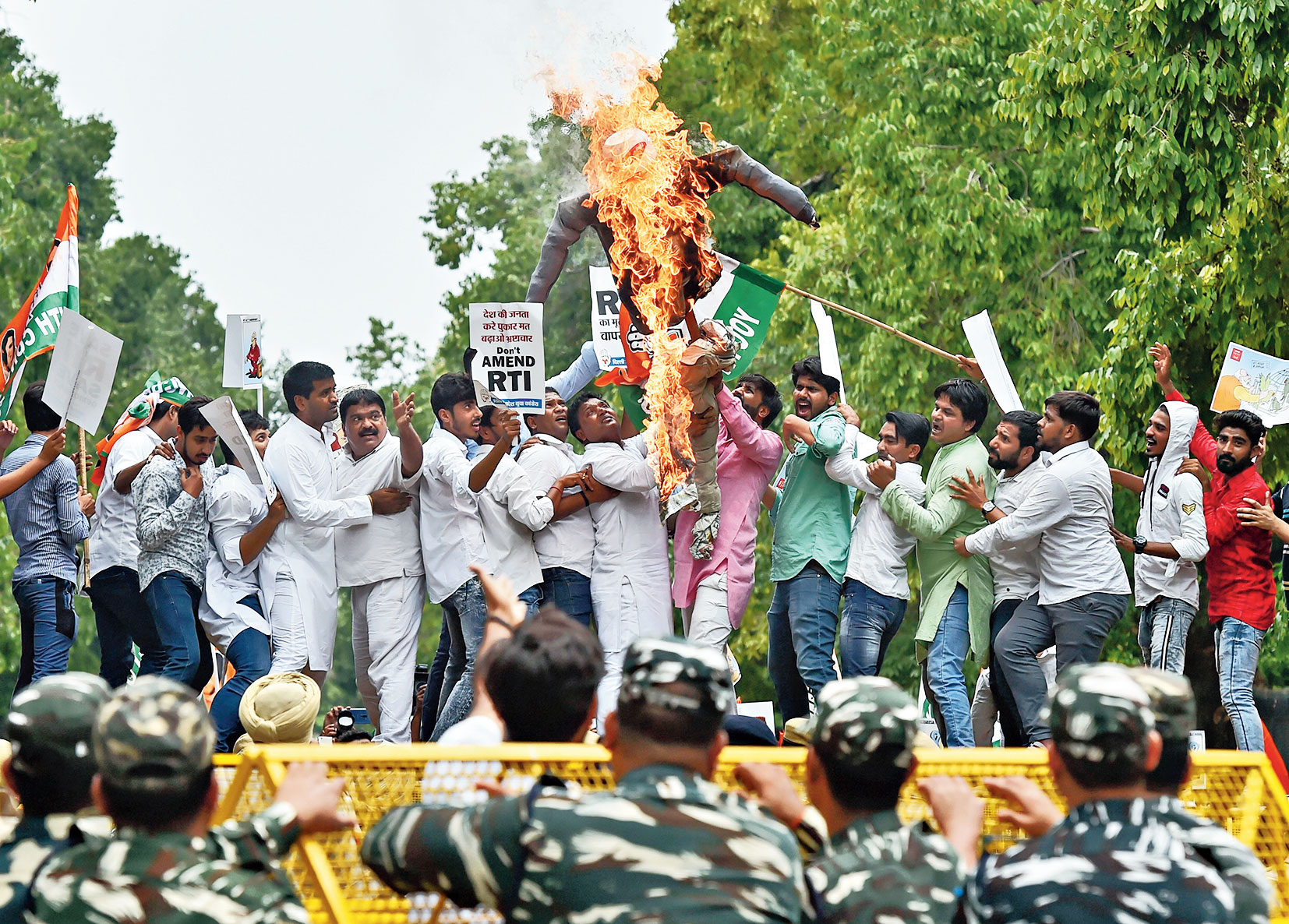 ---
---
Rahul Gandhi on Saturday asked why the "normally vociferous anti-corruption crowd" was silent over the dilution of the Right to Information Act, which gave citizens the power to hold the government accountable.
"Government is diluting RTI in order to help the corrupt steal from India. Strange that the normally vociferous anti-corruption crowd has suddenly disappeared," Rahul tweeted in the evening.
What he left unsaid was that the Congress had suffered heavily because of a perception that its governments had been corrupt.
Corruption controversies such as the 2G, Commonwealth Games and coal-block scandals and anti-graft campaigns by activists like Anna Hazare had shredded the UPA government's image and prospects ahead of the 2014 general election.
One key reason for the groundswell of support for Narendra Modi in the run-up to that election was his projection as a crusader against corruption. One of Modi's slogans had been: "Na khaoonga na khane dunga (Won't take bribes nor let anyone do so)."
Rahul had kept up with what many deemed an obsessive focus his corruption allegations against the Rafale deal, targeting Modi personally to dent his image, during the 2019 election campaign. But various surveys have suggested that Modi's personal image had not suffered.
The Congress has over the past five years been saying that the Modi government has diluted the legal framework for combating corruption.
Even civil society activists and a large number of middle-class voters had turned against the Manmohan Singh government because of the corruption scandals, despite the UPA's efforts to strengthen the legal framework against corruption through the RTI Act and the Lokpal Act.
Now that the RTI Act has been substantially diluted, there is little public outcry except for the protests by transparency activists.
Sonia Gandhi too had issued a statement after the RTI amendment bill was passed in Parliament.
"It is clear that the present central government sees the RTI Act as a nuisance and wants to destroy the status and independence of the Central Information Commission which was put on a par with the Election Commission and the Central Vigilance Commission," she said.
"The central government may use its legislative majority to achieve its aims but in the process it would be disempowering each and every citizen of our country."
The Congress has posted a detailed criticism of the bill on its official website.
"This ability of the RTI to expose the frauds and lies of the government is what Modi & Co. fear the most," it says.