Rs 50,000 compensation to families of Covid victims a crude joke: Cong
The Congress spokesperson alleged that the Modi government agreed to shell out the amount when no option was left after being rebuked by the Supreme Court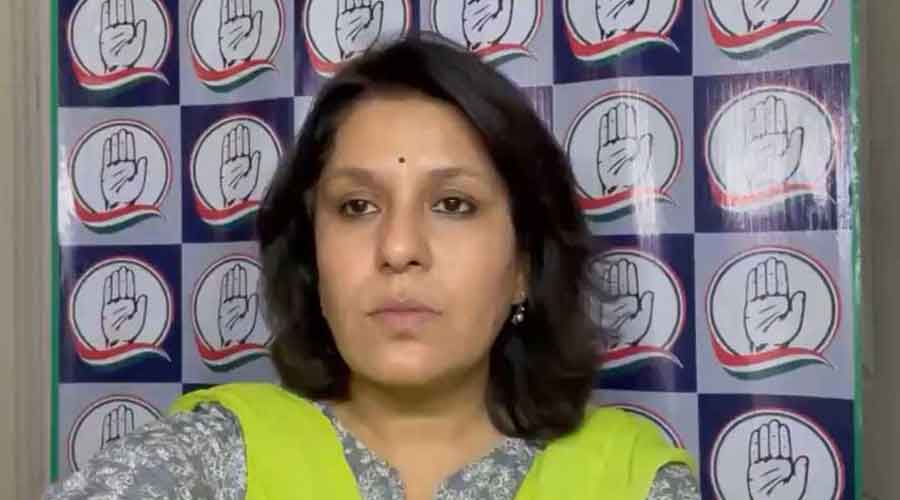 ---
New Delhi
|
Published 24.09.21, 01:35 AM
|
---
The Congress on Thursday blasted the Narendra Modi government for filing an affidavit in the Supreme Court proposing a compensation of Rs 50,000 to the families of Covid victims, saying this demonstrated the arrogance and insensitivity of a regime that was initially reluctant to offer any assistance at all.
Congress spokesperson Supriya Shrinate said: "We demand Rs 5 lakh for every death. There is no scarcity of money. The Modi government has earned Rs 4 lakh crore from the people by taxing petroleum products last year alone. The official figure of Covid deaths is 4.5 lakh. The government will require only Rs 22,000 crore to give Rs 5 lakh each for every death. After all, such a large number of people died because of the government's mismanagement."
Arguing that the offer of Rs 50,000 was like rubbing salt in the wound, Shrinate said: "This is a crude joke. Rs 50,000 is spent in getting a patient admitted to a hospital. People were struggling to get admission, there was no medicine, no injection, not even oxygen. The main breadwinner of the family has died in many cases. Young people have lost their lives. Children have been orphaned. What will happen with Rs 50,000? Why can't the government return Rs 22,000 crore from the Rs 4 lakh crore they have extorted from the people?"
Recalling that the Modi government was initially not willing to pay any compensation, as is manifested in the earlier affidavits, the Congress spokesperson alleged that they agreed to shell out Rs 50,000 when no option was left after being rebuked by the Supreme Court. The government had earlier told the court that Covid was not a natural disaster. This was rejected by the court.
Shrinate said: "The offer of Rs 50,000 is also illegal. On April 8, 2015, the same Modi government released amended guidelines under the NDRF (National Disaster Response Fund), clearly stating that Rs 4 lakh will be given to the family of a person dying because of natural disasters. Even the petitioners had demanded Rs 4 lakh. Modi is now violating the law framed by his own government. What is the basis of calculating Rs 50,000 when the extent of tragedy is so big?"
She also raised questions about the PM CARES Fund, wondering what was being done with the thousands of crores collected for Covid relief.
"The money was collected from public sector units, corporate houses and individuals in the name of the Prime Minister. The Prime Minister's Office and the Government of India emblem were used for collecting funds. Why is there no accountability?" Shrinate asked.
There has been confusion about the PM CARES Fund as the government has given different replies in response to different RTI queries. Finally, it has said in court that the fund is a private trust and doesn't belong to the Government of India.
Shrinate insisted there was no dearth of resources and said: "Rs 5 lakh be fixed as compensation amount. There should not be any attempt to hide the number of actual deaths. The state governments should be asked to conduct surveys to ascertain the number of deaths and accept the claims for compensation."