Rivalry saga, CBI call in lawyer killing
Her nephew demanded a CBI probe and alleged 'a political murder' but did not explain the charge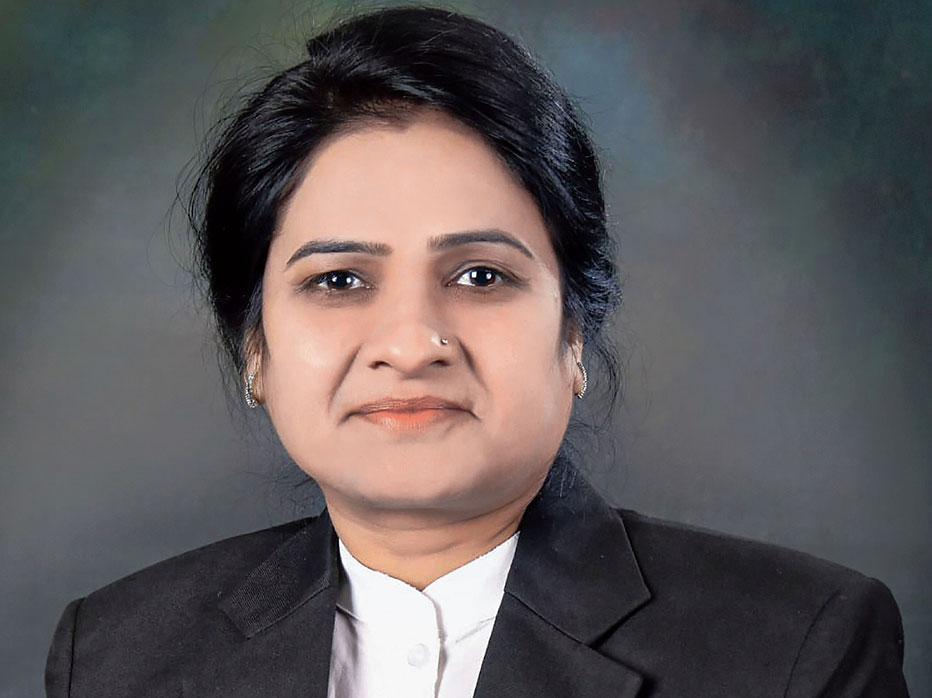 ---
|
Lucknow
|
Published 14.06.19, 01:29 AM
---
Family members of Darvesh Singh Yadav, shot dead by a fellow lawyer days after being elected the first woman president of the Uttar Pradesh Bar Council, have alleged a larger conspiracy in her murder and demanded a CBI inquiry.
Hundreds attended the funeral of the 37-year-old, who eyewitnesses say was shot by Manish Sharma on the Agra court premises on Wednesday, at her home village of Chandpur-Tharauli in Etah district on Thursday.
Her nephew Parth Yadav, who performed the rituals, demanded a CBI probe and alleged "a political murder" but did not explain the charge. He, however, suggested his aunt had been murdered to prevent her exposing financial irregularities in the bar council.
"Manish Sharma had siphoned off funds meant for lawyers' welfare. He and many other people would be in trouble if a probe is done," Parth said.
Sharma is fighting for his life at a Gurgaon hospital, having apparently shot himself in the temple after allegedly pumping three bullets into Darvesh and shooting one of her nephews, Manoj Yadav, in the chest. Manoj is recovering at a Delhi hospital.
Police officers said Sharma's professional jealousy towards Darvesh had led to bitter personal enmity between them, and she was trying to get him debarred from the bar council.
"A murder case has been registered against Sharma, with his wife Vandana and his friend and fellow lawyer Vinit Gulecha named as accomplices," the additional director-general of police, Agra zone, Ajay Anand, said. "We need a thorough investigation before deciding on the motive."
Gulecha had taken Sharma on his scooter to the chamber of lawyer Arvind Kumar Mishra on the court premises for a reconciliation meeting with Darvesh, where the shooting took place. Vandana, Darvesh's family said, had threatened her over the phone, asking her to call off her campaign against Sharma.
Police sources said that both Darvesh and Sharma had begun practising law at the Agra district court in 2004 and were good friends initially. But while Darvesh's reputation as a lawyer grew, Sharma struggled to establish himself.
"He began opposing Darvesh over everything. He used to approach her clients' opponents to contest cases on their behalf," an officer said, asking not to be identified.
"Recently, Darvesh registered a police case accusing Sharma of breaking into her chamber, stealing cash and jewellery and replacing the lock on the door. Some senior lawyers eventually intervened and got Sharma to vacate the chamber. Darvesh began a campaign to debar Sharma from the bar council."
Darvesh, previously vice-president of the state bar council, was elected its first woman president at Allahabad on Sunday. After a felicitation on the Agra court premises on Wednesday, she was sitting in Mishra's chamber with nephews Sunny Yadav and Manoj.
"Some of the lawyers persuaded her to come to a compromise with Sharma. When she agreed, a lawyer called Sharma on the phone and suggested he come to Mishra's chamber," Sunny said.
"Sharma arrived with Gulecha and immediately started shouting at aunty. Manoj, my cousin, tried to calm him but he pulled out a revolver and fired at him. He then shot aunty three times and, finally, himself."
State law minister Brijesh Pathak, who attended the funeral procession for Darvesh, said: "We are discussing ways to enhance security on court premises."
Samajwadi Party president Akhilesh Yadav met Darvesh's family. He later highlighted the poor law and order in the state and demanded a compensation of Rs 50 lakh for the murdered lawyer's family.