Ranchi records almost 70 per cent of the total fresh Covid cases in Jharkhand
3200 beneficiaries administered Covishield on the first of vaccination drive in the state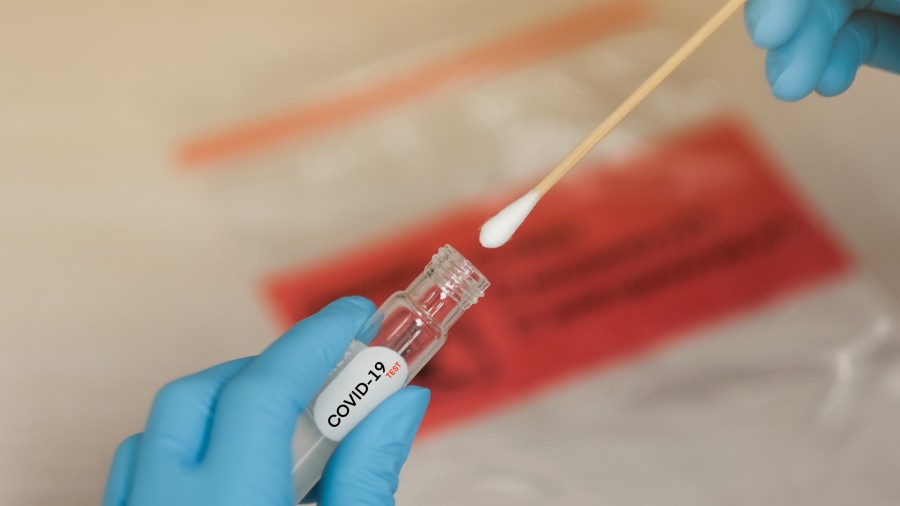 ---
|
Ranchi
|
Published 18.01.21, 11:29 AM
---
While at least 15 of 24 districts did not report fresh cases of Covid-19 infection on Sunday, Ranchi accounted for almost 70 per cent of the less than 100 people who were found infected on the day, figures compiled by the state health department revealed.
As many as 60 of the 87 people found infected by the deadly virus on the day were residents of Ranchi, while a dozen of them were from East Singhbhum, a bulletin released by the National Health Mission (NHM) stated. The figures highlight that over 72 per cent of total Covid cases in the state were reported in Ranchi and East Singhbhum.
At least 111 Covid patients also recovered from the infection on Sunday, bringing the number of active cases in the state down at 1225, NHM stated in its bulletin. As per the bulletin, 98.06 per cent of the 1,17,686 people infected by the virus so far in Jharkhand have recovered.
Jharkhand administered Covishield vaccine shots to around 3200 beneficiaries on Saturday – Day 1 of what has been touted as the world's largest vaccination programme. However, no vaccine shots were administered in the state on Sunday. NHM officials said that the vaccine would be administered to beneficiaries in Jharkhand four days a week – Monday, Tuesday, Wednesday and Friday.
The government on Sunday tested swab samples of 10,390 people and less than 1 per cent of them were found infected. Jharkhand has so far collected swab samples of 50.54 lakh people and tested 50.46 lakh of them. The intensity of Covid testing in Jharkhand, however, has reduced lately.
Barring Ranchi and East Singhbhum, all the remaining 22 districts either reported a single-digit-spike in cases on Sunday or did not report fresh cases. Bokaro reported five cases against six recoveries, while Hazaribag reported two cases and the same number of recoveries.
As per government data, the growth rate of the viral infection in Jharkhand was 0.09 per cent against the national average of 0.12 per cent. At the current pace, it would take more than 785 days for the cases to double in Jharkhand. The doubling rate in India was 558.82 days, the NHM stated in its bulletin.
No Covid casualties occurred in Jharkhand on Sunday, keeping the toll at 1050. The Covid mortality rate in the state was 0.89 per cent against the national average of 1.40 per cent.