Ranchi mayor quota protest by tribal organisations
Agitation against the decision of state election commission to abolish the reservation of the seat of Ranchi mayor for tribals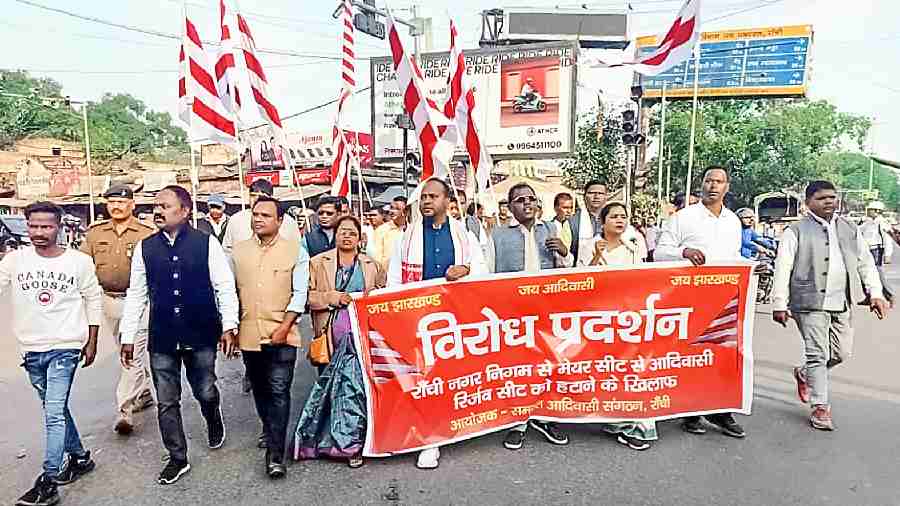 Tribal organisations march towards the office of the state election commission in Ranchi on Friday.
---
Ranchi
|
Published 21.11.22, 02:51 AM
|
---
Some tribal organisations of Jharkhand protested against the decision of the state election commission to abolish the reservation of the seat of Ranchi mayor for tribals. They also brought out a march in Ranchi on Friday.  
The civic polls in Jharkhand are likely to be announced soon and the state election commission issued a notification on November 17 stating that 12 of the total 48 posts of mayors and chairpersons of municipal bodies of the state would be reserved for elected representatives belonging to the Scheduled Tribes and 5 for the Scheduled Castes while 22 of those also be reserved for women. 
According to the notification, the post of Ranchi mayor that was earlier reserved for ST women would now be reserved for the SC candidates only, irrespective of their being male or female.
"Ranchi district comes under scheduled areas as defined in the 5th schedule of the Constitution and as such the post (of Ranchi's mayor) should be kept reserved for ST candidates only," said Bablu Munda, president of Kendriya Sarna Samiti of Ranchi that, along with some other like-minded organisations, brought out the protest march on Friday. 
Munda also demanded that the governments, both central and state, should have brought in suitable laws and formed rules for effective implementation of the same.
"This type of activity is actually a kind of infringement of the rights of the tribal," Munda further said, adding there should be a law in the light of the Panchayat (Extension to Scheduled Area) Act 1996 for implementing the provision of the 5th schedule in municipal bodies within the scheduled areas. 
The central government should have introduced a suitable act for the purpose that would be enforced across the country for protecting the interests of the tribals and the state government would then form the relevant rules, he explained. 
The representatives of some other organisations such as Adivasi Jan Parishad, Adivasi Sena, Akhil Bharatiya Adivasi Vikash Parishad, Adivasi Bisthapit Morcha and Adivasi Lohra Samiti discussed the issue on Friday before marching towards the state election commission to protest its decision.
"We shall now meet the chief minister and seek his intervention failing which we will plan an agitation for demanding rectification of the notification," Munda said.