CJI 'anguished' at purported betrayal
Ramana orders 'discreet' inquiry into confidential information relating to SC collegium finding
The CJI was shocked over the alleged leak of the list on Wednesday in a section of the media, which was inferred as a deliberate plant in certain quarters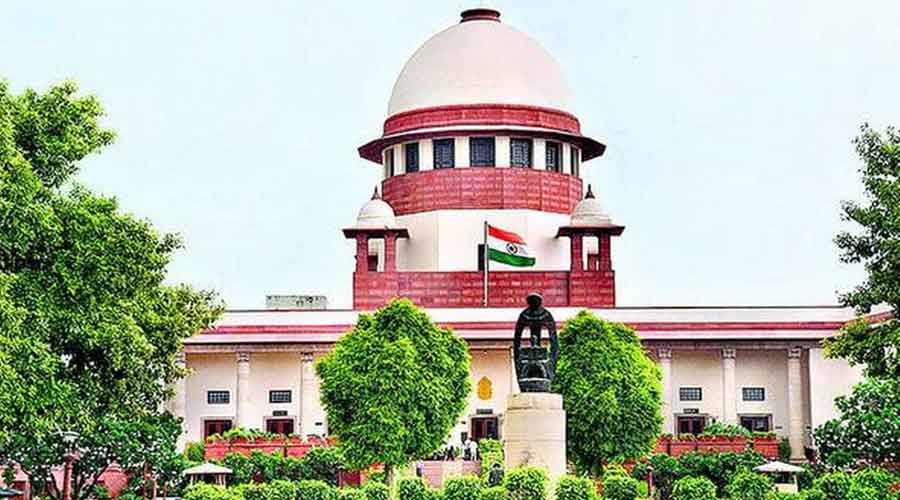 Supreme Court.
File picture
---
New Delhi
|
Published 20.08.21, 02:32 AM
|
---
Chief Justice of India N.V. Ramana has ordered a "discreet" inquiry into confidential information relating to the Supreme Court collegium finding its way into the media as sources said he was deeply "upset, anguished" and seething with rage over the purported "betrayal".
Except the five-member collegium comprising CJI Ramana and the four seniormost judges of the apex court — Justices U.U. Lalit, A.M. Khanwilkar, D.Y. Chandrachud and L. Nageswara Rao — very senior unidentified registry officials are privy to its meetings.
The development comes after Tuesday's collegium meeting at Justice Ramana's residence which was held till 9.20pm where the decision was taken to recommend the names of nine judges/chief justices of high courts for elevation to the Supreme Court.
The nine names cleared included three women judges — Karnataka High Court judge Justice B.V. Nagarathna, who will eventually become the country's first woman Chief Justice of India in October 2027, although for a brief period of 40 days, Justice Hima Kohli, Chief Justice of Telangana High Court, and Justice Bela Trivedi, judge of Gujarat High Court. The other names cleared for elevation are Karnataka High Court Chief Justice A.S. Oka, Gujarat High Court Chief Justice Vikram Nath, Sikkim High Court Chief Justice J.K. Maheshwari, Kerala High Court judge Justice C.T. Ravi Kumar, Madras High Court judge M.M. Sundresh and senior advocate P.S. Narasimha.
Sources said it was preposterous to suggest that action was proposed to be taken for the leak of confidential discussions in the collegium meeting, despite the fact that the names discussed were not finalised on Tuesday. It was stated that a couple of loose ends were to be sorted out the next day before sending the list to the Union government for approval.
Sources said CJI Ramana and some of the collegium members were shocked over the alleged leak of the list on Wednesday in a section of the media, which was inferred as a deliberate plant in certain quarters. As a convention it was pointed out that unless the resolution is signed, the names are not made public. Yet the names were leaked to the media, sources said.
On Wednesday, a livid Justice Ramana is said to have summoned a number of registry officials and expressed his deep anguish, anger and frustration over the alleged leak, particularly when the resolution was not signed or uploaded, much less forwarded to the government. Hence he is said to have ordered a discreet inquiry to fix accountability for the alleged leak, sources said.
Justice Ramana's frustration was visible when he deviated from the customary farewell speech to retiring judge Justice Navin Sinha on Wednesday by raising the issue of alleged leak of collegium-related matters in the media.
"….On this occasion I want to take the liberty to express my concern about certain speculations and reports in the media. You are all aware we need to appoint judges to this court. The process is ongoing. Meetings will be held and decisions will be taken. The process of appointment of judges is sacrosanct and has certain dignity attached to it.
"My media friends must understand and recognise the sanctity of this process. As an institution we hold the freedom of media and the rights of individuals in high esteem. Today's reflections in some sections of the media, pending the process, even before formalising the resolution is counter-productive. There were instances of deserving career progression of bright talents getting marred because of such irresponsible reporting and speculation. This is very unfortunate and I am extremely upset about it," Justice Ramana said.
He added: "I must also place on record (the) tremendous amount of maturity and responsibility displayed by majority of the senior journalists and media houses in showing restraint and not speculating on such a serious matter. Such professional journalists and ethical media are the real strength of the Supreme Court in particular and democracy in general. You are part of our system. I expect all the stakeholders to uphold the integrity and dignity of this institution."
The reference to "stakeholders" is being interpreted in legal circles as a reference to some collegium member/s themselves leaking the news.