Rajnath Singh deflects Karnataka blame
'We did not start the resignation spree. It was started by Rahul Gandhi in the Congress,' Singh says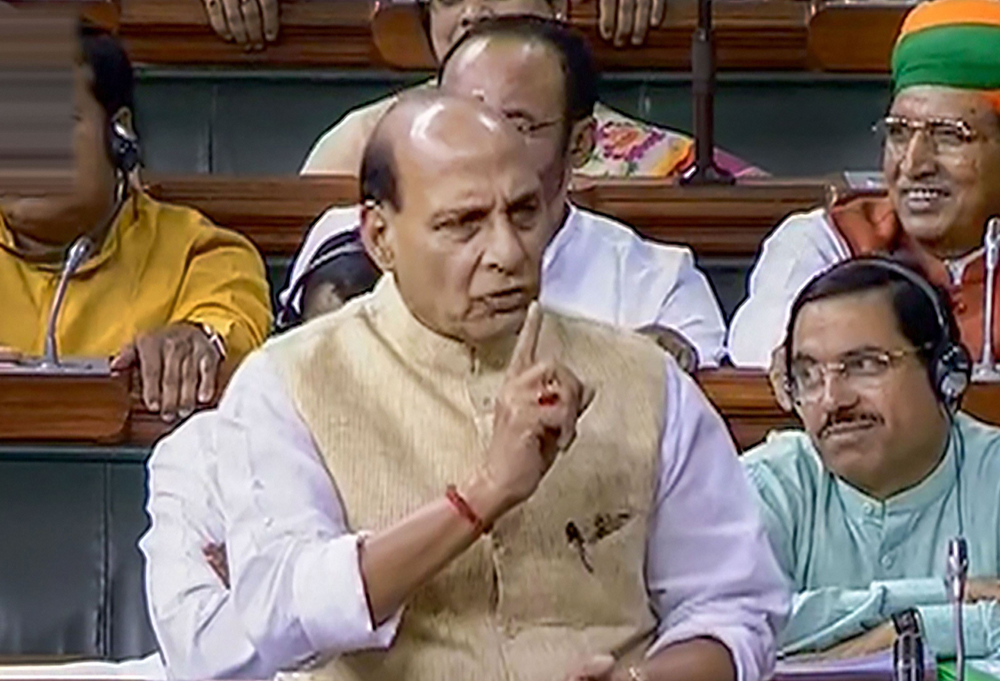 Defence minister Rajnath Singh speaks in the Lok Sabha during the budget session on July 8.
(PTI)
---
New Delhi
|
Published 09.07.19, 02:13 AM
|
---
Defence minister Rajnath Singh on Monday told the Lok Sabha the BJP had no role in the Karnataka crisis and took a dig at Rahul Gandhi, saying he had started the resignation spree in the Congress.
His comments came after the Congress accused the BJP of engineering last week's resignations by 13 MLAs of the ruling Congress-JDS coalition in Karnataka, and alleged it was conspiring to pull down Opposition-led state governments.
Rajnath's taunt was an allusion to the recent spate of resignations in the Congress organisation after Rahul stepped down as party president, owning moral responsibility for the drubbing in the general election.
Eight Congress MLAs in Karnataka and three of the JDS had resigned on July 6, after two Congress MLAs did so on July 1. If accepted, the resignations would reduce the state government's majority to just one.
On Monday, Congress members excoriated the BJP in the Lok Sabha, displayed placards and chanted: "Save democracy."
"We did not start the resignation spree. It was started by Rahul Gandhi in the Congress," Rajnath, the House deputy leader, chided them.
"Now one leader after another is quitting. What does the BJP have to do with this?" he added, drawing laughter from the government benches. Rahul and mother Sonia Gandhi were present in the House.
Earlier, Congress House leader Adhir Ranjan Chowdhury had evoked guffaws by asking whether, if he kept silver and gold coins at home without proper security, it give the thief a right to rob him — a suggestion that the BJP had manipulated disgruntled Congress-JDS MLAs.
Rajnath claimed: "The BJP has no tradition of putting pressure on, or offering inducements to, any other party's lawmakers. We are committed to the sanctity of parliamentary democracy."
Chowdhury had moved an adjournment motion on the Karnataka crisis. Speaking during Zero Hour, he accused the BJP of "making a mockery of democracy".
"They will say, 'What do we do when your MLAs are resigning?' But the MLAs are being taken to Mumbai (and) kept in a posh hotel. And to ferry them, (the) chartered plane of a BJP MP is used…. This clearly proves a premeditated and well-calculated design," Adhir said.
He accused the BJP of conspiring to pull down all Opposition governments in the states and alleged such an attempt was under way in Congress-ruled Madhya Pradesh too.
"They (the BJP) don't want any Opposition governments…. Even after winning 303 (seats in the Lok Sabha) their hunger for power is not over," he said.