Rajasthan: Ashok Gehlot wins vote of confidence
Minister blames Centre for trying to topple govts across India with 'money and power'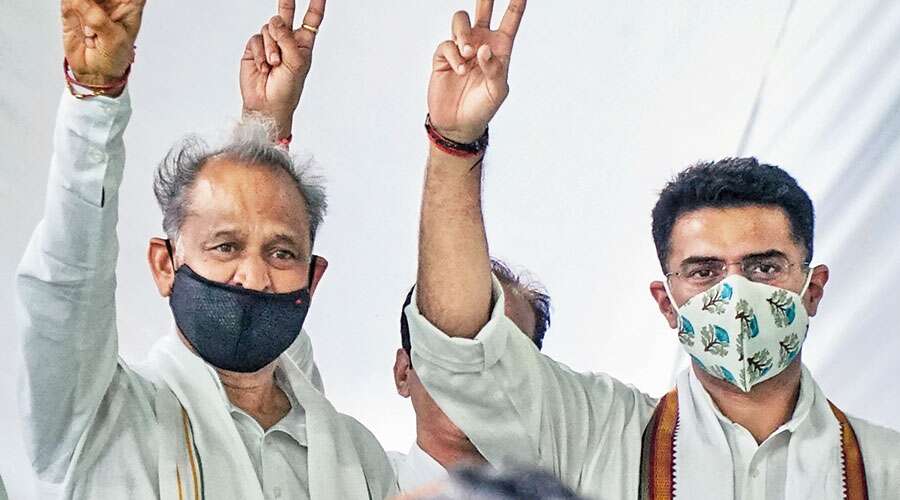 Gehlot with Pilot on Thursday in Jaipur.
PTI
---
Calcutta, Jaipur
|
Published 14.08.20, 03:22 PM
|
---
Rajasthan Chief Minister Ashok Gehlot won the vote of confidence in the state Assembly after a month of political turmoil in the ruling goverment following the sudden rebellion by Sachin Pilot and his loyalist MLAs. 
Rajasthan Parliamentary Affair Minister Shanti Dhariwal on Friday moved a motion of confidence in Rajasthan Assembly.
Replying to the debate on the motion, Dhariwal blamed the Centre for trying to "topple" the governments in Madhya Pradesh, Manipur and Goa, using money and power, but said a similar attempt in Rajasthan would not succeed.
Referring to Akbar, he said the Mughal emperor had to taste defeat in Mewar of Rajasthan during his quest to expand his empire. Similarly, BJP's attempts to topple the Ashok Gehlot-led Congress government were defeated, he added.
BJP's plan to move a no confidence motion against the Ashok Gehlot-led government was nipped to the bud with the Congress deciding to use the confidence motion as a counter strategy.
In a House of 200, the Congress party has 107 MLAs and the support of Independents and allies. The BJP has 72 members.
Pilot in 'border'
Sachin Pilot's seating in the Assembly caused much speculation and jeers among the opposition on Friday. Pilot was seen seated far across from the CM Ashok Gehlot, right next to the opposition benches.
When asked about it, the former deputy CM quipped, ""When I came to the house and found that my seat had been changed, I was wondering why. When I sat there (pointing to the government benches), I was safe. Now I am next to the opposition. Then I realized I have been sent to the sarhad (border). That is because only the bravest and most powerful warrior is sent to the border".