Rahul sees a 'frightened' Prime Minister, Sonia warns Opposition against complacency
Congress chief dares Modi to debate the Rafale deal while Sonia highlights Modi's intimidation tactics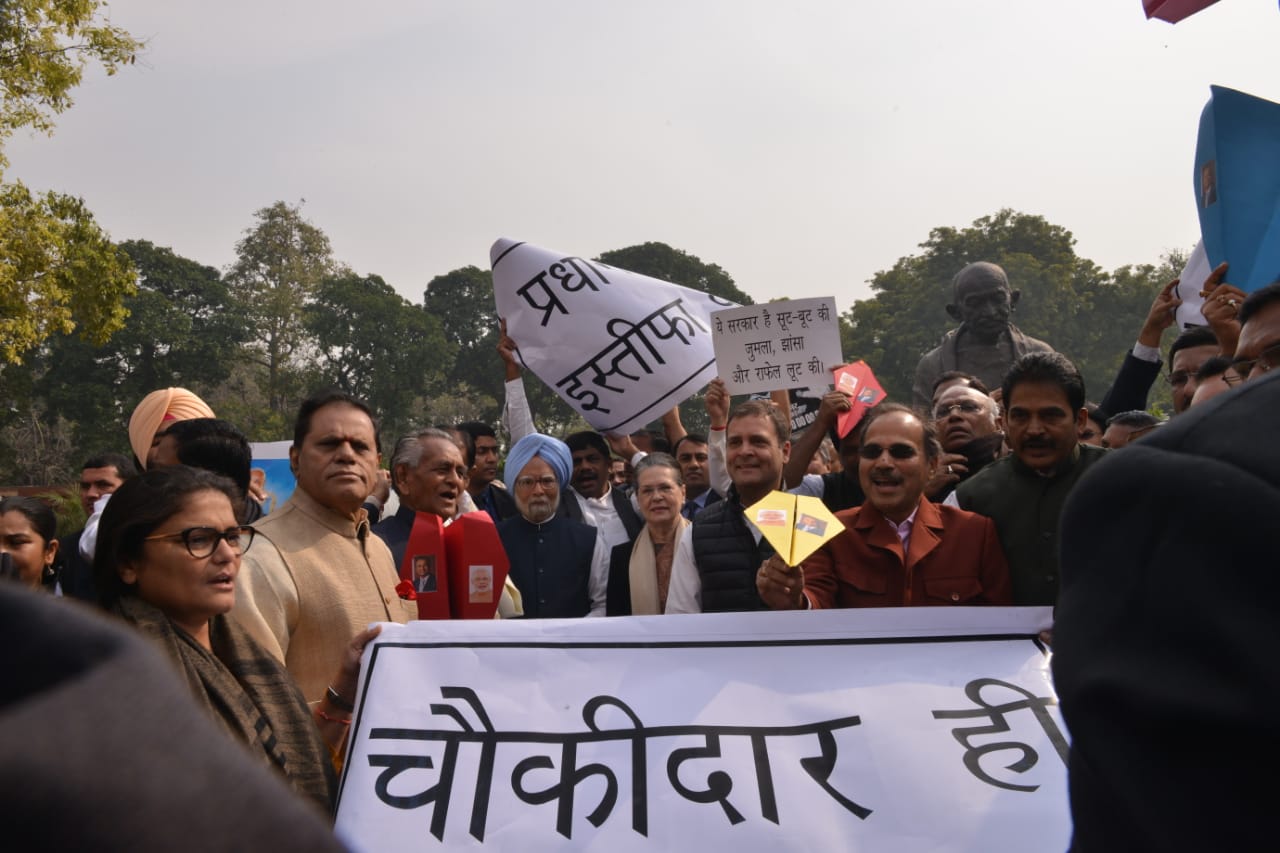 ---
---
As the 16th Lok Sabha's last session ended on Wednesday, Congress president Rahul Gandhi saw a "frightened" and "demoralised" Prime Minister running for cover but Sonia Gandhi warned the Opposition against complacency, predicting that the ruling establishment could stoop to any low to retain power.
Rahul told a media conference: "The psychological impact of the Rafale scam is visible on Narendra Modi; he is frightened, demoralised. That there has been wrongdoing in Rafale has sunk in, people have realised, the bureaucracy and the defence ministry know. BJP leaders know. Modiji also knows (that) any day the process can start and reach a conclusion."
Asked how he was so convinced that the Rafale campaign had reached the masses, Rahul said: You can conduct a test. Go anywhere and say: 'chowkidar'. The response invariably will be: 'Chor hai'. Even in (the) Madhya Pradesh, Rajasthan and Chhattisgarh (elections), Rafale was a factor. The youth who had reposed faith in Modi have realised this man cannot be trusted."
The Congress chief dared the Prime Minister to debate the Rafale deal on any platform anywhere.
Rahul's mother and UPA chairperson Sonia, however, was much more restrained while addressing Congress MPs on the last day of the Parliament session.
Acknowledging that the recent electoral victories had re-energised the party, she said: "But we cannot be complacent or take anything for granted. Our political adversaries have unlimited resources at their command. They will have no scruples and will stoop to anything to ensure that our forward march is halted. We will not allow them to succeed."
Sonia added: "The people of our country are wise. They know that 'jumlabaazi (airy-fairy statements)' is no substitute for sensitive and responsive governance. They know that imagery, stage management and marketing gimmicks can be no substitute for responsible and accountable governance. Above all, they have seen through and experienced the results of the many lies told to them. Bluff, bluster and intimidation have been the governance philosophy of the Modi government. Truth and transparency have been brazenly tossed aside."
Referring to what she described as "unprecedented economic stress and social strain for our country" over the past five years, Sonia said: "There is now near-universal recognition that the mandate of 2014 has been betrayed. I look upon this slightly differently. That mandate itself was obtained by deceit and dishonesty, by misleading the people. It was inevitable that it would be found out and exposed sooner or later. That is exactly what has happened…"
Rahul was more belligerent, telling the MPs at the meeting: "Rafale is a very small piece. Rafale is systematic robbery from the Indian defence forces. It is not only Rafale, every single deal and this will also come up, that other deals have been managed in the same way. One man is chosen, and then the whole procedure is bypassed."