Rahul ends 4-year exile of decency
The three back-to-back swearing-in ceremonies in Jaipur, Bhopal and Raipur were marked by a show of Opposition unity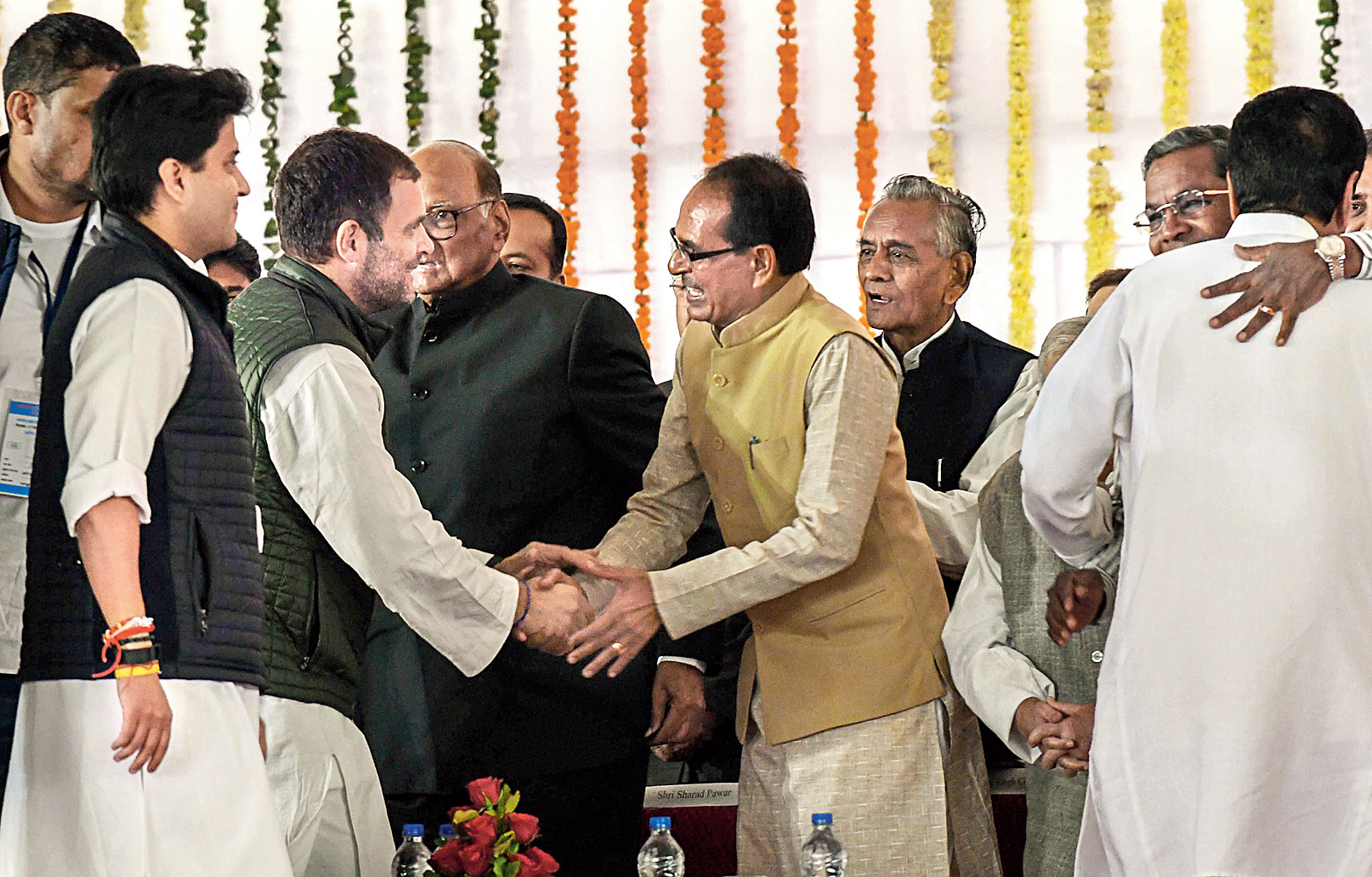 ---
---
Politics and populism were on display for sure but the exceptional honour accorded to the outgoing chief ministers from the BJP stood out against the backdrop of four years of antagonism that has scarred the Indian political landscape.
The three back-to-back swearing-in ceremonies in Jaipur, Bhopal and Raipur that formalised the Congress's advent into the Hindi heartland were marked by a show of Opposition unity.
But the striking feature was the respect shown to the outgoing chief ministers. The Congress ensured that all three former chief ministers were seated on the dais and senior leaders were instructed to give them company through the event.
In Bhopal, chief minister Kamal Nath and Jyotiraditya Scindia walked up to Shivraj Singh Chouhan to greet him. The former chief minister was taken aback when Kamal Nath and Scindia lifted his hands in a gesture of solidarity.
Chouhan was all smiles as the crowd lustily cheered the joyous moment. Rahul Gandhi had set the tone by shaking hands with Chouhan before the ceremony began.
While Prime Minister Narendra Modi did invite heads of state of neighbouring countries, along with the leaders of domestic Opposition parties, to his swearing-in, his tenure has witnessed the most acrimonious relationship between political rivals.
Modi and BJP chief Amit Shah often indulged in contemptuous personal attacks and poured ridicule on political rivals.
When the Prime Minister started attacking Congress leaders and former Prime Ministers on foreign soil, there was an equally bitter counter-offensive, dragging the level of discourse to a new low.
The Congress appeared to have carefully worked out a strategy to isolate the Modi-Shah duopoly while extending all courtesies to other BJP leaders. Rahul never missed an opportunity to extend a helping hand to veteran L.K. Advani at public events.
On Monday, too, Rahul walked across the stage in Jaipur to greet outgoing chief minister Vasundhara Raje. They shook hands and exchanged a few words.
Incoming chief minister Ashok Gehlot said: "They scrapped even our best programmes but I will continue the good work being done by the BJP government."
In Raipur, Rahul went up to outgoing chief minister Raman Singh and shook hands with him.
Seeing Chouhan on the Bhopal stage, Congress spokesperson Abhishek Singhvi tweeted: "I publicly acknowledged Shivraj's great performance despite 15 yrs incumbency. Today I acknowledge his grace in defeat, his generosity in adversity & willingness to take 100% responsibility, celebrating Congress victory with Kamal Nath. This is true demonstration — beyond Modi-Amit Shah comprehension."
Loan waiver
Within two hours of taking oath, Kamal Nath signed a decision to waive farm loans of up to Rs 2 lakh. The chief secretary promptly sent letters to public-sector and cooperative banks to implement the decision.
Rahul, who had declared that any chief minister who failed to implement the promise made in the manifesto within the first 10 days would be dropped, tweeted: "CM, Madhya Pradesh, waives farm loans. 1 done. 2 to go." He meant Rajasthan and Chhattisgarh would follow suit.
Opposition
Senior Opposition leaders like Sharad Pawar, Sharad Yadav, H.D. Deve Gowda, Farooq Abdullah, Chandrababu Naidu, H.D. Kumaraswamy, M.K. Stalin, Tejashwi Yadav, Hemant Soren and Babulal Marandi attended the oath-taking ceremonies in Bhopal and Jaipur.
While there was speculation about the absence of Trinamul leader Mamata Banerjee, Samajwadi Party chief Akhilesh Yadav and BSP president Mayawati, Congress sources said there were genuine reasons for their absence and that this was not a sign of disunity.
Mamata sent her representative Dinesh Trivedi as she was preoccupied with her mother's death anniversary; Mayawati had pulled a muscle and had been advised rest. Akhilesh had promised to come but was prevented by some pressing reason.