Rahul warns Centre to not interfere with processes of healing and hope
The Congress leader contended that there could be explosive consequences if people were convinced that getting justice against the powerful was impossible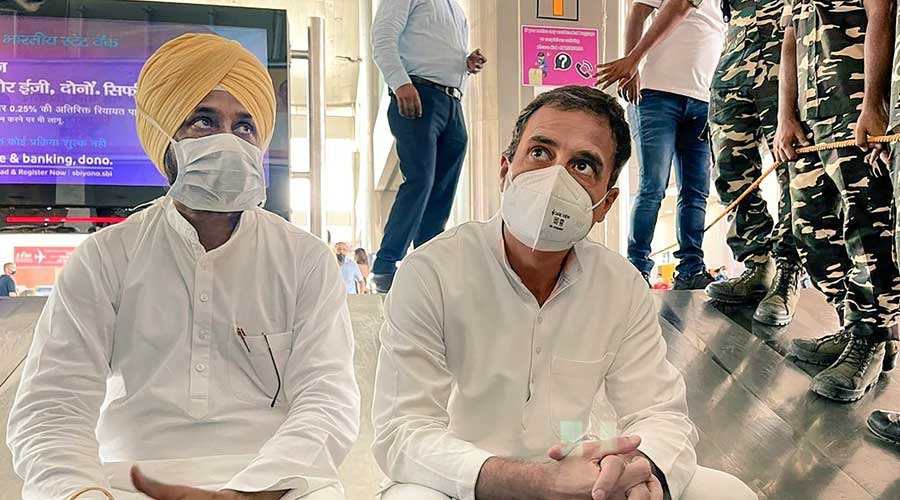 ---
New Delhi
|
Published 07.10.21, 01:56 AM
|
---
Rahul Gandhi on Wednesday warned the government against interfering with the democratic processes of healing and hope, contending that there could be explosive consequences if people were convinced that getting justice against the powerful was impossible.
Rahul expressed outrage that the issue of removal of a central minister whose son was accused of running over farmers was being debated. "Such questions shouldn't arise in democracy. Somebody mowed down six persons and you are asking if action will happen or not. This question should be asked in dictatorship, not democracy."
What he meant is that accountability is inevitable in a democracy and explained how dangerous was the idea of demolishing this democratic tradition of political morality. He said: "We see a systematic attack on the farmers of this country and it is arrogance, because the government does not understand the power of the farmers and they are provoking the farmers, they are insulting the farmers, they are killing the farmers. This is a very dangerous and bad idea."
Rahul added: "No action is taken against the minister whose son kills farmers. There has been a systematic attack on farmers. We see what happens in Hathras. Before that, their MLA raped a girl (in Unnao). This is a new kind of politics. Whatever criminals want to do, they can do. Whether it is rape, murder of farmers… those who kill, who rape roam free and the victims are targeted. Then a narrative is built using institutions, which are under the control of the RSS-BJP, using the police and different structures, but, what you will find is that there is a limit to this narrative."
Explaining the importance of healing and delivery of justice, he added: "You will find sooner rather than later, there will be an explosion, the size of which people are not understanding. We are trying to tell the government, let the democratic process work. This is what the country is about; do not interfere with the democratic process, because it is a safety valve. If you shut the safety valve, other types of problems will come."
He added: "So, we are pushing for maintaining the democratic process. When we go, when the chief ministers, myself, others go to visit this family, we are trying to give them confidence that in this country, you cannot be run over by a criminal, who calls himself the (junior) home minister's son and then nothing happens, we are not going to allow that. That is the message; we are trying to give them. It is a message of hope. Today, those families don't have hope. Today, the farmer doesn't have hope."
The Congress leader further said: "Our job is to create pressure. There is punitive action till we build pressure. We built pressure in Hathras and then only action started. Now the government doesn't want us to raise this issue. If there is no pressure, the criminals can escape. Had we not gone to Hathras, the rapists would have gone scot-free. Had we not mounted pressure on their MLA (in Unnao rape and murder), he would have come out. That's why we are at it. The truth is that it is the media's job. You have forgotten your responsibility and you ask us why we are doing politics."
Inaugurating a statue of former Congress chief minister of Haryana Bhajan Lal through videoconference, Rahul reiterated the point saying: "The BJP leaders malign, abuse and threaten farmers for months but no action is taken. Now they start killing the farmers and no action is taken."
The Congress stressed the importance of healing touch with chief ministers of Punjab and Chhattisgarh announcing Rs 50 lakh each to the families of the victims of Lakhimpur.
What Rahul said had greater significance as Prime Minister Narendra Modi and Union home minister Amit Shah had shown the tendency of not speaking up on such issues. There is no indication that they plan to remove minister of state for home Ajay Mishra Teni despite incriminating evidence against his son. Modi, as chief minister of Gujarat, has the track record of not removing tainted ministers from his government. Even as Prime Minister, he refused to drop ministers despite corruption charges against the likes of Nitin Gadkari and Piyush Goyal.
In the Congress-led UPA, railway minister Pawan Bansal was removed from the cabinet because his nephew was found discussing transfer-posting with an officer. Law minister Ashwini Kumar was sacked because the BJP created an uproar against his presence at a meeting of the CBI. Even Shashi Tharoor was dropped as minister of state for external affairs in a controversy related to the IPL.