BJP says Congress has pathological hatred of Hinduism
Hinduism and Hindutva entirely different: Rahul Gandhi
The Cong leader was subtly arguing that the RSS-BJP claim of representing Indianness was false and that their ideology was antithetical to Indian culture and philosophy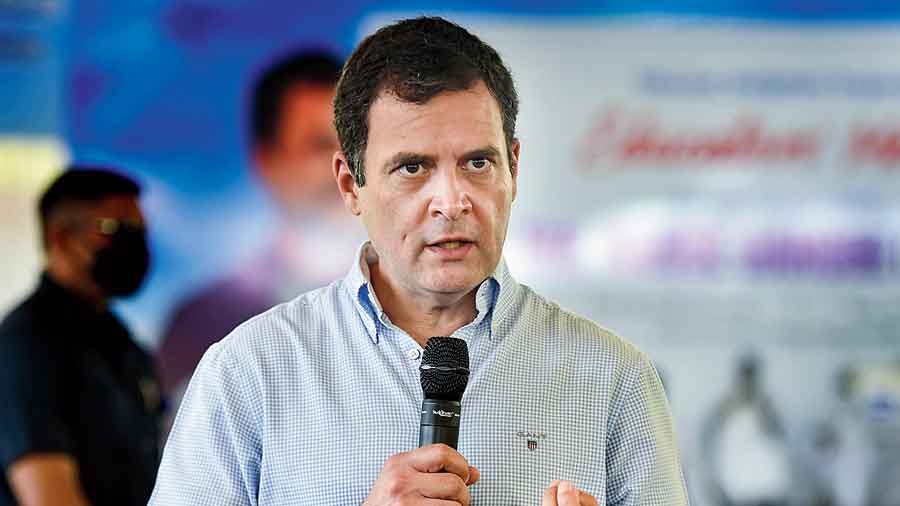 Rahul Gandhi
File picture
---
New Delhi
|
Published 13.11.21, 02:09 AM
|
---
Rahul Gandhi on Friday said Hinduism and Hindutva are entirely different, contending that a political project based on hate could not be equated to religion.
"What is the difference between Hinduism — as we know it — and Hindutva? Are they the same thing? Can they be the same thing? Is Hinduism about beating a Sikh or a Muslim? Is Hinduism about killing Akhlaq? Hindutva, of course, is. Where is it written that religion is about killing an innocent man, I am unable to find this," Rahul said, addressing by videoconference the opening of the party's training programme at Wardha in Maharashtra.
He continued: "If they are the same thing, why don't they have the same description? Why do they have different names? Why do you use the word Hinduism, why not just use Hindutva, if they are the same thing? They are obviously different things and so these are the type of things that we have to start to explore and understand and develop a group of people, hundred, two hundred, three hundred, five hundred, thousands of people, who deeply understand these differences, who can apply these differences to issues, to behaviour, to action."
The Congress ideology, if explained properly to the masses, can wipe out the agenda of hate, Rahul asserted. "I have read the Upanishads, I have not seen it (hate). Where is it written that you should kill an innocent man? I am unable to find this in any Hindu scripture or in Islamic scripture or in Sikh scripture. I can see it in Hindutva," he added, driving home the message that the political project called Hindutva was separate from the Hindu religion.
Describing the Congress ideology as an ocean reflecting the wisdom of thousands of years of Indian life processes, Rahul said: "You can start with Shiva, Kabir, Guru Nanak… these are ideas that we stand for. Gandhi is a very good example. So, these are people who have stood for… and we have to deeply study what they were saying. Is there something common between what Guru Nanak said or Kabir said and the Hindutva ideology? Is there something in common between what Gandhi said or King Ashoka said and the Hindutva ideology?"
Rahul was subtly arguing that the RSS-BJP claim of representing Indianness was false and that their ideology was antithetical to Indian culture and philosophy.
"So, these are the type of things we have to discuss and these are the type of things that we have to spread among ourselves, and once we start to communicate it among ourselves, we will find it will automatically start to spread among all others. And this is the mission that you are embarking upon," Rahul told Congress workers.
Rahul said the Congress ideology was alive and vibrant but had been overshadowed by the RSS ideology of hate.
"It has been overshadowed partly because of a complete capture of the media, a complete capture of the Indian nation, but it has also been over shadowed because we have not propagated our ideology among our own people aggressively. The central way we have to propagate our ideology is by training our own people and by involving our own people in a conversation about what it means to be a Congress person and how that is different from being an RSS person," he explained.
Is Hinduism about beating a Sikh or a Muslim? Is Hinduism about killing Akhlaq? Hindutva, of course, is
- Rahul Gandhi
While the Congress and liberal intellectuals have always differentiated between Hinduism and Hindutva, the message has not percolated down to the masses and the RSS-BJP have succeeded to a great extent in portraying themselves as the sole representatives of Hindus.
Political scientists and historians have explained that Hindutva is a political project and not a religious code, and that it is about political dominance and control.
The RSS-BJP icon V.D. Savarkar, who propagated this ideology, had himself declared that Hindutva was entirely different from Hinduism. He had conceived of Hindutva to use religion to bolster a majoritarian political project.
A controversy has erupted over Congress leader Salman Khurshid's book in which he has written: "Sanatan dharma and classical Hinduism known to sages and saints was being pushed aside by a robust version of Hindutva, by all standards a political version similar to the jihadist Islam of groups like ISIS and Boko Haram of recent years. Since the political content was clear, the term inevitably found place in election campaigns."
While Khurshid has clearly drawn a distinction between Hinduism, the religion followed by the majority of Indians, and the Hindutva politics of the Sangh parivar, he has been under attack from the BJP and its ecosystem that is accusing him of maligning Hinduism.
Even on Friday, BJP spokesperson Sambit Patra said in response to Rahul's address: "Rahul and the Congress have a pathological hatred of Hinduism and this was reflected in Khurshid's book as well. It is in the character of the Congress and the Gandhi family to attack Hinduism at every opportunity.… What they say is not a coincidence but an experiment. And the headmaster of this experimental lab is Rahul Gandhi."
Asked about Rahul differentiating between Hinduism and Hindutva, Patra said: "Can they talk on similar lines about other religions? Of course not. They cannot talk of similar issues in any other religion. The question is, why do they talk ill of Hinduism all the time?"
But in projecting Hinduism and Hindutva as one and the same, the BJP is contradicting its own icon Savarkar and going against the Indian Constitution, which says politics and religion should be kept separate.