Rahul Gandhi links industry flight to atmosphere of hate
He posted a chart that showed Chevrolet exited India in 2017, Man Trucks in 2018, Fiat and United Motors in 2019 and Harley Davidson in 2020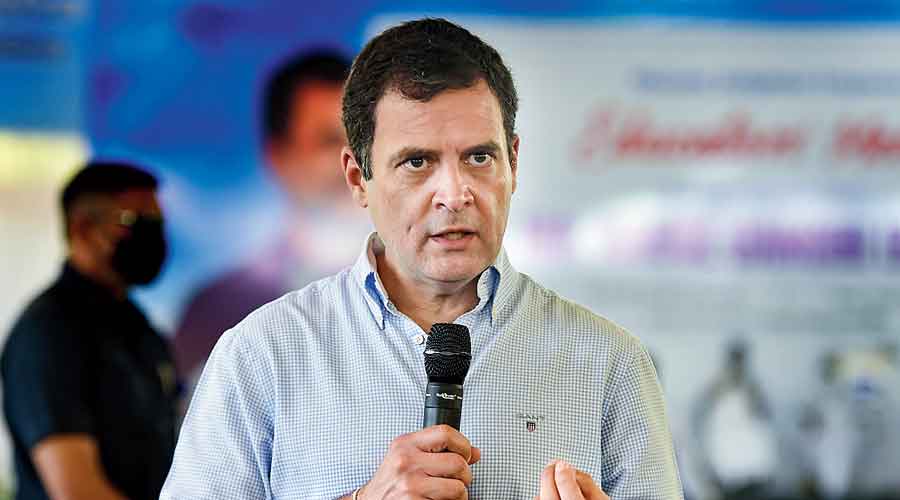 ---
New Delhi
|
Published 28.04.22, 01:07 AM
|
---
Rahul Gandhi on Wednesday targeted Narendra Modi for the "ease of driving business out of India", taking on the Prime Minister over his ceaseless claims on the "ease of doing business" in his regime.
The Congress leader tweeted: "The ease of driving business out of India: Seven global brands, nine factories, 649 dealerships, 84000 jobs. Hate-in-India and Make-in-India can't coexist. Time to focus on India's devastating unemployment crisis instead."
Rahul posted a chart that showed Chevrolet exited India in 2017, Man Trucks in 2018, Fiat and United Motors in 2019, Harley Davidson in 2020, Ford in 2021 and Datsun in 2022.
While the exit of foreign giants from India over the past few years has drawn global attention, Rahul has explicitly linked the crisis to the socio-political atmosphere in the country, arguing that communal hatred affecting social harmony was also hitting business and the economy. While unemployment has reached alarming proportions, the Prime Minister rarely speaks on such subjects.
Price rise of essential commodities is another subject that the Congress has raised in a big way but the Prime Minister has avoided giving any response. The Congress is playing an old speech where Modi is seen asking people about the reduction in petroleum prices and exhorting them to say aloud whether some money was getting saved or not. Since then, petrol price has crossed Rs 100 a litre and diesel has hit a century despite crude rates crashing in international markets. A cooking gas cylinder now comes at Rs 1,000.
The Prime Minister, after a long time, talked about petroleum prices on Wednesday, taunting the Opposition-ruled states for not reducing VAT.
The Congress blasted the Prime Minister's "irresponsible" jibe, arguing that no sensible person would make such a statement as the abnormally high prices were primarily because of the Centre's policies.
Asking the Prime Minister not to indulge in misleading rhetoric, Congress communications chief Randeep Surjewala said: "Excise duty during Congress rule in 2014 was Rs 9.48 per litre on petrol and Rs 3.56 on diesel. Now it is Rs 27.90 per litre on petrol and Rs 21.80 on diesel."
Surjewala added: "Modiji, we will urge all states to decrease VAT on petrol/diesel to pre-May 2014 level. Please admit the BJP government earned Rs 27 lakh crore from petrol/diesel while all states collectively received about Rs 16.5 lakh crore. The central government's revenue from petrol/diesel has doubled in eight years."
Party spokesperson Pawan Khera said: "The Prime Minister made some remarks in his meeting with the chief ministers. These remarks were not befitting the position of the Prime Minister. They were irresponsible, not based on facts. In the garb of cooperative federalism, the Prime Minister expects the states to reduce VAT on petrol and diesel, without first giving an account of the central excise, through which the central government has earned Rs 27 lakh crore in the last eight years."