Rahul Gandhi creating hatred among people for power, tarnishing India's image: Rajnath Singh
Power cannot be achieved by creating hatred, it can be done only by earning the public's trust and love: Singh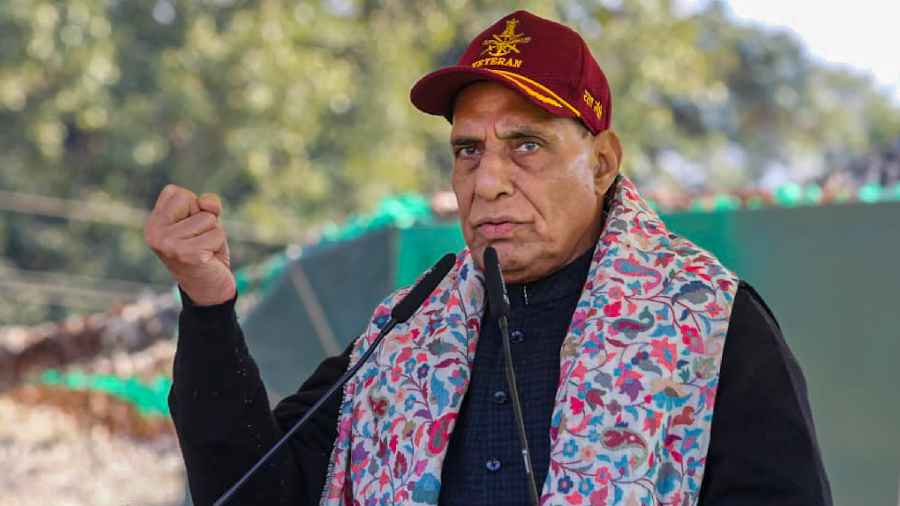 Rajnath Singh
File picture
---
Bhopal
|
Published 22.01.23, 08:38 PM
|
---
Defence Minister Rajnath Singh on Sunday accused Congress leader Rahul Gandhi of spreading hatred among people in order to gain power, and alleged that he was tarnishing India's image on international platforms.
Addressing a programme organised by the Madhya Pradesh government to provide land rights of residential plots to the poor in the state's Singrauli district, located around 650 kms from here, Singh asked Gandhi not to play with India's "prestige and pride".
The minister also said that in the recent clash with the Chinese troops, Indian soldiers did a "charismatic job" and displayed bravery, and slammed the Congress for questioning the valour of the country's jawans.
"Is India getting divided? The country already got divided in 1947. Pakistan was created, though the leaders at that time were not in favour. These days, Rahul Gandhi is going around saying in his Bharat Jodo Yatra that there is hatred everywhere in India," he said.
"Rahulji, what has happened to you? You want to gain power by creating hatred. Power cannot be achieved by creating hatred, it can be done only by earning the public's trust and love," Singh said.
"I want to ask him who is creating hatred in India? Is Modiji creating hatred in the country? Is (MP Chief Minister) Shivraj Singh (Chouhan) doing the work of creating hatred in Madhya Pradesh? Are these leaders creating hatred among people? Where did he see it," he asked the gathering.
Accusing the Congress of trying to defame India and tarnish its image by saying that only hatred prevails in the country, Singh said that on the contrary, the country has earned great respect in the world now.
India is the only country that considers all people in the world as its family. India is being maligned through remarks that there is only hatred in the country, he alleged.
India has never discriminated on the basis of caste, creed or religion as those born on the Indian soil are brothers as all have sacrificed their lives for the country's independence, he added.
"I humbly want to say to Rahulji, don't spoil the image of India in the world by talking about hatred. You are creating hate by talking about it. You create hatred towards Modi and BJP by going to the people. The whole world is getting the image that there is only hatred in India," he said.
Referring to Rahul Gandhi's remark that he is out to sell love in the market of hatred, Singh asked the gathering, "Have you also got some love from him? Now what does he know about love?" He said that Gandhi and Congress members should keep in mind that politics should not be done just to form the government, but for the society and the country.
"Rahulji, don't play with India's prestige and pride. India is moving forward, if you can cooperate then do it, if you can't, then sit silently...Don't try to defame India on the international stage," he said.
Singh also said that Congress leaders can defame the Bharatiya Janata Party (BJP), but they dared to question the bravery and valour of the country's army and soldiers who risked their lives to protect the country.
"Being the country's defence minister, I don't want to speak openly. But I wanted to make it clear that whatever war has happened this time, be it between India and China, the bravery that our army soldiers have exhibited, if I discuss it in front of anyone, then everyone will boast...They have done a charismatic job," Singh said.
Last month, Rahul Gandhi had alleged that China was preparing for a war and the Indian government was sleeping over it and trying to ignore the threat. He had also alleged that China had taken away 2,000 square kilometres of the Indian territory and was "thrashing our jawans in Arunachal Pradesh".
Singh said that India has made a place among the top five economies in the past eight years.
In the next five years, India will be among the top three economies after the US and China, he said, adding, "India will be the top economy in the world by 2047." The minister said that import of arms, ammunition and missiles and other equipment used by the army has been reduced in the past eight years as India is heading towards self-reliance in the defence sector.
"Political parties used to get public support by offering various inducements earlier," he said, and claimed that corruption has ended due to the transparent governance of the Centre.
Singh said that before 2014, barely 10-12 kms of roads were being built daily, but this figure has now gone up to 37-40 kms a day.
After China, the maximum number of mobile phones are being made in India. In 2014, as many as 92 per cent of mobiles were imported into the country. The situation has changed now as 97 per cent of mobiles sold in India are being manufactured locally, he said.
India has overtaken Japan to establish itself as the third largest car manufacturer in the world. India is now second in the world in making steel, he said.
He said that by implementing the poll manifestos, the BJP established among people the trust that they had lost due to the empty promises made by political parties and its leaders.
In his address, CM Chouhan targeted state Congress president Kamal Nath for making "tall promises".
"Farm loan waiver, unemployment allowance...Congress keeps on lying. Kamal Nathji is again making tall promises. Under their 15-month-long rule, did anyone get an unemployment allowance?" he asked.
He also announced plans to develop the Singrauli-Rewa-Jabalpur industrial corridor soon.
Against the target of constructing 38 lakh houses in Madhya Pradesh under the Pradhan Mantri Awas Yojana (PMAY), 34 lakh houses have been built, he said.
Earlier, Rajnath Singh and Chouhan distributed free plots under CM Land Rights Scheme to 25,412 beneficiaries besides disbursing the benefits of Rs 135.68 crore to 6.78 lakh farmers under the CM Kisan Kalyan Yojana. Singh also laid the foundation stones of some other projects, including Rs 35-crore railway over-bridge, construction of medical college building costing Rs 248 crore, construction of Mining Engineering College worth Rs 60.30 crore, among others.