Rahul Gandhi: Constitution had no meaning without institutions
The Congress leader recalled how a group of Dalit youths were stripped and beaten up in Una, Gujarat (by cow vigilantes in 2016)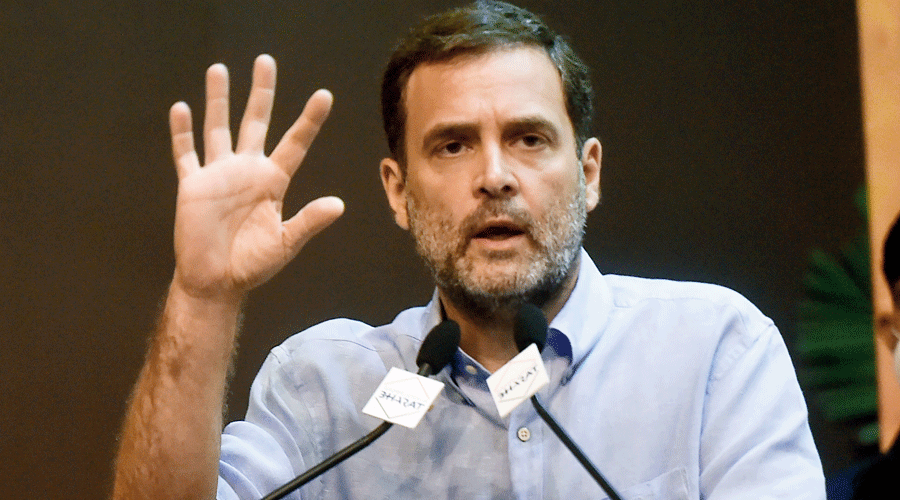 Rahul Gandhi speaks during the launch of the book The Dalit Truth in New Delhi on Saturday.
PTI Photo
---
New Delhi
|
Published 10.04.22, 02:58 AM
|
---
Rahul Gandhi on Saturday said the Constitution had no meaning without the institutions supposed to implement it, and argued that the people alone could fight on in such a situation by following the path shown by Mahatma Gandhi and B.R. Ambedkar.
"The Constitution is a weapon in the hands of Indians. But without institutions, the Constitution has no meaning," Rahul said at a book release in Delhi.
"We can keep saying the Constitution has to be defended. But how is the Constitution implemented? Through institutions. And all the institutions are in RSS hands."
Rahul went on: "This is not a new attack (on the Constitution). This started the day three bullets were pumped into Mahatma Gandhi's chest. Ambedkar developed that weapon (the Constitution) but it is not in our hands any more.
"It's like four persons sitting in a car want to go to Jaipur but the driver says he will go to Agra. They (the BJP government) are controlling the institutions by capturing the media, three-four billionaires and using Pegasus to rein in (political) leaders."
Rahul cited an example: "The political system is under their control. Kanshi Ram awakened Dalits, but Mayawati said she won't fight for them any more.
"We sent her a message: 'Do an alliance with us, become the chief minister'. But she didn't even talk to us. (She) left the field open (for the BJP), because of the CBI, Enforcement Directorate and Pegasus."
Rahul added: "Only the people can fight this battle. Till the people listen to their inner voice and rise against this, they (the BJP) will not allow the Constitution to be operative by controlling the institutions.
"And when the Constitution is not implemented, the worst sufferers are Dalits, minorities, tribals, unemployed, small farmers. It's the time to fight by pursuing the path shown by Gandhi and Ambedkar."
Rahul recalled how a group of Dalit youths were stripped and beaten up in Una, Gujarat (by cow vigilantes in 2016).
"After seeing the video on WhatsApp, I went to meet the family members. The father of one boy was frightened; his hands were trembling when I sat with him," Rahul said.
"He said, 'We can't live in this country, we suffer so much pain'. But he said there was joy as well because Dalits had given a response. I was shocked to know the response — 12 Dalit boys had drunk insecticide in protest."
Rahul went on: "I wanted to know how come the response to that brutality was suicide. I found out that those boys hadn't died and were in hospital. I went to the hospital. I asked the doctor about one boy and was told he won't survive.
"Enquired about another boy, the same answer. Most of them were in bad shape. One boy who was in his senses told me he could not bear the pain of his brother being assaulted like that and drank insecticide. Another said the same thing. They said, 'We face this violence and humiliation every day'."
Rahul said he felt an unfamiliar emotion and the urge to ask a question.
"My father was killed but I didn't have hatred for the assassin. But that day in the hospital, I felt anguished. This thought flitted through my mind that I would have taken a knife and stabbed the man. If somebody does this to my sister, I would kill that man," he said.
"I asked one boy why he didn't kill the man instead of thinking of taking his own life. He wondered: 'What are you saying?' He said, 'Had I killed the oppressor, I would have taken rebirth as a Dalit again.' I understood he was unable to handle the burden."
Rahul appeared to be obliquely identifying the mindset that lies behind such atrocities, saying Sangh parivar icon V.D. Savarkar had written that he felt happiest when he along with his friends thrashed a Muslim boy.
"I always wondered what kind of people practise untouchability. They can handle dogs, kill insects but won't touch a fellow human being. You may dislike somebody, may get angry with somebody, but how can you treat somebody as untouchable?" he asked.
Rahul slipped into a more personal mode, saying: "I have a strange disease: I was born amidst power but I am not interested in power. When I sleep, I want to understand my country. I get on with the same quest — to understand my country.
"I don't yet have a clear answer to why people practise caste discrimination but I have a fair understanding of the problem now. I have received enormous love from this country but I have faced hate and violence as well. I take that as part of the learning process."
Rahul was speaking at the launch of the book, The Dalit Truth: The Battles for Realising Ambedkar's Vision, edited by his close associate and former bureaucrat K. Raju, who also headed the Congress's SC/ST cell.
Raju spoke about the false narratives propagated to lure Dalits towards the Hindutva project.