Rahul Gandhi clears air on Adanis
'Not against business but use of power to aid monopolies'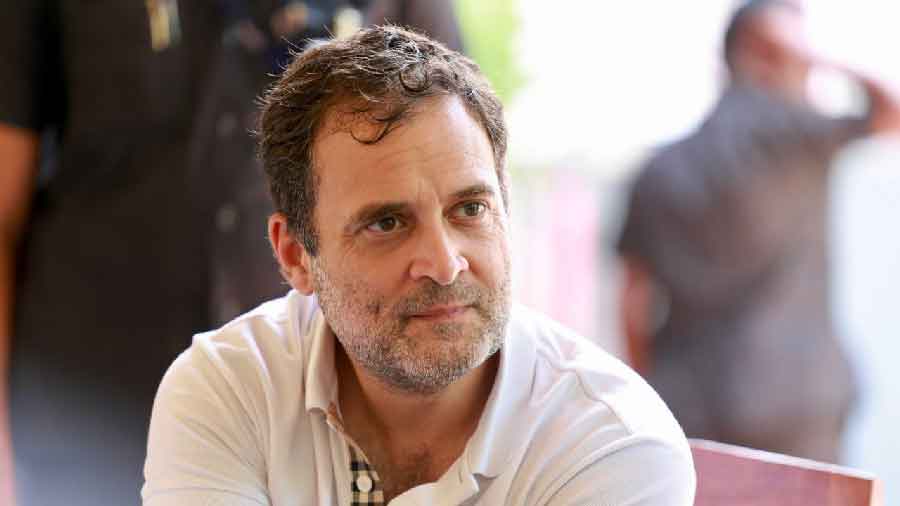 Rahul Gandhi
File picture
---
New Delhi
|
Published 09.10.22, 12:40 AM
|
---
Rahul Gandhi on Saturday said he wasn't against business or the corporate world and that his fight was against crony capitalism and the misuse of political power to create monopolies.
"I am not against corporate or business. My contention is that the use of political power to help certain businesses, to create monopolies is wrong," he told a news conference at Turuvekere, Karnataka.
"If the entire political system is engaged in helping two-three industrialists, there will be a problem."
Although Rahul had clarified his position several times in the past, he again did so because of the BJP allegation that he is on an anti-business crusade, recently reiterated after Gautam Adani's investment proposals for Congress-ruled Rajasthan.
The BJP used a photograph of chief minister Ashok Gehlot sitting next to Adani at the state's investment summit and suggested this implied a revolt against Rahul's views.
"In another sign of revolt and brewing discontent against the Gandhis, Rajasthan Chief Minister Ashok Gehlot invites Gautam Adani for the investor summit. He is given a seat right next to the Chief Minister," the BJP's IT cell head Amit Malviya tweeted.
"This is an open message to Rahul Gandhi, who doesn't tire berating Adani-Ambani, to back off…."
Many BJP leaders from Rajasthan too asked why Gehlot had entertained Adani when Rahul ceaselessly attacks the Narendra Modi government for helping him.
Rahul appeared keen to clear the air, answering a question about the Rajasthan controversy in both Hindi and English.
"Adani proposed an investment of Rs 60,000 crore in Rajasthan. No chief minister can reject it," he said.
"The Rajasthan government hasn't given any preferential treatment to Adani. They haven't misused political power to go out of the way to help Adani. If they do, I will stand up against it."
Rahul said that one of the main objectives of the ongoing Bharat Jodo Yatra was to oppose the concentration of wealth in a few hands. Even on Friday, while the Rajasthan investor summit was making news, he had attacked crony capitalism and the rising inequality in the country.
Rahul's "hum do, hamare do" jibe — suggesting the Modi-Amit Shah duo accord preferential treatment to Adani-Ambani — has become his signature tune with his repeated allegation that Modi has been handing over ports, airports, the railways, power, telecom, oil and retail to them.
Even while opposing the now-repealed farm laws, Rahul had alleged that they had been enacted to hand over the agriculture trade to Ambani and Adani. The Congress has flagged the rise in Adani's wealth over the past few years, asking how he had kept earning Rs 1,000 crore a day when millions of poor were struggling for survival.
Gehlot, while congratulating Adani on becoming the second-richest person in the world, confronted the BJP's taunt. "We need jobs for our youth. Anybody can come for investment in Rajasthan. Around 3,000 investors participated," he said. "Adani, Ambani — anybody can invest. Even Amit Shah's son Jay Shah can invest."