Raghuvansh Prasad dies of Covid complications in AIIMS
Veteran RJD leader quit Lalu Prasad's RJD days ago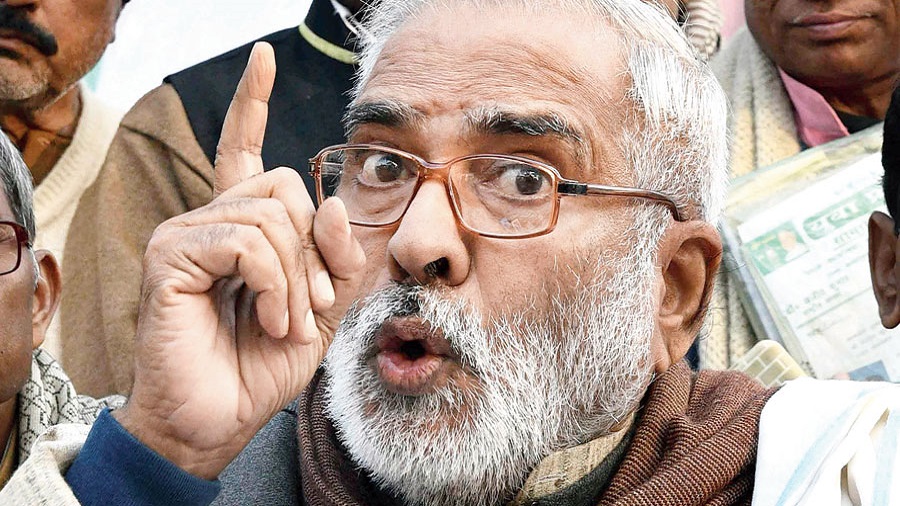 ---
---
Veteran Bihar politician and former RJD leader Raghuvansh Prasad Singh, who parted ways with Lalu Prasad died Sunday morning at AIIMS where he was being treated for post-Covid complications. He was 74.
Singh tested positive for COVID-19 in June, after which he was admitted to the All India Institute of Medical Sciences (AIIMS) in the national capital.
On Saturday a close aide of his told PTI that "Singh sahib's condition deteriorated considerably on Friday night. At 11.56 PM, he was put on ventilator. We are praying for his well-being", reported NDTV.com.
Singh, a long-time associate of former Bihar chief minister Lalu Prasad Yadav, represented the state's Vaishali constituency and was the Union Minister for Rural Development in the Congress-led UPA-I government.
A politician of nearly four decades, Raghuvansh Prasad Singh was widely regarded as an expert in the rural and agricultural landscape of the country and is credited with the conceptualisation and implementation of the NREGA (National Rural Guarantee Employment) Act.
On Friday, Singh rattled Lalu Prasad Yadav and the RJD by submitting a handwritten resignation letter.
Dedicating to the nation key projects relating to the petroleum sector in Bihar. #UjjwalBihar https://t.co/bCD3c9syJ6

— Narendra Modi (@narendramodi) September 13, 2020
Prime minister Narendra Modi on Sunday paid a moving tribute to former Union minister Raghuvansh Prasad Singh, saying his death has left a deep void in Bihar and national politics.

Modi described Singh, who died at AIIMS, New Delhi, after prolonged illness, as a grassroots leader with deep understanding of poverty and problems of the poor.
He also obliquely referred to "churning" that the departed leader faced in his last days, hinting at his disenchantment with his party the RJD and its leader Lalu Prasad.

"An inner 'manthan' (churning) was going on in him during his last days. He remained true to the ideology he believed in..In the recent past, he had been in news.

"He was obviously in a state of inner turmoil since it had no longer remained possible for him to be by the side of his old associates. Finally, he gave expression to his feelings through the letters he wrote from the hospital bed, the prime minister said.

Modi made the remarks before dedicating to the nation three petroleum projects via video conferencing in Bihar.
श्री रघुवंश प्रसाद सिंह जी के निधन के साथ ही गाँव व किसान की एक मज़बूत आवाज़ सदा के लिए खो गई है।

गाँवों व किसानों के उत्थान के लिए उनकी सेवा और लगन तथा सामाजिक न्याय के लिए उनके संघर्ष को सदा याद रखा जाएगा।

मेरी भावभीनी श्रद्धांजलि🙏 pic.twitter.com/8YTLQpYowp

— Rahul Gandhi (@RahulGandhi) September 13, 2020
Congress leader Rahul Gandhi on Sunday paid rich tributes to former union minister Raghuvansh Prasad Singh, saying with his demise a strong voice of the village and farmers has been lost.

The Congress also termed him as the "beloved son of Bihar" who will be remembered for being the advocate of moral values in politics, and said his demise heralds the end of a chapter in the history of revolution.
Vice president M Venkiah Naidu and Union home minister Amit Shah also condoled the RJD veteran's death.