JNU students and teachers came under police canes and boots on a day the students marched 10km towards Parliament demanding a rollback of hiked hostel fees that they say two in five boarders cannot afford.
While the students were dispersing in the evening, they were chased and hit by policemen, including plainclothes officers.
A teacher, who had just persuaded the students to make way for traffic, was kicked, punched and caned by two policemen who accused him of "teaching students to protest".
A journalist wearing a large badge inscribed with "Press" in block letters was hit and gashed on the head by a CRPF jawan. By the end of the day, at least 50 students had been admitted to various hospitals.
"Is lathicharge and breaking heads of JNU Students, and leaving them bloodied the humanity of the Delhi Police? When they were thrashed by lawyers, they remembered the dignity of the uniform? Don't such incidents stain the uniform?" Delhi's ruling Aam Aadmi Party's Rajya Sabha MP Sanjay Singh tweeted.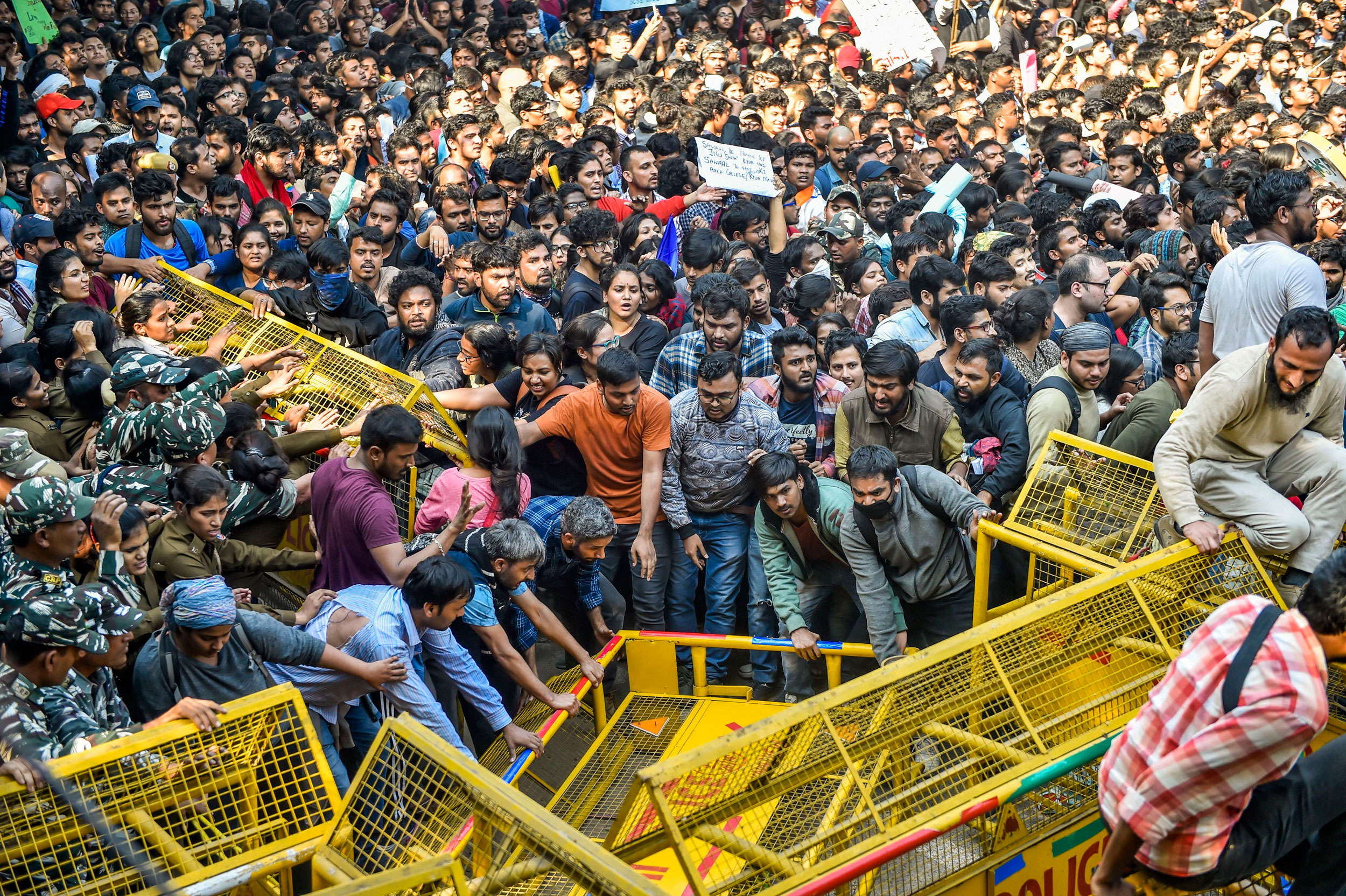 JNU students try to get past police barricades during a protest march in New Delhi on November 18, 2019. (PTI)
Last year, the police had run riot at a JNU rally against alleged sexual harassment by a teacher and cuts in admissions. An inspector was then suspended for molesting a woman reporter, and a woman news photographer was beaten and her camera snatched by cops.
Monday's march had been the first protest for Sachin Kumar, 18, son of a single mother who works for a daily wage in Churu, Rajasthan. Kumar, pursuing a BA in the Russian language, is the students' union's youngest councillor.
"We didn't expect such a brutal response to a peaceful march. All our parents are watching TV and are calling us to say, 'Stay behind the march'," Sachin said.
"I studied at a Navodaya Vidyalaya, and subsidised education is my only option. This violence only strengthens our resolve to fight back till we ensure that our affordable hostels remain that way. The government wants to deny this because we are publicly funded and yet dare to question them."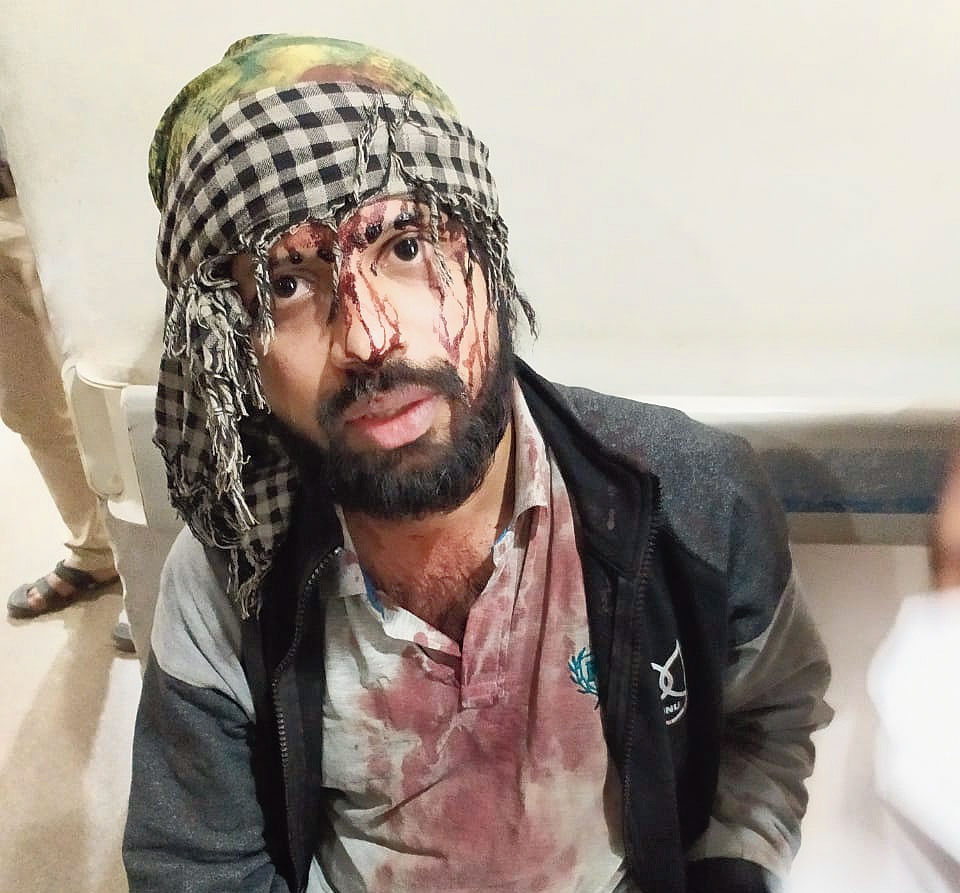 Alumnus Sandip Luis injured near JNU (Sourced by Correspondent)
JNU students have been on strike for the last three weeks after the introduction of a new hostel manual that almost doubles the hostel fees, raising them above the annual stipend of Rs 60,000 a non-NET fellowship brings.
Union human resource development minister Ramesh Pokhriyal had been stranded at JNU's convocation for several hours last week because of protests outside.
Although Pokhriyal and the University Grants Commission secretary has met the protesting students, vice-chancellor M. Jagadesh Kumar has confined himself to issuing appeals to the students in print and video to call off the agitation.
The varsity had approved the changes at an executive council meeting held outside the campus, offering a rebate to "below poverty line" students — an outdated categorisation that is currently not defined.
"My mother earns only Rs 2,300 a month but she would still not qualify under the BPL category, which is defunct anyway," Sachin said.
While the police blocked the student march at JNU's gates, the HRD ministry constituted a "high power committee" around 11.30am to talk to the students and university authorities and recommend ways to end the agitation.
The committee members include former commission chairperson V.S. Chauhan, current commission secretary Rajnish Jain and the All India Council for Technical Education chairperson Anil Sahasrabuddhe.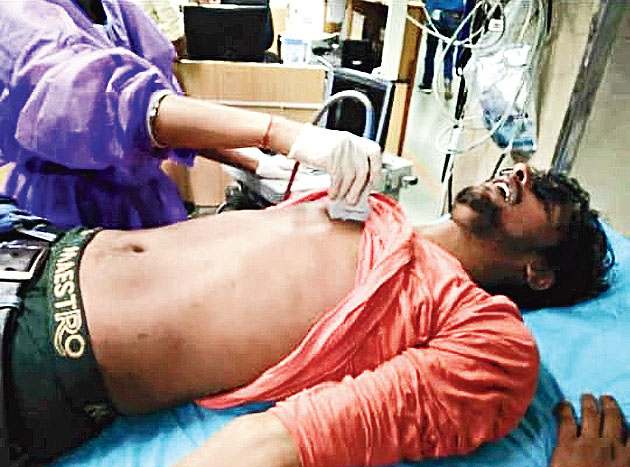 A blind student, Shashibhushan Pandey, knocked unconscious by a policeman. He was carrying a blind people's white walking stick. (Sourced by Correspondent)
As neither the students nor the teachers had been sent a copy of the order, the march went ahead after breaking two sets of barricades outside JNU. It was halted at the Foreign Service Institute by a large team of police and the CRPF.
After around two hours of scuffles with the police, students' union president Aishe Ghosh and general secretary Satish Yadav were whisked away to different police stations along with 157 others.
The marchers then ran through Munirka Village and marched through Ramakrishna Puram and the Outer Ring Road before being baton-charged at Safdarjung Tomb at 3.30pm.
V. Arun Kumar, a journalist with the Peoples Dispatch news website, was clicking pictures at the spot when the police charged at him.
"The police had announced that people should not come near the barricade. As a few students walked ahead, they suddenly charged," Kumar said.
"I held up my card and said loudly, 'I am a journalist' (which should have been obvious from the DSLR camera slung around his neck). Two policemen heard me and stopped. Seconds later, a CRPF constable came and hit me on the head."
Kumar bled from a gash on his head.
Soon, special commissioner of police Praveer Ranjan held talks with students' union vice-president Saket Moon and former vice-president Sarika Chaudhary. He offered to take a delegation to the HRD ministry if the students vacated Aurobindo Marg, an arterial road that connects south Delhi with Lutyens Delhi.
The students said all the detainees must be released first and that the delegation must include Ghosh and Yadav.
The students' demands are that the "illegal" changes to the hostel manual must be revoked, the students' union and the JNU teachers' association must be made stakeholders, the newly constituted body must not circumvent due process and that VC Kumar should resign.
Around 7.15pm, after the detained students had been released and the delegation was about to leave for the ministry, the streetlights went off and the police pounced.
Teachers' association secretary Surajit Mazumdar, who was leading the students away from the protest site, was thrashed after he questioned the cops.
"The police had requested us to intervene, and we had spoken to the students to allow the free flow of traffic. Everyone was walking back towards the Jor Bagh Metro station when the police began a lathi-charge," Mazumdar told this newspaper.
"A few of us teachers said, 'Arrey bhai, they are leaving anyway'. A constable in a helmet and a plainclothes cop with a lathi said to me, 'Tu teacher hai toh kya hua? Hum yahan savere se khade hain (So what if you are a teacher? We've been standing here since morning)'."
Mazumdar added: "They abused me and said, 'Is this what you teach your students?' They punched me on the chest, and hit me on the leg with a lathi. When I stumbled, they kicked me from behind."
A senior police officer said any complaints of police excesses would be probed. Neither Mazumdar nor Kumar had complained by the time this report was filed, although others were attempting to do so at the police post at AIIMS.
After four students' union leaders met HRD joint secretary Girish Hosur, Moon told this newspaper: "He (Hosur) said the committee would be speaking to the JNU administration, hostel presidents and the elected students' union councillors and office-bearers. This will start tomorrow.
"We will depose before the committee but our strike will continue till we see something concrete — that is, the illegal new manual is withdrawn and the VC talks to the students' union."
A police statement denied any lathi-charge but said the cops had "pushed back" some "agitated groups" that were trying to "forcibly break the barricades again".
Police sources said 30 cops and only 15 students were injured in the clashes.