Quit drive in Bangalore: to topple and to salvage
Karnataka's ruling coalition govt theoretically reduced to a minority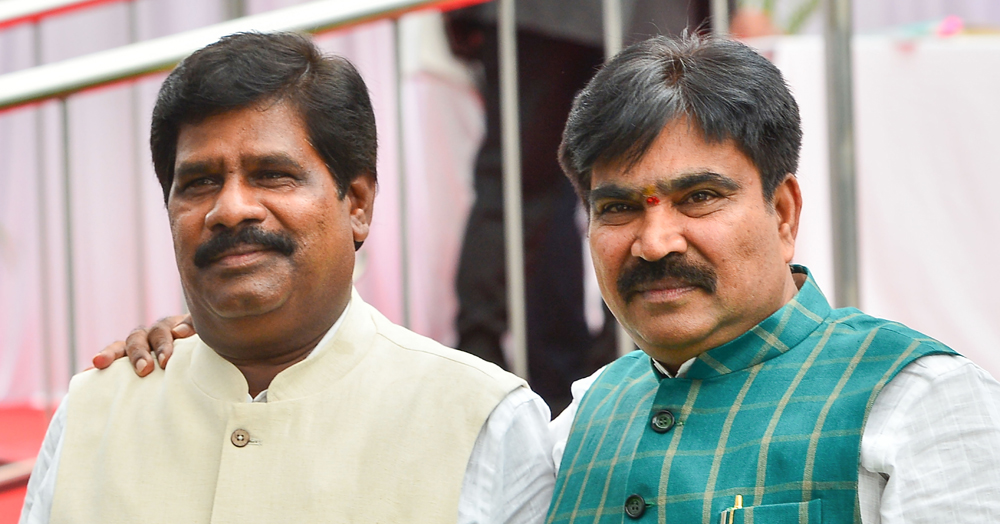 In this June 14, 2019 file photo, independent MLAs R. Shankar (right) and H. Nagesh are seen during the cabinet expansion of JD(S)-Congress coalition government, in Bengaluru.
(PTI)
---
Bangalore
|
Published 09.07.19, 01:22 AM
|
---
Two Independents on Monday resigned as ministers and withdrew support to the Karnataka ruling coalition, theoretically reducing it to a minority and prompting a last-ditch attempt to save the government by getting the entire cabinet to resign and create vacancies to accommodate the rebels.
"We will accommodate all those (13 Congress and Janata Dal Secular MLAs who had resigned last week) who could not be accommodated earlier. There will be a total reshuffle," Congress senior P.C. Siddaramaiah said.
All the 21 Congress ministers resigned in the morning, and so did all the 10 JDS ministers apart from chief minister H.D. Kumaraswamy in the afternoon.
Earlier, Independent member H. Nagesh, inducted into the ministry on June 14 to add stability to the government, had resigned as minister and met governor Vajubhai Vala to hand over a letter withdrawing support to the government. He then caught a scheduled flight to Mumbai, where most of the rebel Congress-JDS MLAs are said to be cooped up in a hotel.
R. Shankar, the other Independent minister, resigned in the evening, issued a media release announcing support for the BJP and flew to Mumbai.
The resignations by two Congress MLAs on July 1, and those by eight Congress MLAs and three JDS members on July 8, had reduced the government's House strength to 106, one more than the BJP's 105 (assuming the resignations would be accepted).
With Nagesh and Shankar withdrawing support, the BJP now has a majority of one. Since the duo have not resigned from the Assembly --- and since their status as Independents might shield them from the anti-defection law --- the BJP has potentially a majority of three. There was talk of Shankar joining the Congress but it isn't clear if this was formalised.
Speaker Ramesh Kumar, who was out of town, is expected to decide on the resignations on Tuesday.
Ironically, one reason for the current crisis was the induction of Nagesh and Shankar, which left many senior Congress leaders feeling snubbed.
Party veteran K.H. Muniyappa told reporters he had been against the recruitment of the Independents at the cost of party seniors. "I had warned our leaders not to trust Nagesh," he said.
Shortly after Shankar had reached the Bangalore international airport in the evening, a chartered flight registered with a company owned by BJP Rajya Sabha member Rajeev Chandrasekhar left the airport for Mumbai. A chartered jet from the same company had ferried to Mumbai most of the 11 rebel MLAs on July 1.
Chandrasekhar on Monday responded to a tweet from Congress leader G. Parameshwara, posting: "Dear @DrParameshwara – this 'aircraft' is a commercial charter -– tht has been chartered by many ppl incldg ur own ministers in past! So don't blame me on an 'aircraft' or @BJP4India for the problems in yr crooked corrupt opportunistic 'alliance'."
The Congress has dispatched its principal trouble-shooter, minister D.K. Shivakumar, to Mumbai to try and persuade the rebels to return.
K.C. Venugopal, Congress general secretary in charge of Karnataka, told reporters that all the Congress ministers had resigned voluntarily. "Some of the (rebel) MLAs would be coming back…. We have requested all of them to come and discuss their issues," he said.The Congress legislature party will meet at 9.30am on Tuesday.
Venugopal and Siddaramaiah accused the BJP of luring the lawmakers by offering money and power. "The BJP is working against democracy not just in Karnataka but even in West Bengal, Telangana and Andhra Pradesh," Siddaramaiah said.